STORE HOURS



OPEN DAILY
11 a.m. to 6 p.m.
LOCATION




214 North Lexington Street Pittsburgh, PA 15208

---
Upcoming Events
Art Sale!
When: Mon, June 1 -
Tue, June 30

11:00 am - 6:00 pm
Where: Pittsburgh Center for Creative Reuse
Reuse-a-Palooza at 3 Rivers Arts Festival
When: Fri, June 5 -
Sun, June 14
12:00-6:00 pm each day
Where:
Point State Park
Bar Crafts


When

: Sun, June 7
6:00-9:00 pm
Where: Allegheny Wine Mixer,

5326 Butler St., Pittsburgh, PA 15201
Auction for Baby
When: Mon, June 8
4:00-4:30 pm
Where: Pittsburgh Center for Creative Reuse

Pittsburgh Center for Creative Reuse promotes resource conservation, creativity, and community engagement through material reuse.
---
we're doing this together!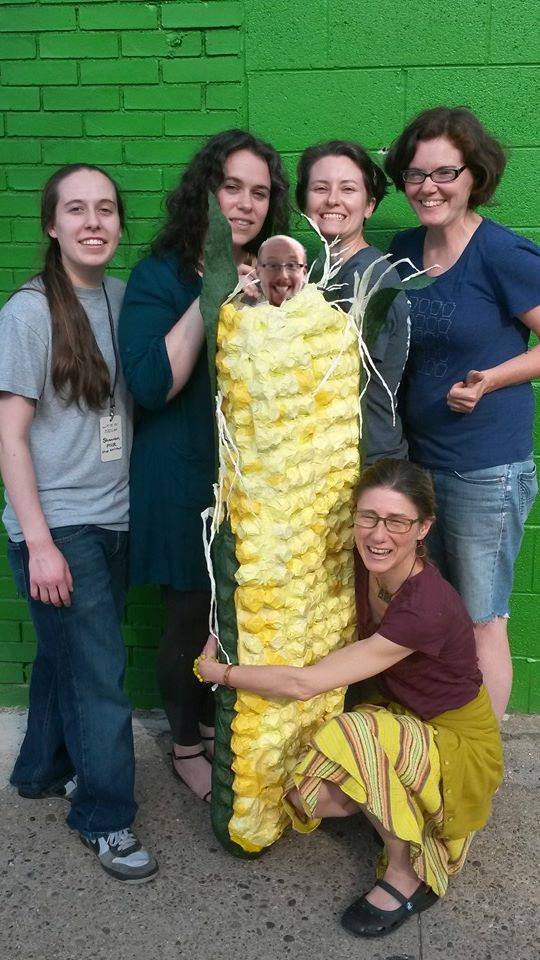 We are so grateful to our friends at East End Food Co-Op, and to all of the lovely folks who rounded-up at the register during the month of May to support Creative Reuse! If you signed up for the drawing during a visit to the Co-Op last month, watch your email in the next few days to learn how much you helped us raise and who won the gift certificate and goody basket!

We also want to thank everyone who donated to Creative Reuse on Give Local America Day on May 5. With your help, we raised $1,065 to support our programs!

Finally, big love to Wigle Whiskey for being such a great supporter of our work over the past three years. We loved being part of their birthday celebration last Friday Night (we made them a giant pinata in the shape of corn! At left is a photo of some of our staff with said corn), and we are grateful that they donated a portion of all their birthday party ticket sales. It takes a community to keep Creative Reuse humming along, and we are so thankful for all the ways you contribute.
upcoming events
We are SO excited to be a part of the Three Rivers Arts Festival again this year! Our Reuse-a-Palooza tent in the Giant Eagle Creativity Zone will be open from 12:00-6:00 PM each day of the festival (that's Friday, June 5 - Sunday, June 14). Reuse-a-Palooza is a hands-on exploratory art activity where participants are invited to create with a large array of reclaimed materials. The possibilities for creations during a Reuse-a-Palooza are nearly endless! Here is an album of photos from last year's festival. We can't wait to see the magic that happens this year.

Art Sale! June 1 - June 30. 50% off all artwork in June! Look out for already discounted artwork through our Automatic Price Reduction system - every 3 months, prices go down by 10%. Check the price tag for the date it was priced, then reference our handy "Is It on Sale?" signs throughout the shop to figure out the new price. Oh, and then, take 50% off that price! Yep, you heard us right. This sale is going to be AMAZING!
Bar Crafts
is back on Sunday, June 7 from 6:00-9:00 PM at the

Allegheny Wine Mixer in Lawrenceville.
Let loose with reuse! Enjoy a craft kit AND an adult beverage at the same time. We provide the tools, you provide $5 per kit. To-go kits will also be available!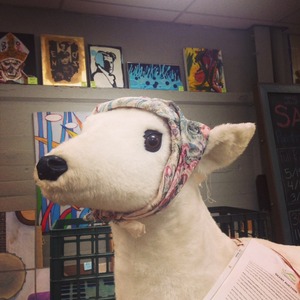 Auction for Baby: On Monday, June 8, from 4:00-4:30 PM, we are having a very special silent auction in our shop at Creative Reuse for Baby the Deer. There is a sheet of paper on her neck that you can sign up on with your name, phone number/email address, and bid amount. Any and all are welcome to attend the final moments of the auction to place any last minute bids. We suspect Baby will be both happy and a little sad. We will be, too. But luckily for you, the auction winner only gets happy feelings, and a lifesize white deer named Baby. Discover more about Baby's History/Herstory/Deerstory and RSVP for the final auction here.

Volunteer Orientation will be on Sunday, June 28 from 4:30-5:30 PM. Learn all about how to become a Creative Reuse volunteer at this month's orientation. Fill out an application
here
to get the process started!
open studio hiatus
We've truly loved connecting with our amazing and talented community during monthly Open Studio Nights, but we've come the difficult decision to put Open Studio on hiatus. Please bear with us, and keep an eye on our newsletter and social media, as we cook up other wonderful ways to engage with you in the Creative Reuse space.
upcoming programs...

Of course, we are very jazzed
for the massive levels of creativity that the thousands of visitors to our Three Rivers tent will bring (details above and in the left sidebar). We're also excited to work with some other wonderful people this month: a field trip visit from the Ellis School's 5th grade class, and robots with St Edmund's summer campers.
We're also super excited to partner with TekStart's Beauty of STEM program, as part of this summer's Pittsburgh City of Learning initiative. During this 8-week program, participants will create a number of clothing items and accessories from reclaimed materials, which will then be displayed in a culminating fashion show! Participants will also earn a number of digital badges! If you are or know a young person between the ages of 10 and 17 interested in making and fashion and would like to participate, contact Shimira Williams at TekStart for more information.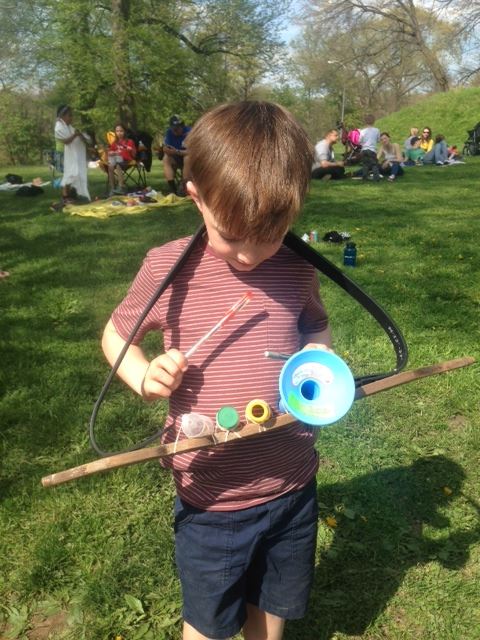 Our programs team spent a good amount of May planning for this summer's activities, but we did manage to sneak in a bit of crafty fun (click the links below to check out the event photos):
other highlights
& thank yous!
Even President Obama knows making stuff is cool. Celebrate National Week of Making, June 12-18 by tinkering, experimenting, creating, and innovating through making. We know where you can get some really cool supplies for all those projects! Also check out Pittsburgh's own Remake Learning network.

Pennsylvania Resource Council's ReuseFest is a one-day drop off event open to the general public that diverts materials from local landfills to reuse by Pittsburgh non-profits (like us!). This year's ReuseFest is set for June 13 from 9:00 AM - 1:00 PM at UPMC Passavant just north of the City of Pittsburgh.
Click here for more info on which non-profits will be there and what they'll be accepting. Click here to view a flier for the event. We'll be there until Fancy, our lovely van, is filled! We're specifically looking for the following donations at this event: artist paint, canvas, brushes, pastels, fabric (one yard or more), frames of any size, photographs, prints, and small vintage items for repurposing. If you have other items or large quantities of items to donate, please contact us to arrange a donation appointment at the shop.
Questions about ReuseFest? Contact Sarah Alessio Shea at PRC or call 412.488.7490 ext. 236


Farewell and a million thanks to our spring interns! And welcome to our summer interns! We'd like to take a moment to express our gratitude to our wonderful spring interns: Fanny Carvahlo, Abigail Gambino-Walker, Chelsea LeFever, and Jessica Schatz. We feel really lucky to have the opportunity to work with such kind and intelligent people who want to learn more about what we do, and who are willing to share their talents with us.

This summer Olivia Irvin is helping us with our high value merchandise and online presence. Kira Melville and Rebecca Wakeley are lending their creative hands and minds to our educational programs. Lorraine Yanjtovich is helping us improve our administrative processes and organization.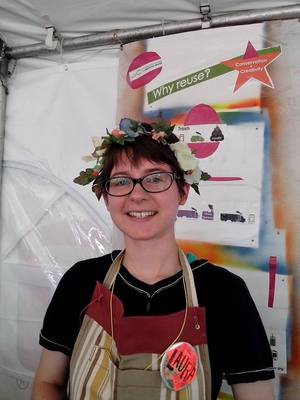 WELCOME LAURA RAMIE!
We are also very excited to welcome our new Creative Education Assistant, Laura Ramie! Laura has been volunteering at our educational programs for over a year and a half, and she is wonderful. Laura is a KEYS Americorps member who has been doing great work all over Pittsburgh with organizations such as the Brashear Association and, most recently, the Braddock Youth Project. She is an amazing artist/maker/educator whose talents range from illustration to painting to creating all kinds of fun things from reclaimed materials. We are thrilled to have Laura on board, along with her great intelligence, enthusiasm, curiousity, and warmth.


Many thanks to the following businesses who chose to reuse last month by donating their discards to Creative Reuse! If you would like to find out more about how our business donation program works, please email barbara@pccr.org.
Carnegie Museum of Natural History
awesome item of the month!
We recently received a Brother Knitting Machine (model KH-836), and two different attachments for it (KH-830 & KA-451). These machines regularly sell online for over $800, but you can buy ours for $400! Give the shop a call at 412-473-0100 if you have any questions about this awesome item.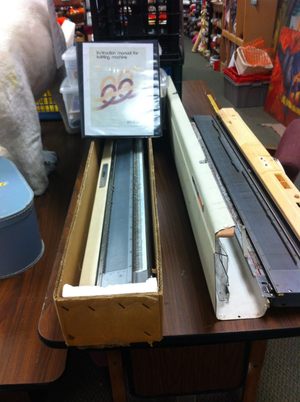 Keep an eye on our Facebook page for fun links, photos from our adventures, and our weekly shop highlights photo tour!
Stay artful, friends!
And enjoy the June sunshine.

Contact Us: 412-473-0100 | info@pccr.org | Forward this message to a friend