In the shop this month...
JULY 4: Shop Closed for Independence!

Creative Reuse will be closed on Friday, July 4th. Come see our boat/scrappy pile of buoyant things in the Anything That Floats race! Here's the schedule for the Regatta.

JULY 10: Open Studio
2nd Thursday of every month from 6-8pm

This month's special project is an Art Swap! Bring your unwanted art and swap it for someone else's unwanted art - all for free! Leftovers will be donated to Creative Reuse.
Our special musical guest for the evening is our friend, DJ Smokifantastic! Bring a few bucks for one of her awesome CD compilations!
Open Studio Night is an after-hours gathering and potluck for creative minds 18+. Some people bring a half-completed project to finish while others come empty handed and start something new. It's really what you make of it!
Click here for the Facebook event!

JULY 13: Shop Closed for Staff & Board Retreat

Creative Reuse will be closed on Sunday, July 13. Sorry for the inconvenience! We must discuss and plan all the greatness that the future beholds for Creative Reuse.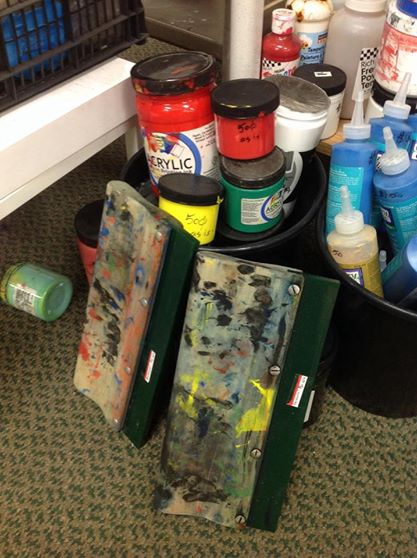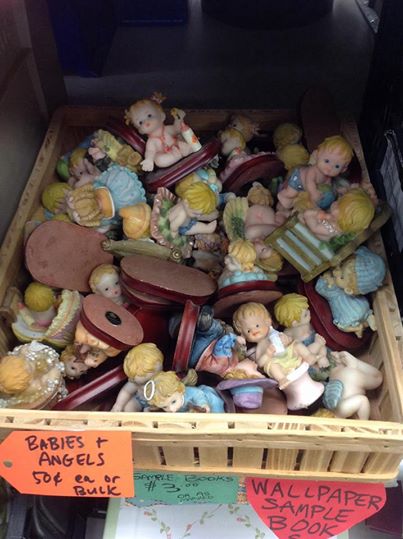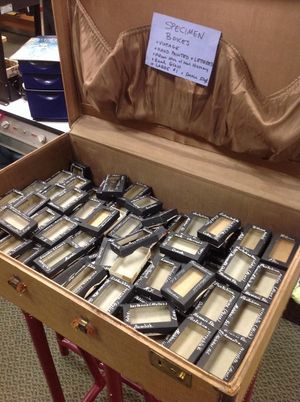 Just some of many interesting items we've gotten in lately...
Upcoming Not-To-Be-Missed Event!

AUGUST 21: SAVE THE DATE
Wigle Bantam Night Benefitting Creative Reuse
When: Thursday, August 21 from 6-9 pm
Where: Wigle Whiskey Garden & Barrel House (1055 Spring Garden Ave, in Pittsburgh's Northside neighborhood)
Mark your calendars, folks --this is gonna be fun! Event details to follow.

What we've been up to recently...
ACCESSIBILITY:
Creative Citizen Studios led our team in an accessibility training session on June 16. Kirsten Ervin helped us to imagine our full potential as the most welcoming place in Pittsburgh. Find out more about the wonderful things that CCS does here: http://www.citizenstudios.org/

BAR CRAFTS:
Per usual, Bar Crafts at the Allegheny Wine Mixer was a great time! The theme for the June 29th event was Goth/Renaissance/Black Sabbath projects. Here are a few of the things that were made. We'll keep you posted on when the next event will take place.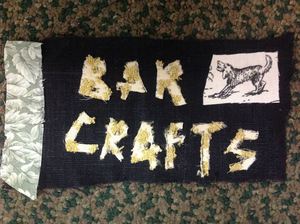 Bar Crafts patch made from fabric samples (of which we have MANY)!

OUTREACH PROGRAMS:
June was a wonderfully busy month for our Outreach Programs staff and volunteers. We got to work with so many incredible creative people.
The biggest thing we took part of in June was the Three Rivers Arts Festival. We met over 5000 community members during our 10 day stint in the festival's Creativity Zone. Those community members used nearly 1000 pounds (almost half a TON) of reclaimed materials. Check out some of the beautiful things they made in this album on our Facebook page. A million thanks to our staff, interns, and volunteers for all of their hard work! A million more thanks to the Pittsburgh Cultural Trust and the amazing volunteers they provided.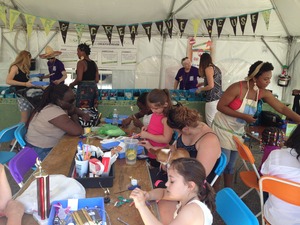 Happy times at the Three Rivers Arts Festival!

Here's a list of some of the other delightful people we had the opportunity to work with in June:
Wilkinsburg Tigers Afterschool Program had a Reuse-a-Palooza event to celebrate the end of the school year

Kelly Strayhorn Theater Full Bloom Summer Dance Party goers made some very fashionable party hats

Community Library of Allegheny Valley (article & pics here!) hosted a Reuse-a-Palooza as part of their Summer Reading Kickoff

A wonderful group of future educators from Pitt did some hands-on learning about the power of creativity and play in one of our teacher workshops

North Versailles Public Library hosted an upcycling workshop as part of their adult summer reading program
Interested in having a Creative Reuse program at your event/organization/school/library/group? Fill out our scheduler form online!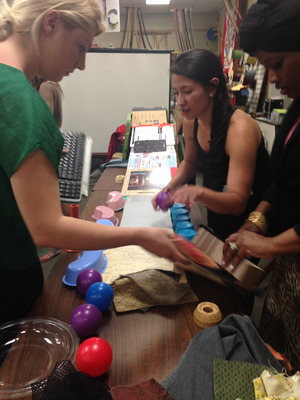 Future teachers playing!

ART STUFF!

Shop Manager Ashley Andrews and Board Secretary Ashley Andrykovitch make up the mega-art partnership, The App Expo. Their recent art residency in Las Vegas resulted in a documentary, and a 2 minute clip from that film is now a finalist in the Carnegie Musuem's upcoming film festival! Help them win an award by voting for their short, "The App Expo Presents Solar System Computing" HERE! All are invited to attend the live screening of all the finalists on July 10th (info HERE). Know someone who likes art, film, technology, and humor? Share the video with them and ask for their vote!


Thanks for being your marvelous crafty artistic selves, Creative Reuse community! You're the BEST.