STORE HOURS



Monday-Sunday
11 a.m. to 6 p.m.
LOCATION




214 North Lexington Street Pittsburgh, PA 15208

---
Upcoming Events
---
Papel Picado at the Children's Museum
When: Saturday, Nov. 1
1:00 pm-3:00 pm
Where: Children's Museum of Pittsburgh,
10 Children's Way, Allegheny Square, Pittsburgh, PA 15212
Creative Reuse at Escuelita's Dia de Los Muertos Family Fiesta
When: Sunday, Nov. 2
2:00-5:00 pm
Where: Hill House Kaufmann Center,
1825 Centre Ave
Pittsburgh, Pennsylvania 15219
Bar Crafts!


When

: Sunday, Nov. 3
6:00-9:00 pm
Where: Allegheny Wine Mixer,

5326 Butler St., Pittsburgh, PA 15201
November Open Studio Night: Warm Up America!
When: Thursday, Nov. 13
6:00-8:00 pm
Where: Pittsburgh Center for Creative Reuse

Handmade Holiday Sale!
When: Thursday, Nov. 20 - Wednesday, Nov. 26
Where: Pittsburgh Center for Creative Reuse
SHOP CLOSED for Thanksgiving (and the following day)!
When: Thursday, Nov. 27 - Friday, Nov. 28
Where: Pittsburgh Center for Creative Reuse




Pittsburgh Center for Creative Reuse promotes resource conservation, creativity, and community engagement through material reuse.
---
hello, dear community.
The Arts Day of Giving on October 2nd was an amazing day for Pittsburgh. The art-loving citizens of this city raised $1,238,923.70 in less than 24 hours to support 150 organizations, including us! We were especially proud to be among the top 20 organizations in terms of number of individual donations received (100!). We are honored to know that so many beautiful artists, teachers, students, non-profit pals, and neighbors chose to give to Creative Reuse. We hope you like the cards we made for you, and we'd be delighted if you'd introduce yourselves when you are in the shop or if you see us out and about. And big thanks to our 12 anonymous donors! We love that! It's like having a secret admirer: it could be anyone! It makes every day more mysterious and romantic.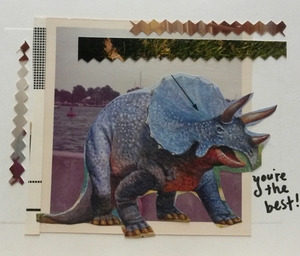 With your help, we raised $5,236 on ArtDOG toward the purchase of a new van. We figure a reliable used cargo van will cost us around $15,000. If you'd like to help, you can donate online, send us a check, or let us know if you know someone who'd like to donate a vehicle. Together, we are making Pittsburgh a city of reuse, where waste is re-imagined as a resource for creativity and innovation.
North Side Project Sponsorships
Are you or do you know a North Side artist or educator with an amazing creative reuse project idea? With the support of the Alcoa Foundation, we will provide materials to support 8 creative reuse projects led by artists or educators on the North Side between now and the end of next year. To apply for one of these project sponsorships, please complete this here form. We can't wait to hear about your ideas and see them in action!
what we've been up to lately...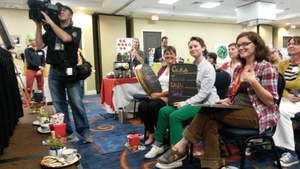 October was pretty amazing.
Ashley, Barbara, and Erika traveled to Austin, Texas, last week to attend a reuse conference called ReuseConEx. It was so exciting to mix with creative reuse leaders from around the country. We swapped tips, gave and received support, listened to each other, learned lots of new things, and strengthened the reuse community's connection. We are filled with gratitude for the anonymous donation that made this travel possible. Here's a photo of Barbara and Ashley serving as celebrity judges for The Ultimate Upcycle Challenge at the conference.
Erika and Nora spent October 17th and 18th at the PAEYC Biennial Conference talking reuse, creativity, and play with so many amazing early childhood educators. It was great connecting with them and connecting with a whole bunch of our fabulous peers in Curiosity Hall. Thank you for having us, PAEYC! We learned a lot and had a terrific time!
On October 24th, our programs team took a delightful autumn ride up to Grove City to facilitate a Creative Reuse Art Workshop. We, along with students and teachers from 17 different school districts, were hosted by the ever-welcoming Midwestern Intermediate Unit IV. We couldn't have been more thrilled by how the day went. Our participants took the Creative Reuse challenge head-on and made some incredible art pieces, many of which will be displayed at a multi-location exhibition in November. Check out the photos from this wonderful day here.
We facilitated some other really fun programs with the folks at the Kelly Strayhorn Theater as part of their centennial celebration, the awesome young women of the Girl Power! Empowerment group at the Homewood Children's Village, and the Carnegie Libary of Pittsburgh Allegheny Branch. We also took part in a few terrific Dia de los Muertos themed events, thanks to the generous support of the Tess Senay Raynovich Art Fund.
in the shop & around pittsburgh
This weekend our programs staff will be out at a couple more wonderful events honoring the traditions of Dia de los Muertos. We will be at the Children's Museum of Pittsburgh from 1-3 pm on Saturday, November 1st facilitating a Papel Picado workshop with some lovely reclaimed materials! Our workshop is part of the museum's Dia de los Muertos celebration (more info here). We will also be getting crafty at La Escuelita Arcoiris' Dia de los Muertos Family Fiesta at the Hill House Kaufmann Center from 2-5 on Sunday, November 2nd. ¡Qué gran fin de semana esto será !
Bar Crafts: November! is happening on

Sunday, November 2nd from 6-9 pm at the

Allegheny Wine Mixer in Upper Lawrenceville.
Make something. Drink something. Let loose with reuse! Check out the Facebook event page for more details and event updates.
November Open Studio Night: Warm Up America! will take place Thursday, November 13th from 6-8 pm.
The focus of November's Open Studio Night will be to Warm Up America! Our little chapter of this national effort will come together to attach 9 x 7 inch crocheted blocks to make shawls. The shawls will be donated to PAAR (Pittsburgh Action Against Rape). You are more than welcome to join in on this effort. 1
8+, pay-what-you-wish, potluck (vegetarian preferred so everyone can partake), and responsible adults are welcome to bring their own adult beverages. Check out the Facebook event page for more info.
From November 20th through November 26th, we're having the Handmade Holiday Sale!
featuring items perfect for remaking into holiday gifts.
Buy one, get TWO free:
Ribbon, Tile, Glassware, Scrapbooking Paper, Trophies, Records, Fake Flowers, Books, Corks, Fabric Remnants, Yarn, and more!
Our programs staff is looking forward to a number of great upcoming programs in November, such as: an upcycling workshop at the Brentwood Library, jewelry-making with a troop of Girl Scouts in Port Vue, materials exploration with the Tinker Squads, and found-object printmaking with the Center for Creative Opportunities.
Thanksgiving! It's happening! Our shop will be closed on Thanksgiving and the following day. Join us in celebrating Buy Nothing Day! Pick up some sweet reclaimed materials from our shop the week before Thanksgiving, and spend your holiday crafting with your loved ones. Keep it local, keep it handmade, and keep it special. Now that's what we call quality holiday time.
Keep an eye on our Facebook page for fun links, photos from our adventures, and our weekly shop highlights photo tour!
You are most excellent, and we can't wait to see you soon!

Contact Us: 412-473-0100 | info@pccr.org | Forward this message to a friend