STORE HOURS



OPEN DAILY
11 a.m. to 6 p.m.
LOCATION




214 North Lexington Street Pittsburgh, PA 15208

---
Upcoming Events




Pittsburgh Center for Creative Reuse promotes resource conservation, creativity, and community engagement through material reuse.
---
we're almost there!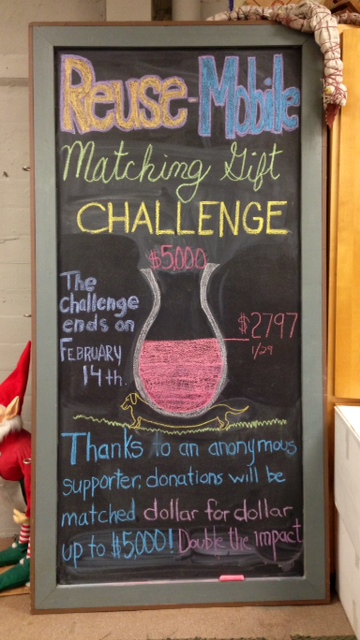 If you've been in the shop lately, maybe you've seen the giant "fundometer" on our chalkboard -- it's more than halfway to the top! We have until February 14th to raise $5,000 toward the purchase of a new van. Since our old one died in December, we haven't been able to pick-up large donations and our staff and volunteers are carpooling to events. An anonymous donor is matching every dollar donated for the next two weeks. So many of you have helped -- by kicking in a few extra bucks at the register, donating online, or handing us a check. Artists and crafters and bloggers have used social media to talk about why they value us and encourage others to give.
Creative Reuse is something I didn't know I needed until it opened, and then I immediately saw how vital and important it was to the arts community here in Pittsburgh. And it's just plain fun too! - Matthew Buchholz, Alternate Histories

Our community is totally pulling together for us! Please help by giving today, and telling a friend. Click here now to donate online.
Bar Crafts: February! is TODAY, Sunday, February 1st from 6-9pm at Allegheny Wine Mixer!
While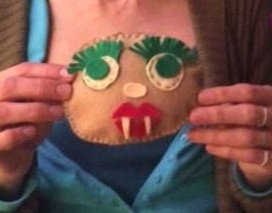 everyone else in the known universe will be watching moving pictures of men chasing a ball and slipping in snow, we're going to be crafting in a comfy bar with no TVs. Join us. $5 gets you a project kit to work on while you enjoy all the pleasures the Allegheny Wine Mixer has to offer.

January's Bar Crafts was a good-natured, creative, and enjoyable time, as evidenced by these stunning photos.
Our Handmade Valentine's Sale! takes place February 1-14!
Love is a worthwhile thing to celebrate. Make it special by making your Valentine's Day handmade! For the first two weeks of February, enjoy buy-one-get-one free EVERYTHING in our scrapbooking, stamping, greeting card, and paper section.
Need a little inspiration? Check out our Pinterest page featuring great handmade Valentine's cards and gifts.

Contemporary Craft Collaboration!
We're partnering with the amazing Society for Contemporary Craft for a teacher-oriented workshop on Saturday, February 7th: Belt Buckles for Teachers. The day will begin at Creative Reuse, where participants will select their own unique reclaimed materials. Everyone will bring their finds back to Contemporary Craft, where they'll design and create an original belt buckle using copper, brass, and nickel. Register online using this link (our own Principal Teaching Artist, Katy DeMent, teaches there too! Check out Crafts and Drafts: "V" is for Valentine and Making with Mother in Mind while you're at it).

If you haven't yet been to Contemporary Craft or taken a class there, you simply must! It is a wonderful, inspiring resource.
Open Studio: Reusemobile Matching Gift Challenge Party.
From 6-8pm on Thursday, February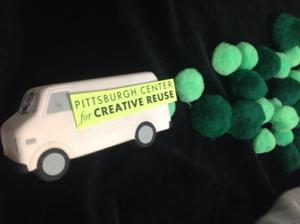 12th show your love for Creative Reuse by bringing ALL YOUR FRIENDS and donating whatever's in your pockets to help us meet our ReuseMobile Matching Gift Challenge. Don't miss this extra-special Open Studio with magic, prizes, and CAKE! 18+, pay-what-you-wish event, potluck (vegetarian preferred so everyone can partake), and responsible adults are welcome to bring their own adult beverages. We provide basic crafting supplies and our amazing buffet of interesting bulk materials. You provide your wonderful self and your imagination. We'll always have one or two suggested projects, and you are welcome to bring your own work in progress or project ideas. This Open Studio Night is co-sponsored by our dear friends at the East End Food Co-op. Check out the Facebook event for more info!
Upcoming programs
Our program staff is looking forward to working with our young friends in the Girl Power! group again in February -- this time for a fabulous fabric accessories workshop.

We're also excited about our three-afternoon stint in New Castle, PA, working with elementary and middle school students on creating their own inventions from reclaimed materials!

If your school, organization, or group is interested in a Creative Reuse program please take a look at the programs page of our website and complete our program request form.
a little january recap...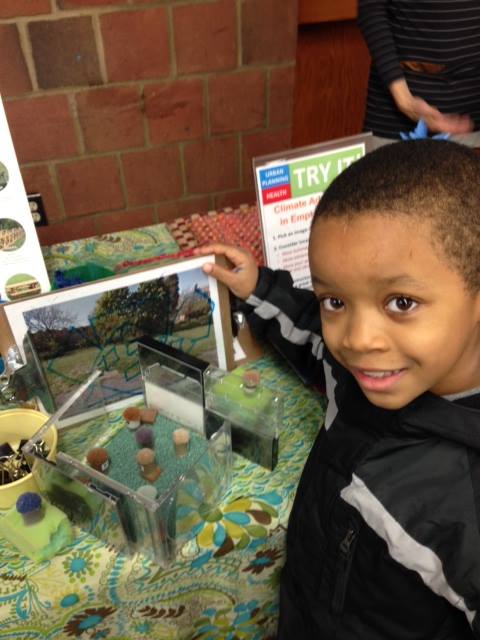 The Pop des Fleurs Open Studio Night was a blast. Check out some photos from the night here!
On MLK Jr. Day our programs staff spent the afternoon at the Schenley Ice Rink doing hands-on activities with attendees of the Student Conservation Association's event. Our participants had a great time dreaming up how they might use some of Pittsburgh's empty lots (see photo at right). Our activity was supplemented by the CUSP kit we borrowed from Carnegie Museum of Natural History. This particular kit was designed by one of the many wonderful CUSP partners, GTECH.

More photos

here

!

We had a great time eating pizza, crafting, and exchanging stories at our volunteer appreciation party.

We connected with a ton of wonderful educators and adminstrators at APOST's Everything After School event. Lisa Shaughnessy from Moon Parks & Recreation won a $10 Creative Reuse gift certificate in our raffle!

And we had a silly good time using tools and making jewels with a group of teens at the Carnegie Library of Pittsburgh - Allegheny branch.
Keep an eye on our Facebook page for fun links, photos from our adventures, and our weekly shop highlights photo tour!
You have our hearts, Creative Reuse community!
Thanks for being great.

Contact Us: 412-473-0100 | info@pccr.org | Forward this message to a friend