New arrivals in the shop: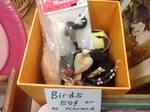 These fake birds are for the birds, but they can also be for you! 50 cents each!




A huge variety of colored pencils for the colorful character in your life! We always have plenty in stock.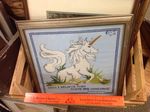 UNICORN CROSS STITCH! $25, but actually priceless.
You need this.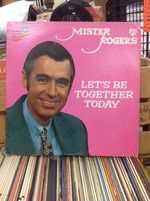 A record by everyone's favorite Pittsburgher! Won't you be our neighbor?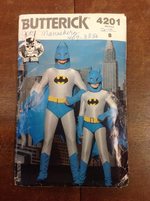 We just got in this Batman costume pattern! Make one to wear while fighting crime and saving materials from landfills!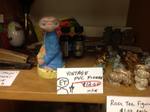 This ET figurine is made from equal parts PVC and your nostalgia. Phone home!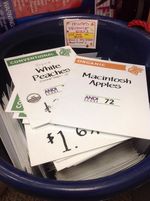 Dry erase produce signs! Some text is printed on, but some is just marker! Use them at your farmer's market stall?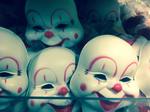 These masks are a little creepy, true. But think of the creative possibilities! Who says Halloween comes once a year?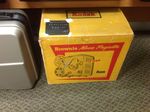 A working 8mm video projector for just $22? Now you can finally see those old home movies in all their glory!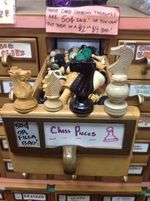 Missing a knight? We have a whole drawer full of chess pieces in our card catalog! 50 cents each or fill a small art bag!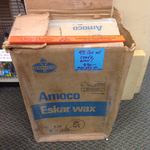 We have 45 pounds of wax waiting for your next project! Use it for molds, candles, sculptures, or whatever else you can imagine! $90 for the whole shebang.



We have a lot of fun on social media. We know you do, too! Pick your poison:

what's up next
Bar Crafts Tonight
Sunday, November 1st from 6-9pm
at the Allegheny Wine Mixer

Let loose with reuse! Enjoy an adult beverage and make a creative project at the same time. Tonight it's Twin Peaks themed, so bring your best Special Agent Dale Cooper costume and get ready to watch, chat, and create.
Sugar Skull Block Print Party Today
Sunday, November 1st from 12-4pm
at Creative Reuse

In honor of Dia de los Muertos, we're having a Sugar Skull Block Print Party. We'll provide the beautifully carved linoleum blocks, designed by our own Cammie and Laura, as well as some inks and inking tools. You bring the T-shirt (or other fabric of your choice). If you have some extra textile ink that you'd like to share to add to the array of possible printing colors, please do.
Click here
to find out more about the event and about el Dia de los Muertos (the Day of the Dead). We hope you'll join us!
November Sale:
Buy one get one free Bulk Bags
November 1-30

The holidays are peeking around the corner and asking, "Why not buy reused this holiday season?" It's a great question.

Reuse is healthy for the environment AND your wallet, and it supports your friendly neighborhood reuse center. Holiday items of note that we have in our beloved Bulk Section at present include: gift wrap, spools of ribbon, bows, boxes, holiday decorations, twinkling lights, cookie tins, fake flowers, tiny presents, and gift bags! Stop by any day in November and enjoy buy one get one free Bulk Bags.
Our shop will be closed on Thanksgiving Day (11/26) and Buy Nothing Day (11/27). We will be spending time with friends and family and enjoying a little breather before the rush of the winter season takes over. We wish you all a lovely holiday and a relaxed day off. Remember, the spending and the door-busting and consumerism of "Black Friday" are not mandatory. Create your own day-after-Thanksgiving tradition!
Together, we can work to change the mindset that new is best and more is better. Join us in a day off with yourself, your pets, your loved ones, your family, your friends - and create something magical out of what you already have! We'll be sharing our alternative "Black Friday" creations on
Facebook
and
Instagram
.
Perhaps you'll wish to donate what you save on Buy Nothing Day to your favorite nonprofit on GIving Tuesday.
thanks for coming out to RECLAIM!

Our first-ever RECLAIM! event was a huge success. Thanks so much to everyone who came out on the 16th, 17th, and 18th. We took in over 3,000 pounds of donated design samples from different firms, and were able to supplement with a lot of overstock from our warehouse. We had over 150 visitors to our driveway and many more checking out our shop. We couldn't have pulled this off without our donors (special thanks to our Bronze sponsor, Pfaffman & Associates), our tireless staff, and an all-star team of volunteers:
Pitt Students for Sustainability
Alpha Phi Omega-Beta at Pitt
Pitt Project GIVE
Ana Alba
Anne and Luknam Davis
Elizabeth Murray Finkelstein
Emily Herschl
Shelby Weber
Julia West
Colin White
And Eve Karnafel, our incredible intern!
If you attended RECLAIM, please fill out
our survey
for 10% off your next visit to our shop. We'd really appreciate any and all feedback so we can make RECLAIM! even better next time. See you in the spring!
creative education and outreach
We're having a special orientation for potential Creative Education Volunteers on Sunday, November 15th from 4:30-6:00 PM.
Do you love meeting creative and crafty people of all ages? Especially kiddos? If you're interested in volunteering at our programs, complete
this online form
and plan to join us on November 15th. We hope to see you there.
Our Creative Education Team is looking forward to facilitating programs with some great people this month:
Carnegie Library of Pittsburgh, Allegheny Branch
Carnegie Library of Homestead
Girls of Steel Robotics
Here's a short recap of what we did in October:
Tiny haunted houses and other Halloween-ish items were created at GUTS Pittsburgh! Click here for photos.
We issued a new challenge to attendees of Maker Faire Pittsburgh: Spin to Begin! The Creative Reuse Challenge. Materials were chosen by the spin of our awesome game wheel, and project ideas were chosen by the turn of our Bingo cage! Click here for photos. (Enormous thanks to the Alcoa Foundation for making our participation in Maker Faire Pittsburgh possible!)
We brought Reuse-A-Palooza: Halloween Edition to the Brighton Heights Halloween Parade!
project sponsorships

We are pleased to support the following projects this month:
thank you
to the following businesses who chose to reuse last month:
If your business would like to discuss how to donate their discards to Creative Reuse, please contact Barbara Moore at
barbara@pccr.org
volunteer at creative reuse
We couldn't do what we do without our lovely volunteers!

If you're interested in joining our mission by helping out in the shop, with a Creative Education program, or with special skills that you have, simply visit the Volunteer page of our website
here
and check out our options!
material of the month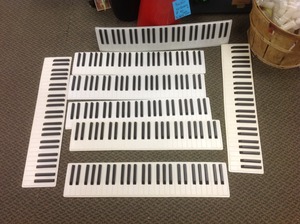 Perfectly pleasing plastic practice pianos! Need to brush up on your finger work? Know someone better off not playing the piano? Need an anti-tickle suit? Want to create an ebony and ivory suit of armor? Only $8.00 each!
​
Like what we're up to? Why not
donate
a few bucks right now?
Every single dollar stretches our impact even further.

Pittsburgh Center for Creative Reuse -

Open to everyone, every day from 11am to 6pm



Make someone's day a little more creative - forward this email to a friend!