---
what's up next: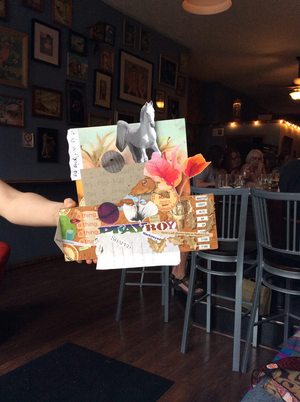 Everyone: enjoy buy-one-get-one free school and office supplies.

​Think: pencils, binders, books, stamps, containers, erasers, paper, markers, rulers, crayons, drawing paper, stickers, scissors, chalk, and more!

Teachers: delight in BOGO bulk bags when you sign up for our e-newsletter at the front desk. In our bulk section, we have: binders, pens, pencils, markers, crayons, notebooks, folders, notepads, stickers, bags, envelopes, and loads more!
Sunday, August 2nd from 6-9pm
at the

Allegheny Wine Mixer



Let loose with reuse! Enjoy an adult beverage and make a creative project at the same time.


Mini-reminder:


Our shop will be closed on Monday, September 7th for Labor Day
​
Here's a list of the creative and wonderful things our Programs staff has planned for August:
Remixing old jewelry with TekStart's Beauty of STEM Maker institute

Trophy Making Workshop with Tom Sarver at the Neu Kirche Contemporary Art Center on Tuesday, 8/4 from 5:00-7:00 pm

A visit with youth from the EECO Center at Pittsburgh Community Services, Inc.

The ReMaker Playshop: ReJewel: This youth workshop will focus on creating jewelry using traditional and non-traditional materials (such as: design samples, computer parts, and anything else that could be an "alterna-bead"). Participants will be eligible to receive two City of Learning digital badges! This workshop will take place on Thursday, 8/13 6:30-8:30 pm. Registration is required and participants must be between 10 and 19. More info here!

Teacher workshops with educators from the Jewish Community Center on their in-service day

Reuse-a-Palooza: Superheroes Edition at Pressley Ridge

Meeting new university students at a Pitt Orientation event

Hands-on fun at the Wilkinsburg Open Market on Thursday, 8/27 from 3:00-6:00 pm

Kite-Making at the Carnegie Library of Homestead

July was a terrific (and busy) month for Creative Reuse Programs! Here's what we were up to:
thank you

to the following businesses who chose to reuse last month by donating their discards
If your business would like to find out how to donate discards,
please contact barbara@pccr.org


volunteer at creative reuse


We couldn't do what we do without our lovely volunteers!

If you're interested in joining our mission by helping out in the shop – once a week, once a month, every day – simply fill out the Volunteer Application here and we'll be in touch!


staff notes

​
Like what we're up to? Consider donating now. Every dollar stretches our impact even further.

Pittsburgh Center for Creative Reuse - Open every day, 11am - 6pm

Make someone's day - forward this message to a friend!