Happy Spring everyone!

Our April has been pretty great so far...

ZeroLandfill Pittsburgh 2014 was a success! Our ZeroLandfill Pittsburgh team took in over 18,000 pounds of outdated design sample donations from local interior design and architecture firms, which were then taken home by the community to be reused, or prepared to be recycled appropriately!
HUGE SHOUT-OUT to everyone who volunteered their time and energy in this effort. We offer our sincerest thanks, you all worked so hard. This awesome event, which provided (literally) tons of free creative resources to our community, couldn't have happened without you!

Here's what's happening in the very near future...

Location: Pittsburgh Center for Creative Reuse
Did you know that April is National Poetry Month? Thus, this month's Open Studio Night theme is found poetry... so, ignite your inner wordsmith! Fire up your brain with the abundant fuel of language found in the pages of print media, packaging, and advertising in our bulk section. Hot for haiku? We've got words for you!
Not in the mood for wordplay? That is a-okay. Open Studio is OPEN. Bring what you want to work on, or find inspiration when you get here. You are free to use whatever materials you'd like from our bulk section on Open Studio Nights.
This event is potluck, pay-what-you-wish, and BYOB. Check out the Facebook event here!
Shop closed Easter Sunday
Our shop will be closed on Sunday, 4/20 for Easter. Otherwise we will be here everyday, 11-6!
April 22nd: Earth Day!
Every day is Earth Day at Creative Reuse, but April 22 is extra-earthy. We'll be leading hands-on programs all over town this month to encourage conservation and creativity. What are you up to? Let us know by posting on our Facebook page!
Outreach Volunteer/Occasional Program Facilitator Info Session
Day: Monday, April 28
Time: 6:30-8:00 pm
Location: Pittsburgh Center for Creative Reuse
Do you enjoy making art with kids, and engaging with your community? Are you passionate about inspiring creativity and using reclaimed materials?
We are seeking friendly volunteers to assist with our outreach programs! Join us at this info session to meet with our program staff and to find out about what volunteering at Creative Reuse programs entails. We will also be discussing opportunities and criteria for experienced program volunteers to apply to be Occasional Program Facilitators at PCCR events.

RSVP by clicking "join" on this event!
May 6th: Pittsburgh Day of Giving
You already help Creative Reuse by donating materials and shopping with us, but did you know that more than 30% of our 2014 budget comes from community support? We can't do this without you! On May 8, please support the Creative Reuse center you love by donating during the annual Pittsburgh Day of Giving. Your contribution on that day will help us raise additional funds through a match from the Pittsburgh Foundation. You can also help by encouraging friends to donate, saying nice things about us on Yelp, Facebook, or PittsburghGives, or by volunteering at our shop and events.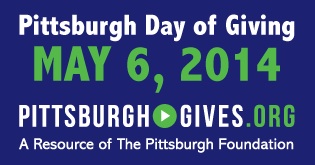 Hey, check this out!

Creative Reuse's Little Help from Your Friends program
Creative Reuse supports non-profit organizations and individual artists who are making a difference in our awesome community. For more info, read about our Little Help From Your Friends program here.
Creative Reuse was happy to support Creative Citizen Studios' March 30th event, "The Art March." This was a specialized art crawl intended for both kids and adults with autism and their families that included art-making activities with reclaimed materials.
We were also delighted to support Voices for Animals in their vital work of speaking out for the rights of circus animals.
Finally, we felt honored to support Homewood Children's Village Little Free Library project that involves making, decorating, and placing stations around Homewood. The Little Free Library movement is a "take a book, return a book" gathering place where neighbors can share their favorite literature and stories in an effort to promote literacy.
Don't forget, PCCR LOVES YOU!
PITTSBURGH
CENTER
FOR CREATIVE REUSE
HOURS
Monday through Sunday
11 a.m. to 6 p.m.

LOCATION
214 North Lexington Street
Pittsburgh, PA 15208
map
WEBS

ITE
www.pccr.org
LIKE us on Facebook
VOLUNTEER
with us
PCCR is a nonprofit 501(c)(3) community benefit organization supported by donors like you. Please help us sustain our mission by making a generous tax-deductible donation
here.
Did you know we post photos of available materials on our Facebook page all the time? You don't have to be on Facebook to see them!
Just click here to see our page.