New arrivals in the shop: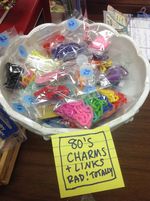 Funky charms and chain links! Classic and cheap at $2 each!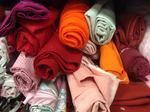 Cozy and cool felts and fabrics! All 20% off for the entire month!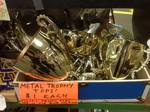 Does someone in your life need recognizing? Or do you need something shiny? Grab some trophy tops for $1 each!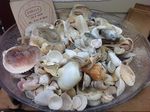 Look at these gorgeous seashells! A taste of the beach here in the Burgh. Only 25 cents, or fill a bag with these and other treasures!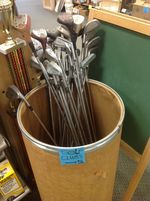 Be in da club with these new arrivals! We've got a wide selection of vintage golf clubs for just $2 each!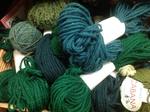 Blue and green yarn! We've got lots of other colors too! Most skeins $1-$3 each, and this month they're all 20% off!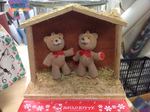 Cutie bears! In their own little house! Come visit the shop to see if they're JUST RIGHT for you!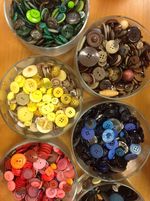 Buttons! Of all colors, shapes, and sizes! These are in the fabric section, which means that they're 20% off all month!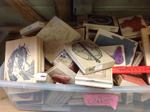 We have a whole lot of stamps waiting to be inked! Big ones, small ones, detailed ones, simple ones! Prices vary.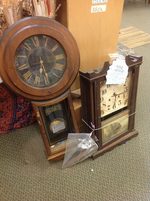 Fancy old clocks and regulators! Prices are on them, so come down and check them out!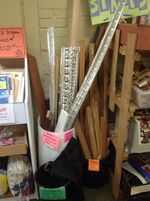 We have frames and mouldings, broken down into straight sticks! Create your own funky shapes and fill them with cool stuff! $5 per piece.


We have a lot of fun on social media. We know you do, too! Pick your poison:

what's up next:
RECLAIM! 2015
Save the date for RECLAIM! 2015 - an epic smorgasbord of design samples and other reclaimed materials for your creative hunger! A minimum donation of $5 (more is GREAT!) will give you the freedom to take away as many materials as you wish. We'll also have hands-on creative activities in our shop featuring design samples. October 17th and 18th, 11am to 6pm each day at Pittsburgh Center for Creative Reuse. If you are a design professional and would like to boost your environmental awesomeness score by contributing expired samples, please email barbara@pccr.org.
Bar Crafts
Bar Crafts is on hiatus this month--join us the
first Sunday in November for the next one!
October Sale: FABRIC!
Take 20% off everything in the fabric section, including yarn, trim, patterns, mannequins, sewing machines, fabric, books, and more! (Some items may already be 20-40% off thanks to our Auto Price Reduction System--items get cheaper the longer they sit on our shelves. Add that to the sale amount to find your total discount amount. Some items will be 60% off!!!)
thanks for supporting creative reuse!
Our fundraiser at Wigle Whiskey was a huge success! We made fancy hats, danced to the tunes of DJ MB, had some tasty drinks, and ate delicious food. We raised over $4,000 with the support of our friends, our sponsors, and our wonderful board members! Many thanks are due to Wigle Whiskey, DJ MB, Dinette, Istanbul Sofra, East End Food Co-op, Choderwood, Trader Joe's, Square Cafe, Whole Foods Market, and YOU for supporting this event! Read more in this article from the Post-Gazette, and check out some photos from the night on our Facebook page! Thanks again for coming out, and we'll see you next year (if not before)!
we're hiring!
We're looking for a super outgoing and amazingly creative new
shop assistant.
Qualifications include
familiarity with and interest in the Pittsburgh art scene, art history, contemporary art, the DIY movement, creative reuse, craft traditions, familiarity with art tools and techniques, money handling skills, customer service excellence, and others. Apply by Tuesday, October 6!
creative education and outreach

Here's what our Creative Education Team is looking forward to in October!
A professional development program with students from the Community Education Program at West Liberty University. They'll be visiting us all the way from West Virginia!

Dia de los Muertos themed activities at GUTS (a friendly pumpkin carving competition organized by AIGA Pittsburgh and Wall-to-Wall Studios in support of Make-a-Wish Greater Pennsylvania and West Virginia. This family-friendly event will take place from 4 to 7 pm on Saturday, October 3 at Penn Brewery!*

Join us at Maker Faire Pittsburgh, where we will debut "Spin to Begin: the Creative Reuse Challenge," where materials are chosen by chance! Spin the Wheels of Reuse to choose what materials you'll work with. Not sure what to make? Let our Bingo Idea Board help you out! Maker Faire takes place from 10 am - 5 pm on Saturday, October 10 and Sunday, October 11. More info about the event can be found here and tickets can be purchased here. You can also watch our Creative Education staff describing Spin to Begin in this short video!*

We're bringing Reuse-A-Palooza: Monsters & Creatures Edition to the Brighton Heights Halloween Parade!
Keep an eye on the
home page of our website
and
our Facebook page
for other upcoming Creative Education programs!
And here's what the Creative Education Team was up to in September:
*Our participation was made possible by the generous support of the Alcoa Foundation!
We are pleased to support the following recent projects:
FedEast Feast (North Side Block Party)
Both of these sponsorships are made possible with the generous support of the
Alcoa Foundation
.
to the following businesses who chose to reuse last month
If your business would like to find out how to donate discards,
please contact Barbara Moore at barbara@pccr.org.

volunteer at creative reuse


We couldn't do what we do without our lovely volunteers!

If you're interested in joining our mission by helping out in the shop – once a week, once a month, every day – simply fill out the Volunteer Application here and we'll be in touch!



material of the month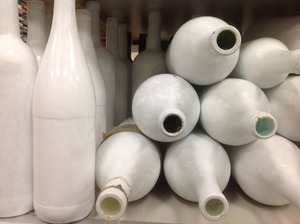 Painted wine bottles - 5 for $1.00! Why not try some holiday decorating with these Pinterest projects?


staff notes
BRA Day



Join Principal Teaching Artist Katy Dement and Shop Manager Ashley Andrews at BRA Day at the Warhol on October 21st. Several Pittsburgh artists, including Katy and Ashley, will be showcasing artful creations made from mannequin torsos.
Hack Your Creativity: App-making with the App Expo
Join Shop Manager Ashley Andrews and Board President Ashley Andrykovitch for their Maker Faire presentation on October 11th and 12th at noon each day. The Ashleys' art/tech collaboration, The App Expo, will present their most popular apps from the last three years, including the Google award-winning app, "Woah, Buddy!" Learn the secret to making genius apps of your own as you hack your creativity and unlock your full potential.
​
Like what we're up to? Why not
donate
a few bucks right now?
Every single dollar stretches our impact even further.

Pittsburgh Center for Creative Reuse -

Open to everyone, every day from 11am to 6pm



Make someone's day a little more creative - forward this email to a friend!