DONATE NOW!
Dear Readers,
Happy 2016 everyone! This year we are celebrating BEST's 25th anniversary, and to start off the festivities we are delighted to have a story by Carmen Mills about the early days of BEST and Spoke'n'Word. Carmen was there as it happened and has a rousing and inspirational tale to tell! Also in this month's newsletter we have a "By The Numbers" wrap from The Bicycle Valet, information about STAR's ride program listing for seniors, and an interview with Manatsu about his experience volunteering for BEST. We hope his story will inspire some of you to make volunteering for BEST part of your 2016!
BEST's 25th Anniversary
Making Merry Mischief with BEST
by Carmen Mills (aka One Less Carmen)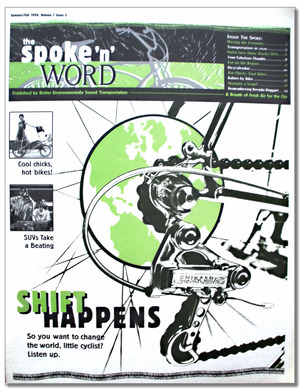 In 1996 I was all full of biking beans, fresh out of Emily Carr's graphic design school and looking for trouble. One day at Critical Mass a handsome gap-toothed gremlin in a silver wig rode up alongside me, and invited me to a klatch at the House of Joyful Chaos. At the appointed time I walked into a house full of high-spirited strangers, and a couple of hours later, climbed back on my bike in a euphoric daze (possibly related to the refreshments passed hand to hand) as the newly crowned editor/designer/publisher of The Spoke'n'Word—the quarterly rag of the BEST bikesheviks. I didn't quite know what I had gotten myself into, but I had a feeling it would be fun.


Fun was not always at the forefront in those not-so-long-ago Bad Old Days. At the time, being a cycling or alt-trans activist in Vancouver put you out on the fringes of mainstream politics and culture. Twenty years ago the car was unquestionably king of the road. Barely a nod was given to cycling in the city, and there was close to zero existing infrastructure. Fighting for the first on-street downtown cycling lane on Pender Street, we were mocked by the Downtown Business Association and dismissed by the crusty dinosaurs on City Council. Critical Mass rides were routinely busted up by police, with riders thrown off their bikes by motorcycle cops. It could be frustrating and dangerous and lonely out there. BEST, and The Spoke, gave us a presence and a voice.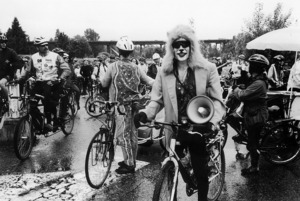 Richard the Lions-Gate Hearted
Through those early years there were giant rides to tame the terrifying Lions Gate Bridge, Dinosaurs Against Fossil Fuels running rampant in the streets, skytrain flashmobs, and some very naughty bicycle burlesque shows. There was the legendary AGM of BEST when a huge group of motorcyclists tried to oust the Board of BEST—and they almost did! Until some quick-thinking BESTies staged a filibuster, and managed to stave off the election until we could call out all the forces of non-motorized transport to save the day. And, there were lots of truly epic dance parties. Centered around celebration, the movement grew. People got on board and slowly, and then, faster and faster, Vancouver began to morph into our city of dreams. When I ride around the city now it truly blows my mind, just how far we have come in so little time.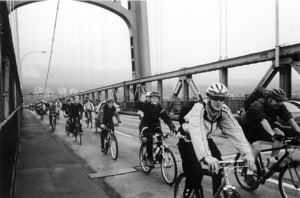 The masses take power and ride over the Lions Gate Bridge.
I managed the Spoke for four years or so, from about 1996 to 1999. Then, with the help of my alt-trans/biking buddies, I moved on to co-found Momentum magazine and start up Car Free Day in Vancouver. But twenty years later I still work and protest, and party and play, with some of the same folks I met way back then—plus whole new generations of peaceful warriors, on the streets and in City Hall. Lots has happened and many more changes will come, but I still look back fondly on the day I was kidnapped by the merry pirates of BEST.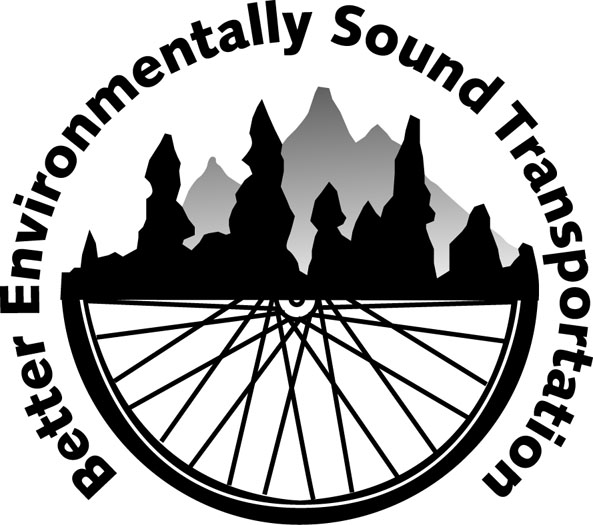 Carmen blogs at www.bicyclebuddha.org, and showcases her design work at www.emeraldcity.ca.
---
The Bicycle Valet: By the numbers
2015 was another year of growth for The Bicycle Valet, with 23,000 bikes safely parked, bringing us up to 125,101 bicycles safely parked since 2006. We're looking forward to another big year in 2016 as we hit our 10th year of keeping bicycles safe. Thank you to everyone who has helped us get here: our sponsors, TravelSmart and YVR, our amazing staff, our excellent volunteers, the wonderful events that invite us to be there, and all the amazing patrons who trust us with their bicycles!

For more information on The Bicycle Valet, please contact Sinead Stinson at sinead.stinson@best.bc.ca or 604 669 2860 ext. 207.

Here's a visual of our year, by the numbers: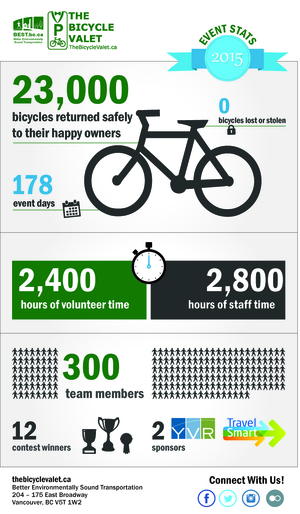 ---
Volunteer story: Manatsu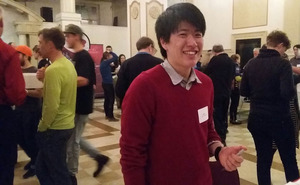 At BEST we are fortunate to have volunteers from all over the world working with us. Volunteers might help at The Bicycle Valet or one of our other programs or around the office – whatever they do, we are enriched by their participation. This month we asked Manatsu, who lives in Japan, to answer our BEST Volunteer Questionnaire.

What were you doing in Japan before you came to Canada?
I was a university student studying International Relations. Actually, I'm still a student and am taking a year's vacation.

Why did you want to come to Canada, and Vancouver in particular? How long are you here for?
The first reason I came here was to study English. It was kind of my dream to have the experience of staying abroad. I chose Vancouver because I heard that Vancouver is safe and not as cold as other cities in Canada. Actually, Vancouver is such a nice place!! I've been here for 6 months and I'm going to stay for about 3 more months.

How did you come to volunteer at BEST?
To be honest, my agency introduced me to BEST.

What are you doing for BEST?
I worked as a volunteer intern for The Bicycle Valet – I'm working in the office and going to Bicycle Valet events.

What have you learned / how have you benefited from your volunteer work with BEST?
I've learned how to communicate with people and to work with responsibility. I could talk with many people while volunteering, so it was a really good opportunity to improve my English. Also, I got to know many people through The Bicycle Valet. What's more, when I did The Bicycle Valet, we had to manage people's bikes responsibly. We even set up the parking by ourselves. It's kind of hard work, but when I gave back a bike to users they looked happy and thanked us. Because of this, I could feel happy about volunteering.

What would you say to somebody thinking of volunteering?
I'd recommend that they volunteer! I think any volunteer work is good, but I can say that The Bicycle Valet is especially fun!! And to do something for someone else is great! Even more, working at BEST is good for the environment! Anyway, if you're thinking about volunteering, you should join. You would have a good experience volunteering with BEST and The Bicycle Valet.
---
STAR: Looking for a seniors' ride program?

BEST knows that in order to achieve our goal of vibrant, healthy communities built around walking, cycling, public transit and ride/car share programs there needs to be a blending of generations -- and this can only occur when seniors have transportation options that enable them to age in place. But for seniors who are no longer able to drive transportation is often a serious problem. Many are reticent about asking family and friends for rides and alternative transit solutions may not be available.

One of the commitments of BEST's STAR program is to maintain an up-to-date listing of affordable, accessible and convenient ride programs throughout the Province. These programs are organized through the government or by non-profit agencies and are unique to the needs of the local community. To take a look at this listing, please visit here.

If you have anything you would like to add to this list of ride programs, or have any questions about the STAR program, please contact Stephanie Williams at stephanie.williams@best.bc.ca, 604 669 2860 ext 212.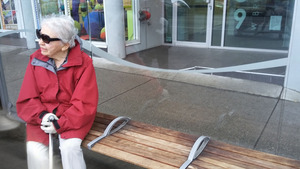 ---
BEST Fundraising: Thank you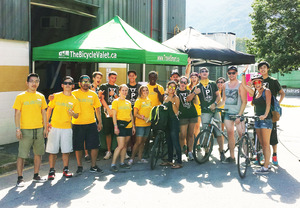 Thank you to everyone who made a donation during our annual winter fundraising campaign. We have been advancing sustainable transportation in Metro Vancouver for 25 years, and with your support we will continue to do so for another 25 -- or until our vision of vibrant, healthy communities built around walking, cycling, transit and ride/car shares is achieved!

All the best in 2016!
THANK YOU TO OUR SPONSORS:


---

Thank you for your continued interest in BEST!

Our Mission:
To advance the transformation to sustainable transportation

Our Vision:
Vibrant, healthy communities built around sustainable modes of transportation
As Canada's new
Anti-Spam Legislation
came into effect July 1st 2014, we are in the process of updating our mailing lists and documenting subscriber consent. We currently send you electronic communications that you have opted into in the past, or because you have participated in one of our events, utilized our services, or supported us in some way. We will continue to send you news and updates about our organization, but please note that you are free to unsubscribe at any time. If you would like to give us your permanent (until you unsubscribe) express consent, please click
here
.
We hope you will choose to stay with us at BEST!