DONATE NOW!
Dear Readers,
This month our newsletter is choc-a-bloc full of great stories, including the first in a series looking at some of the highlights of BEST's history. Our 25th anniversary is in 2016 and we want to begin celebrating early! We will be looking this month at Our Community Bikes, which was started by BEST in 1993. Also in this month's newsletter you'll find stories about The Bicycle Valet's plans for November (expect a lot of soccer!), BEST's run at the BC Hydro Community Champions, our participation in the upcoming CNU Cascadia Summit, special opportunities for BEST members, the exciting new VPD bike registration program, AND even a movie review! Phew, that's a lot of news! Happy reading everyone, and we hope you have a good month.
---
The Bicycle Valet: At new and returning haunts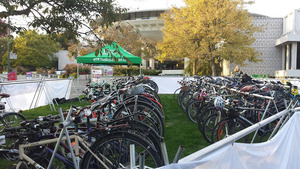 It was a gorgeous fall day for the BTWW
October Launch & Fashion Show @ the MOV.
In exciting Bicycle Valet news - especially for the many soccer fans out there - we'll be keeping bikes safe (for free, as always) at the upcoming FIFA World Qualifying Match between Canada and Honduras on November 13th! You'll find us at our usual BC Place location, Gate C. Come cheer on your team without a worry in the world, or at least no worries as far as your favourite ride is concerned!

Wondering where else to find us in November? You'll also find us at the Vancouver Art Gallery's FUSE night, at the Eastside Culture Crawl, at the Hyde Creek Salmon Festival, and at all Whitecaps home games as they make their way through the playoffs! To learn more, check out our calendar here.

For more information about The Bicycle Valet please contact Sinead Stinson at sinead.stinson@best.bc.ca or 604 669 2860, ext 207.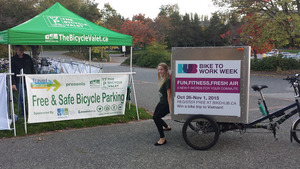 Staff member Christina does some heavy lifting
at the BTWW October Launch.

---
Vote for BEST! Help us become a Community Champion!
BEST and The Bicycle Valet have made it to the final round of BC Hydro's Community Champions, where 5 of the 15 finalists will be awarded $10,000.00! Want to help us WIN?
Click here and check out our video (made by our awesome volunteer, Kiyo).
Vote for us DAILY until November 30th, and share it with your friends online!
There are some other really great non-profits in the contest, including our active transportation friends from HUB and PEDAL. Don't worry, you can vote for more than one organization, so make sure to vote for them too!
---
BEST History: Our Community Bikes

At BEST we're getting geared up to celebrate our 25th anniversary in 2016 and as part of our preparations have been looking back at our accomplishments.

One of our proudest achievements is that we started Our Community Bikes, Vancouver's first do-it-yourself bike store. Founded in 1993, Our Community Bikes was later spun into its own non-profit, PEDAL, which now runs summer bike camps for kids, refurbishes old bikes, and trains and teaches people to fix their own bikes.

Our Community Bikes recently moved into a new space at Main and Broadway, right below BEST's office in the Lee Building. It's good to be neighbours!

For over 20 years Our Community Bikes have been doing a lot of great work in our community helping people make cycling a part of their daily lives. And with community support their work will continue for decades to come! Why not consider dropping in to say hello, volunteer, or make a donation? You'll find them at 2429 Main Street, 604 879 2453, info@pedalpower.ca.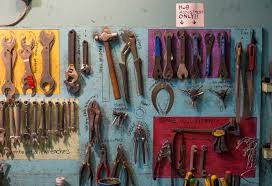 ---
Join BEST at CNU Cascadia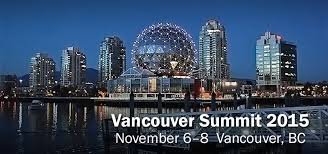 CNU Cascadia (the Congress for the New Urbanism) is having its summit from November 6-8 in Vancouver, and BEST will be there.

BEST's Tanya Paz is presenting at the Friday night Pecha Kucha, which has as its theme "Why vibrant, walkable urban design is important." It promises to be a lively and informative evening!

CNU Cascadia is a bio-regional organization serving B.C., Washington, and Oregon. Their mission is "to promote the awareness and practice of conservation, preservation, development, and redevelopment which support diverse, pedestrian-oriented, accessible, vibrant, and environmentally responsible communities and neighborhoods." In other words, they are right up BEST's alley.

If you are interested in learning more about the summit and/or purchasing tickets, visit here.

---
Movie Review: In Transit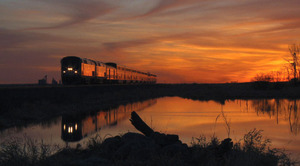 By Stephanie Williams and Sinead Stinson

Being sustainable transportation nerds (I mean, advocates), when VIFF rolled in this year, we bought tickets to the film most related to our day jobs, In Transit.

Walking into the theatre, all we knew was that In Transit is a documentary about a train that goes between Chicago and Seattle, the famous Nation Builder. We were expecting a film that focused on trains as the best way to travel long distances. And for some, it was: cheaper than a flight, they were scared to fly, they didn't own a car, or they just really liked the train and all it had to offer: the endless views out the window, the nostalgia of train travel, and the chance to interact with other passengers.

That opportunity to engage was really the focus of the movie, cleverly encapsulated by the filming style from the perspective of just another passenger on the train as it traveled from Chicago to Seattle. While some moments were very comedic, others were moving, with nothing feeling like it may have been staged as if on a reality show. There was the woman hoping to make it home before going into labour, the 22 year old traveling home to see his girlfriend for the first time in a year, the trio of young men coming back from the oil fields, and the amateur photographer who just wanted one last trip across the country. Seeing all the different people, with all their different reasons for taking the train, helped bring humanity to them all.

One topic we've been discussing lately at BEST is how the mode of transportation you choose changes your perspective, based on the speed at which you travel and observe the world around you. Last month we highlighted Stuart's regional walking experiment, which allowed him to observe things he wouldn't have noticed even on a bicycle. Train travel, while initially speeding everything up, is now a slow journey compared to flying. In that time, you can really see the landscape change, but more importantly, you can have meaningful conversations with strangers. The filmmakers did a wonderful job of bringing these interactions to life.

More trains, anyone?
---
VPD launch Vancouver Bike Registration Plan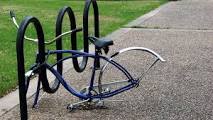 As Vancouver cyclists well know, bike theft is a big problem in this city. Every year over 2,000 bikes are stolen; during the summer, 9 bikes are stolen every day.

While the VPD recovers a lot of stolen bicycles the majority of them are untraceable and are not returned to their owners. Instead, they end up in the annual police auction.

Joining forces in the hopes of making a deep dent in this situation are the Vancouver Police Department, the Vancouver Police Foundation, City of Vancouver Greenest City initiative, and Project 529. U.S.-based Project 529 has developed a bike registry app – Garage 529 – which since launching last year has recovered $15 million in bikes.

The goal of the VPD's Vancouver Bike Registration Project is to register 10,000 bikes, for free, in the first 3 years of registration.

This week, you can register your bikes at the following locations:

Wednesday, October 28
4:00 to 6:00 p.m.
Heather and West 10th Avenue

Thursday, October 29
3:30 to 6:00 p.m.
Stadium SkyTrain Station at Dunsmuir and Beatty Street

Friday, October 30
3:30 to 7:00 p.m.
Science World

To learn more about this initiative and to register your bike on-line, visit the VPD and Project 529/529 Garage websites.
---
| | |
| --- | --- |
| | |
From the BEST Membership Desk ...

Hot off the press Membership news: The BEST Holiday Party will take place on Monday evening, November 23 at Heritage Hall on Main Street. BEST Members will be getting their invitations shortly, but you may want to mark the date on your calendars NOW. Guaranteed, it will be the social event of the season!

* * *

Have you ever thought of joining BEST? Membership is a great way for you to show that you support the range of innovative solutions to transportation problems we have been promoting over the last 25 years. And now there's another reason to join! Courtesy of our friends at Co-operators Insurance, members now receive an additional 20% off home insurance, as well as additional bundling discounts with life and tenant insurance.
Co-operators is a proud supporter of local non-profits and charities, and BEST is pleased to be able to make this special offer available to our members.

If you would like to join BEST, you can join online. For more information about BEST memberships and this special offer please contact Sinead Stinson at 604 669 2860, sinead.stinson@best.bc.ca.
THANK YOU TO OUR SPONSORS:


---

Thank you for your continued interest in BEST!

Our Mission:
To advance the transformation to sustainable transportation

Our Vision:
Vibrant, healthy communities built around sustainable modes of transportation
As Canada's new
Anti-Spam Legislation
came into effect July 1st 2014, we are in the process of updating our mailing lists and documenting subscriber consent. We currently send you electronic communications that you have opted into in the past, or because you have participated in one of our events, utilized our services, or supported us in some way. We will continue to send you news and updates about our organization, but please note that you are free to unsubscribe at any time. If you would like to give us your permanent (until you unsubscribe) express consent, please click
here
.

We hope you will choose to stay with us at BEST!