DONATE NOW!
Dear Readers,
This month our 25th anniversary BEST history series continues with a story by Richard Campbell on the origins of the Central Valley Greenway. The Greenway was one of BEST's great early projects, and it continues to be used and enjoyed by thousands of people from around the Lower Mainland. In our March newsletter you'll also find columns on The Bicycle Valet, Commuter Challenge, and STAR, as well as another BEST volunteer profile and news about Last Friday and the upcoming Pro Walk/Pro Bike/Pro Place Conference. Happy Spring everyone!
BEST's 25th Anniversary
The Central Valley Greenway: A ribbon of green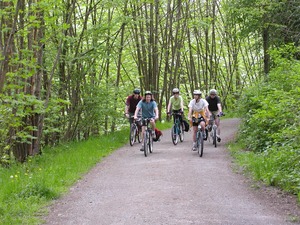 by Richard Campbell

Twenty years ago, we lacked good bike routes across the region. Lougheed Hwy in Burnaby had a wide shoulder, but the heavy traffic made cycling it uncomfortable. The options got worse in Vancouver. When Lougheed turned into Broadway, the shoulders disappeared and all other roads in the area were very hilly and/or clogged with high speed traffic.

Inspired by the Lochside Trail and Galloping Goose on Vancouver Island, it was clear that we needed good cycling routes to connect the region. Fortunately, former Burnaby Mayor Doug Drummond was a champion of greenways. Under his leadership, Burnaby made sure that right of ways were reserved for cyclists.

Over the years, time was spent exploring alternate routes. Winston had wide lanes that were okay on the weekends when traffic was low. The Millennium Line construction had left a rough trail west of Boundary that was passable, if not a bit muddy at times.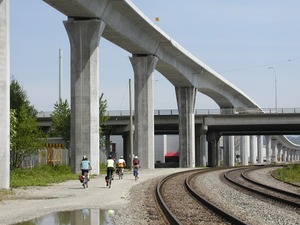 The breakthrough came with the discovery of a rough sandy trail between Gilmore and Willingdon. It was then possible for the Vancouver Area Cycling Coalition (now HUB) to show people a possible route. Around 20 people came on the first ride; participants included Councillor Gordon Price. Gordon took some amazing photos of the Greenway that really captured its potential and then championed the Greenway in the City of Vancouver and region.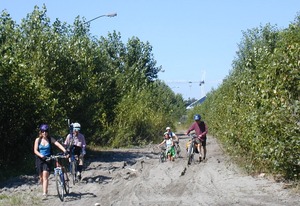 "Cycling" the route was a bit of an adventure. Still fun though. During the rides, the people pushing their bikes through the sand trap where the Costo now is typically had big smiles on their faces.

When Vancity announced the competition for the first $1 million Award, I immediately thought the Greenway would be a great candidate. Dave Thompson, BEST's Executive Director, had the same idea. We met and decided to go for it. Most transportation issues in the day were complicated. This was simple. We just had to find Vancity members and encourage them to vote yes.

The winning of the Vancity Award in 2001 both raised the profile of the CVG and provided funding that enabled people at BEST -- including Marion Town, Keith Ross, Ray Straatsma and Samantha Hartley-Folz -- to build public and political support. Several rides along the route over the next few years brought more people a glimpse of its potential.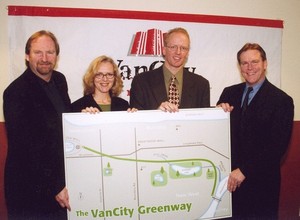 The next competition for the Greenway was the Federal Urban Transportation Showcase. Gavin Davidson and Tamin Raad made sure that the Greenway was a big part of the Showcase and, as a result, in 2003 the region received $3.5 million for the CVG.

With the Federal funding the CVG became a great example of all levels of government working together. TransLink coordinated the efforts of Vancouver, Burnaby and New Westminster. TransLink and municipalities also provided much of the funding. Back then, TransLink had up to $6 million per year for cycling. Funding also came from the Provincial Government's Local Motion program that totalled $40 million for cycling and other projects across the Province.

Still, there is much to be done. Due to lack of funding, key improvements including a separated path along Winston and a bridge over the rail yards west of Clark were cut. HUB and others are working to get a connection from the CVG to the Port Mann Bridge and PoCo Trail.

Yet another reason why we need a $1 billion investment from the Province for cycling and walking! For more information and to sign the petition, visit bccc.bc.ca/cvg.
***
Richard Campbell is Executive Director of the BC Cycling Coalition, which is working to enable everyone in BC to walk and cycle for their daily trips.
---
The Bicycle Valet: The season begins!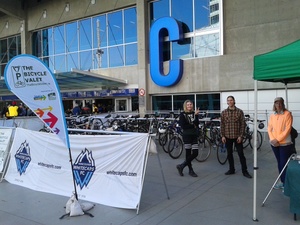 The Bicycle Valet season officially starts on Sunday, March 6 when the Vancouver Whitecaps FC take on Montreal at BC Place. Last year's home opener we saw a record setting 122 people ride their bike to the game- a whopping 12 fold increase over any of the previous years. Ride your bike to Gate C and help us set a new record!

In other soccer news, we'll also be at the FIFA World Cup Qualifier on March 25 when the Canada Men's National Team takes on Russia at BC Place (find us at Gate C again).

We're also really excited to be offering our service of free and safe bicycle parking at the Modo Spring Run-Off 8k on Sunday, March 20. A great way to warm up before the run is by riding your bike!

Want to see us at even more events this year? Let your favourite concert, festival, or sporting match know that free and secure bike parking is important to you, by connecting on social media. You can find us on Twitter, Facebook and Instagram.

For more information on The Bicycle Valet, please contact Sinead Stinson at sinead.stinson@best.bc.ca or 604 669 2860 ext. 207.

---



Commuter Challenge: Now officially sponsored by Modo

It's shaping up to be a great year for commuters in the 2016 BC Commuter Challenge! This year we're proud to partner with our official carshare sponsor, Modo, who will be providing prizes as well as $50 drive time for all Commuter Challenge participants new to Modo.* Use the promo code BESTCOMMUTE to redeem at www.modo.coop.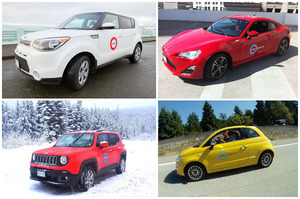 BEST is proud to have been coordinating the BC Commuter Challenge for 20 years. This year the Challenge will take place June 5-11, during Canadian Environment Week. For those unfamiliar with the Challenge, and to register, get learn'd here.

The early bird gets the worm is how the old adage goes. Hopefully you have more luck than the worm! This year we are offering an early bird prize incentive for keeners who register in February and March so the sooner you register your workplace, the better your chance of winning! New and exciting prizes this year include kayak rentals, climbing lessons, escape room adventures and much more. Check out the ever growing list of sponsors.

Last year was a major success for BC in this national initiative. Participants biked, walked, kayaked, carpooled and carshared to work in cities across BC, landing in second place. This year we are hoping to step it up and show Canada how we commute in the coastal province, rain or shine!

For more information about the Challenge, including registration and sponsorship, contact coordinator Steve White, at 604 669 2860 ext 200, stephen.white@best.bc.ca.

*Fine print: $50 free drive applies to mile and usage only. Valid during online registration for new Modo members.
---
Volunteer story: June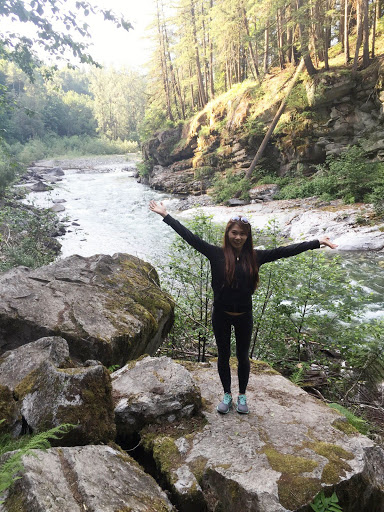 At BEST we are fortunate to have volunteers from all over the world working with us. Volunteers might help at The Bicycle Valet or one of our other programs or around the office – whatever they do, we are enriched by their participation. This month we asked June to answer our BEST Volunteer Questionnaire.

How did you come to volunteer at BEST?
I was an undergraduate student at UBC in the Environment and Sustainability Program under the Department of Geography when I first started volunteering at BEST. Planning to complete further studies in transportation planning, I knew BEST would be a good place to start to deepen my knowledge in this field.

What are you doing for BEST?
Currently, I am working as a volunteer in their office. Having never worked in an office before, I found it really helpful that they allow me to work in an office environment to build my clerical skills. I'm handed different tasks every week which is exciting because I get to learn all kinds of jobs. For instance, I recently learned how to file tax receipt forms for the amounts donated to BEST in the past year.

What have you learned / how have you benefited from your volunteer work with BEST?
From volunteering with BEST, I have learned that small events planned by an organization like BEST take a lot of effort and time to prepare. I have also learned that details are important in every situation. Through volunteering in the office for BEST, I have benefited by meeting a lot of different people. They've helped me improve my existing skills as well as discover new ones. The people at the office are truly amazing and I am very grateful for all the time and energy they have spent helping me.

What would you say to somebody thinking of volunteering?
At BEST, I think it is great that when they are taking on volunteers they don't just consider people with a specific background or education. I know for a fact that they truly appreciate any kind of help they can get. If anyone is thinking of volunteering at BEST, I'd say they should definitely go for it!

***
If you are interested in volunteering for BEST, visit our website or contact Sinead Stinson, sinead.stinson@best.bc.ca, 604 669 2860, ext 207.
---
STAR: Is an adult trike for you?

Older adults looking for safe, sustainable, and healthy transportation are increasingly turning to adult tricycles. Their three wheels make for a stable ride and are easy to pedal, while the "step through" design makes trikes easy to mount and dismount. An added benefit is the storage space trikes offer for groceries, books, and other baggage.

BEST's STAR program (Seniors Transportation Access and Resources) has been doing some research into adult trikes – including models, advantages and disadvantages, and where to buy. Check out whether an adult trike might be for you at the STAR website.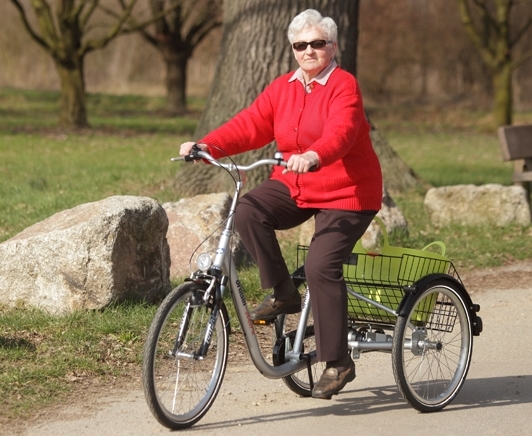 ---
Last Friday: A Celebration of Cycling
On the Last Friday of every month transition from work to weekend by joining the BC Cycling Coalition at Creative Co-Workers' Happy Hour. This month you can join fellow bike lovers on March 25 from 5 – 9 pm at

Creative Co-Workers
343 Railway Street, Vancouver
Buzz #010 and come down one floor


Cash bar with beer on tap, wine, and snacks will be provided. You are welcome to bring your bike down the elevator and park it inside.

Proceeds from Last Friday support the BC Cycling Coalition's work on the Streets for Everyone campaigns on Commercial Drive, Main and Kingsway plus the Cycling and Walking for Everyone campaign to encourage the Province to invest $1 billion in cycling and walking.

For more information and to RSVP go here.
---
Pro Walk/Bike/Place Conference coming to YVR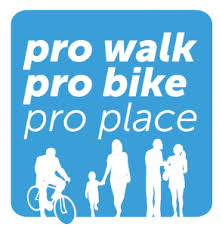 Pro-Walk/Pro-Bike/Pro-Place, North America's premier conference for walking and bicycling professionals, will take place this year in Vancouver from Sept. 12-15.

The Pro-Walk/Pro-Bike/Pro-Place Conference was founded on the belief that greater access to walking and bicycling will create healthier individuals, cohesive neighbourhoods, and vibrant communities. The conference is expected to draw 1,000 city planners, transportation engineers, public health professionals, elected officials, community leaders, and professional walking and bicycling advocates.

For more information and to subscribe for conference updates, visit here.
THANK YOU TO OUR SPONSORS:


---

Thank you for your continued interest in BEST!

Our Mission:
To advance the transformation to sustainable transportation

Our Vision:
Vibrant, healthy communities built around sustainable modes of transportation
As Canada's new
Anti-Spam Legislation
came into effect July 1st 2014, we are in the process of updating our mailing lists and documenting subscriber consent. We currently send you electronic communications that you have opted into in the past, or because you have participated in one of our events, utilized our services, or supported us in some way. We will continue to send you news and updates about our organization, but please note that you are free to unsubscribe at any time. If you would like to give us your permanent (until you unsubscribe) express consent, please click
here
.
We hope you will choose to stay with us at BEST!