BEST welcomes new Seniors Transportation Hub Manager

BEST is delighted to welcome our new Seniors Transportation Hub Manager, Janette McIntosh. This new position is part of Seniors on the Move, a project BEST is coordinating to reduce seniors' isolation. In her role Janette will be working with agencies to help bridge the existing gap of knowledge in seniors and their family members about available transportation options and how to access them. The goal is to create a seniors' transportation information hub (at BEST) and build capacity of a hotline (at BC211) through collaboration with members of the Seniors' Advisory Group and many partnering agencies in Metro Vancouver.

Janette brings to this position her long-time commitment to sustainability along with expertise in environmental health promotion and a practical sense around transit and bicycle use. Born and raised in Japan, she speaks fluent Japanese and English and has studied at Ryerson University (BASc), University of Toronto (MHSc), and Vancouver School of Theology (MATS).

Janette loves bringing community of all ages, cultures, and sectors together and is excited to be able to work in this role with partnering agencies to help improve seniors' access to information on sustainable transportation options. Look for regular updates about her work in our newsletter.

To contact Janette, call 604-669-2860 Ext 210 or you can email her at janette.mcintosh@best.bc.ca.

---
BEST at "TravelSmart for Seniors" workshop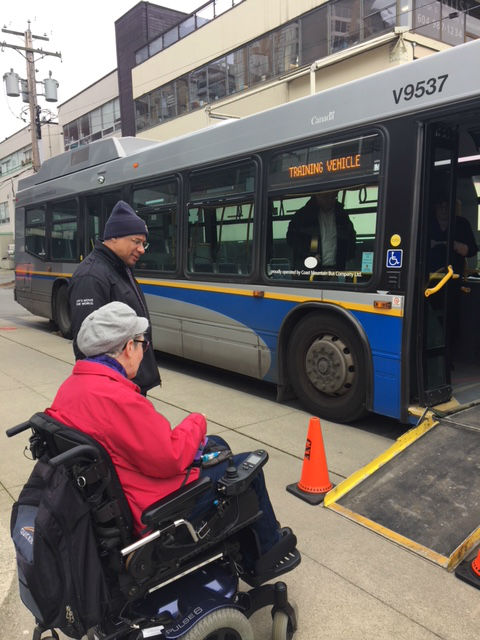 Participants at TransLink workshop
practiced getting on and off a bus on a scooter.
Janette McIntosh, BEST's new Seniors Transportation Hub Manager, recently attended a TransLink "TravelSmart for Seniors" workshop with Allies in Aging, of which our Seniors on the Move program is a part.

Held on February 13 at North Vancouver City Library, the workshop was an Allies in Aging "Connecting with Seniors" event. Forty people, mostly seniors, attended. In addition to Allies in Aging and North Vancouver City Library, representatives came from TransLink, HandyDART, and Lionsview Seniors' Planning Society.

During the workshop TransLink representative Chris Chan gave a thorough introduction to TransLink and the available transportation services in Metro Vancouver. Participants learned about the different services, including buses, community shuttles, HandyDART, SeaBus, West Coast Express, Skytrain, Canada Line, and cycling options too! In addition, Chris gave an overview of how to obtain, register, upload, and use the Compass Card, as well as ways to access information on routes by using Trip Planner, NextBus, and Alerts. Accessibility and safety concerns were covered – and the variety of draw prizes were great! Following the workshop there was time for questions, and TransLink's training bus was available for hands-on practice in loading bicycles and getting on and off with scooters.

To request a TransLink "TravelSmart for Seniors" workshop contact Chris.Chan@translink.ca or phone 778-375-6629.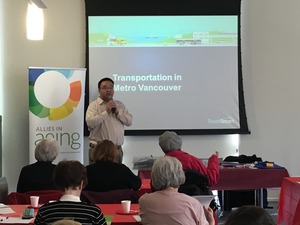 TransLink representative Chris Chan gives an overview of
TransLink and transportation options in Metro Vancouver.
---
Public forum: "Seniors, Sidewalks, and Safety"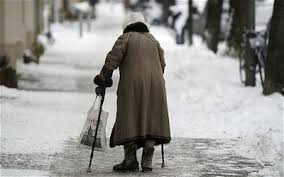 (Photo credit: Elderbridge Agency on Aging)

BEST will be contributing to "Seniors, Sidewalks and Safety: Preventing Bicycle-on-Pedestrian Accidents," a public forum to be hosted by the West End Seniors Network.

Date: Tuesday, March 27
Time: 10am-12:00pm
Location: West End Community Centre, 870 Denman Street, Bidwell Room

At the forum local seniors, community organizations and businesses will meet and discuss the issue of sidewalk safety, bicycle safety and seniors fall prevention. By engaging in discussion on where bicycle-on-pedestrian accidents occur and where seniors are encountering issues, they hope to educate all groups and address ways to ensure the safety of bikers and pedestrians of all ages.

Register by calling 604-669-5051.

---
Get with the program: Take the Challenge!
It's becoming a global phenomenon: the multimodal movement! People around the globe are trading in the old school of thought for the new as what used to be widely accepted as the most efficient mode of transportation is now being scrutinized.

If you don't know what it's all about it's time to get on board! Fill those unoccupied car seats, triumphantly take transit, join a car-share, proudly telecommute, and bring that heart rate UP by skating and scooting, jogging and jumping, biking and bouncing, pushing and paddling, running and rolling - because single occupancy vehicle commutes are a thing of the past!

But if you are reading this you probably already know what it means to multi-modal - which must mean you also know about the BC Commuter Challenge, taking place this year from June 3-9. Once again, the Challenge will give you and your team from work the opportunity to have fun sustainably commuting. Together you can get your daily exercise needs in, track your stats, and be in the running to win some great prizes!

For more information on how to get involved as a participant, workplace coordinator or city/regional coordinator, or sponsor (in-kind or otherwise) please contact Stephen White by phone at (604)-669-2860, email stephen.white@best.bc.ca, or social media @bc_commuter (Instagram & Twitter).

Twins Pria & Serena carpooling.
---
ROAD STORY
Travelling Mexico City by metro

By Stephanie Williams, BEST GM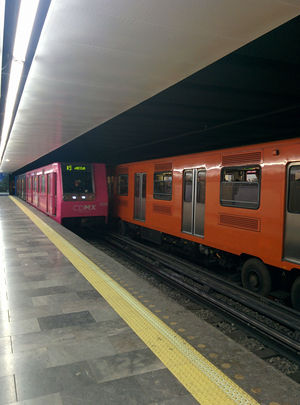 Arriving at the Benito Juarez Mexico City Airport at about 10pm, we walked a couple of hundred metres to the metro – the Sistema de Transporte Colectivo. Undoubtedly, the metro is the lifeline of the city. The ubiquitousness of Uber pales in comparison to nearly 5 million riders on the metro, per day. This is probably because it seems to take you everywhere you want to go (at least as a tourist in the central areas), and it's cheap. It's also pretty simple to use. Five pesos, no matter where you want to go, whenever you want to go (until midnight that is). As you might expect, its popularity can be too much of a good thing, particularly during rush hour, when one car per train is reserved for women and children, which was definitely a reprieve. We took it everywhere, as it served equally well for urban trips as for day trips out of the city, due to the fact that every main bus terminal was situated within walking distance of a station.

Built in the 1960s, the system is clearly aging. Our guesthouse owner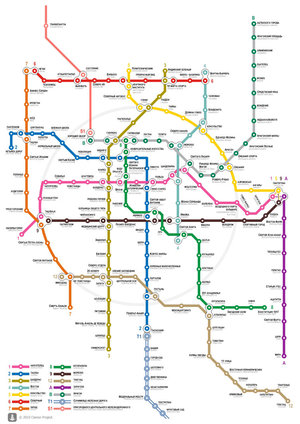 showed us pictures of water pouring through the tunnels when it rains too much. No snow days here, but when it rains too much for the metro, the city effectively shuts down.

Mexico City, once infamous for its poor air quality, has been making strides recently in this area, at least until a couple of years ago when a rise in personal car ownership reversed the trend. Like many cities with an aging metro system and lack of funding, those who can afford to drive, will. While policies promoting car-free days and bikeshare and walkable neighbourhoods certainly seem to be working for those living near the centre, for those coming from more affordable outer areas the metro will continue to be their lifeline, and needs to be invested in accordingly.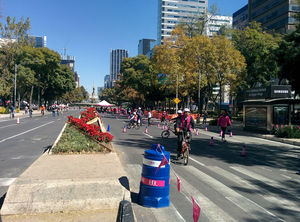 Car-free days - Ciclovia - take place every second Sunday
in Mexico City.
---
Washrooms in SkyTrain stations: An attainable dream?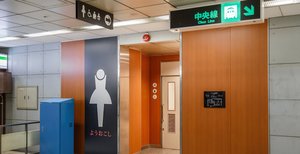 Every subway station in Osaka has these bright and beckoning
public washrooms - a state of affairs which till now Vancouverites
have only dreamed of. (Credit: Daily Hive)

In February TransLink released the results of a "TransLink Listens" survey that asked panel members to provide feedback on whether washrooms could improve passenger experience. Not surprisingly, the response was in the affirmative. TransLink is now considering installing washrooms at SkyTrain stations and major bus loops.

At present, washroom facilities are for staff only; only the washrooms at the SeaBus terminals are open to the public. Arguments associated with building public washrooms primarily relate to crime, public safety, and maintenance. However, some SkyTrain stations have provisions for the installation of washrooms should a decision be made to provide them.

Over the last few years there have been several calls by the public for TransLink to install washrooms in stations. The issue was one of the focuses of the Transportation 2040 consultation process in 2012. Most recently, in late-2017, the City of Vancouver's Seniors' Advisory Committee and Active Transportation Council wrote a letter advising public washrooms be included in the design of the future stations of the SkyTrain extension of the Millennium Line between VCC-Clark Station and Arbutus Street.

BEST applauds this potential change in policy in the provision of washrooms at transit stations, recognizing that the lack of washrooms is often a barrier to the use of sustainable transportation, particularly for many seniors and persons with disabilities.

---
BEST is hiring!

The Bicycle Valet is currently hiring a number of positions. If you are looking for a summer job and are interested in sustainable transportation one of these may be for you!

The Bicycle Valet
For more information on these job postings, go here.