DONATE NOW!
Dear Readers,
Summer isn't over yet but change is definitely in the air. Which is kind of nice after the long, hot, dry, summer we just went through. In addition to the latest on our BEST programs - The Bicycle Valet, Bus Co-op, and Living Streets - in this edition of the newsletter we have a profile of Marg Hendren, one of our great volunteers; news on a special offer from Co-operators Insurance for BEST members; and some information about HASTe, a fantastic organization that promotes fossil-free transportation to and from school. We hope you enjoy reading, and that you all have a good shift into fall.
---
The Bicycle Valet: Events, they just keep coming!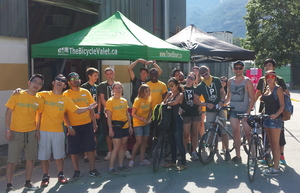 The Bicycle Valet gang at the Squamish Music
Festival in August

We had a Bicycle Valet party Friday August 28th with volunteers and staff - and there was a lot to celebrate!!
We've made it through the busiest part of our season, with nearly 20,00 bikes parked so far in 2015 at 143 event days!!

We celebrated at the YWCA Hotel with prizes, food, drink, great company, and a presentation from the City of Vancouver on the Dunsmuir Viaduct.
But, the season isn't over yet! More events to come as the days get a little shorter in September:

-

Friday

the 4th to

Monday

the 7th, one more weekend at our seasonal location on
Granville Island! 1537 Johnston Street is where to find us!
-

Sunday

the 6th, the last Food Cart Fest of the season
-

Monday

the 7th, the Labour Day Picnic with headliners Chilliwack at Swangard
Stadium!
-

Wednesday

the 9th, at the Whitecaps game, BC Place, Gate C
-

Saturday

the 12th, at the Fleetwood Festival at the Fleetwood Community
Centre
-

Sunday

the 13th, at the Festival of Colour at the Iskcon Temple
-

Sunday

the 13th, at the Southlands Bike-In
-

Sunday

the 13th, at Autumn Shift, at 8th and Quebec
-

Saturday

the 19th, at the Whitecaps game, BC Place, Gate C
-

Saturday

the 19th, at Surrey Youth Fest at Cloverdale Recreation Centre & Youth
Park
- Saturday the 19th, at the Eastside 10K, at Beatty Street east of Dunsmuir
-

Saturday

the 26th, at the Whitecaps game, BC Place, Gate C
-

Sunday

the 27th, at the BC Rivers Day at Derek Doubleday Arboretum

And there will be more coming! Check our calendar for full details here.

For more information about The Bicycle Valet please contact Sinead Stinson at sinead.stinson@best.bc.ca or 604.669.2860 ext.207.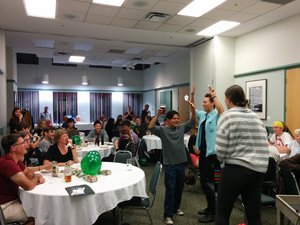 Do Bicycle Valet volunteers know how to party?
Yes they do!
---
Volunteer Profile:

Dreaming of an active retirement? Hoist bikes!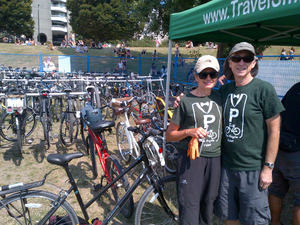 Marg and Murray Hendren at the Pride Day Bicycle Valet
The first time Marg Hendren used The Bicycle Valet she entered our prize draw and won! Feeling pretty chuffed about The Bicycle Valet she thought to herself, "I must pay back" and signed up to be a volunteer!

Since that fateful day two years ago Marg has been a dedicated volunteer of The Bicycle Valet. She has now valeted bikes at events all over the city -- her favourites are ones like the crazy-busy Canada Day at Granville Island and big late night events like the Celebration of Lights and Sea Wheeze Sunset Festival. Basically she is happiest at events where she is run off her feet.

Marg retired three years ago and remains extremely active, bicycle touring with husband Murray (who is also a Bicycle Valet volunteer) – together they have cycled throughout the Lower Mainland, Kettle Valley, Ontario, Quebec, Washington, Idaho, France and Holland. Being an avid cyclist, one of the things she likes best about The Bicycle Valet is that she can check out all the different kinds of bicycles and compare how light they are!

After signing up to volunteer for The Bicycle Valet Marg also joined BEST. Her interests focus on bicycles (not surprisingly) – she is particularly keen to see changes to the city bike rack situation (more and securer racks) and improving the bike signage.

When asked what she likes best about volunteering for the The Bicycle Valet, Marg had a pretty long list: it's great exercise, it keeps your brain ticking, you work independently while being part of a team, you get to meet lots of new people and see old friends, you work with interesting young people, and, last but not least, there are fantastic volunteer parties!

Interested in joining Marg and the rest of the The Bicycle Valet volunteer team? Sign up now! For more information contact The Bicycle Valet Coordinator, Sinead Stinson, at 604 669 2860, sinead.stinson@best.bc.ca.
---



The Bus Co-op: Great wheels for your team!
Does your sports team sometimes need a bus to get to a game? Regional or provincial championships? An international game in Washington State?

Buses operated by the Bus Co-op each seat 18-22 passengers and are available - especially evenings and weekends - for just that kind of outing.

There's room for a few chaperones or fans, too.

Registered organizations are welcome to join the Bus Co-op. Membership is $7500 in shares (refundable, like a deposit) and the bus is $40 per hour, which includes unlimited kilometres, fuel, insurance, and maintenance.

The driver must have a Class 4 licence. You pay the driver directly; we have a list of available drivers if need be.

Don't miss that game just because you don't have a fleet of cars going!

Have the team travel together and focus as a team on the way to the game - and bond further by either celebrating or grieving together on the way back.

Contact Tanya at The Bus Co-op for details: 604.440.6222.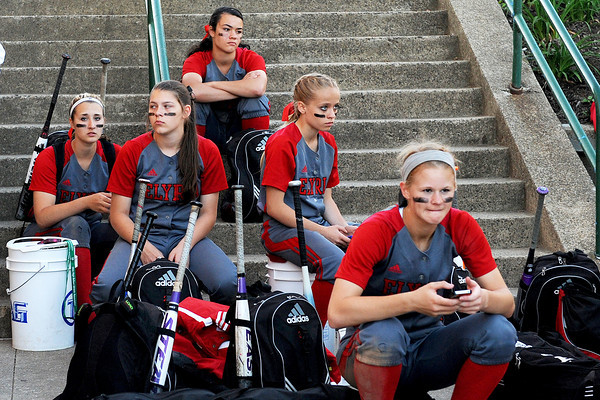 Don't let this happen to you!
---
Living Streets: Wraps on a most excellent season!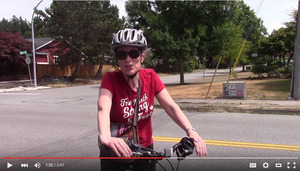 Click above to see the great YMCA Digital Media camp video!
Summer is coming to an end and so is our season of Living Streets. This has been an excellent season, with over 140 volunteers working together to do over 20 audits in various Surrey neighbourhoods. During street audits, volunteers walk around neighbourhoods to identify barriers to walking and other modes of sustainable transportation. The street audits created by the teams become an important part of transportation planning in the City of Surrey.

This summer was also the beginning of an exciting partnership between Living Streets and the Surrey YMCA's Youth Digital Media Day Camps. These talented young men and women have put their digital media skills to work to bring attention to sustainable transportation issues in their neighbourhoods. You can check out their video street audits here.

This fall, we are planning ahead for our next season of Living Streets while converting our 2015 audit data into maps to give to the City of Surrey. The information from our 2015 street audits will be presented at our Final Event in early 2016. If you're interested in sustainable transportation you're invited! Keep an eye out for more information on this event in early 2016.

If you have any questions, would like to be involved with Living Streets, or just want to chat about sustainable transportation, please contact Coral at coral@best.bc.ca.

Happy walking!
---
| | |
| --- | --- |
| | |

Announcing BEST Member special offer

We are delighted to announce that BEST members can now receive an additional 20% off home insurance and additional bundling discounts with life and tenant insurance, courtesy of our friends at Co-operators Insurance.

Co-operators is a proud supporter of non-profits and charities within the local community, and BEST is very honoured to be able to make this special offer available to our members.

BEST members interested in more information can contact Sinead Stinson at 604-669-2860 ext 207, sinead.stinson@best.bc.ca. To join BEST online, visit our website.

---
HASTe: Encouraging walking, cycling kids



With kids starting back to school this month, it is a good time to remind our readers of the great work being done at HASTe.

HASTe is a hub for groups taking action on reducing school transportation emissions throughout the Lower Mainland and around BC. A resource and networking centre, its goal is to help students, teachers and schools improve the health of individuals, communities and the environment. Their vision, shared by BEST, is of more kids walking and cycling to school and fewer cars idling around the schoolyard.

The HASTe website has lots of tools and programs available to help you take action to reduce emissions. The iSchoolTravel online emissions calculator is fun and easy to use. The Walking School Bus and BicycleTrain program guide helps parents and schools establish active and safe routes to schools. The online Route Planning Tool can be helps establish the Best Routes for active school travel. And there's lots more!

For more information, visit the HASTe website, or contact their office at 604 347 7704, info@hastebc.org.
THANK YOU TO OUR SPONSORS:


---

Thank you for your continued interest in BEST!

Our Mission:
To advance the transformation to sustainable transportation

Our Vision:
Vibrant, healthy communities built around sustainable modes of transportation
As Canada's new
Anti-Spam Legislation
came into effect July 1st 2014, we are in the process of updating our mailing lists and documenting subscriber consent. We currently send you electronic communications that you have opted into in the past, or because you have participated in one of our events, utilized our services, or supported us in some way. We will continue to send you news and updates about our organization, but please note that you are free to unsubscribe at any time. If you would like to give us your permanent (until you unsubscribe) express consent, please click
here
.

We hope you will choose to stay with us at BEST!