Come to the BEST - HUB Holiday Party!
BEST is once again teaming up with our friends at HUB to host a cycling and sustainable transportation-themed Holiday Party. Celebrations are on Monday December 15 from 5:00-9:00 at The Heritage Hall, 15th & Main in Vancouver.

It seems only fitting that BEST and HUB should join forces to celebrate: both organizations have visions of a future in which accessible sustainable transportation alternatives are an intrinsic part of healthy, vibrant communities throughout the Lower Mainland.

This year BEST and HUB are both celebrating numerical milestones, with The Bicycle Valet parking its 100,000th bike since 2006 and HUB celebrating over 10,000 first-time riders since Bike To Work Week's inception in 2007!

Members, Donors, Volunteers, and Sponsors of BEST are all welcome to attend this sure-to-be-fabulous party. To RSVP please contact Dinah Steele by December 10 at dinah.steele@best.bc.ca.

---
Transit Referendum: And the question is ...?
On Friday December 5 the Metro Vancouver mayors met to discuss the question for the transit referendum. At press time discussions were still underway, but we hope to see the finalized question sometime this week. Over the next few months BEST will be working hard to keep you informed about the issues – stay tuned to our website, Facebook, Twitter and of course this newsletter. We recommend that supporters also follow Moving in a Liveable Region and Get On Board BC. Let's make sure that everybody gets out and votes, and that the result of the referendum is a resounding "YES!"
---
Take Action on a Transportation Plan!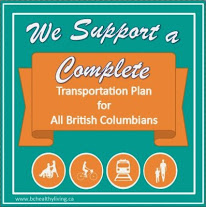 The BC Government is asking citizens for their help in developing a 10-year Transportation Plan. This is an important opportunity for you to lend your support to an integrated Plan that will benefit people of all ages and abilities, whether they are walking, cycling, riding transit or using wheelchairs.

In order to ensure that issues that are important to people from around the province are included in the process, the Government has posted an on-line survey. This input will be included along with technical information when the plan is developed.

To complete the survey visit here. Deadline to complete the survey is December 12.

For more information on what is stake with this Plan, and suggestions on more you can do, visit the BC Healthy Living Alliance.
---
The Bicycle Valet: By the numbers
Another year done, and what a year it was! We celebrated the milestone of parking our 100,000th bike since 2006, operated a three month, four day a week regular service at Granville Island, and parked over 3000 bikes at the Squamish Valley Music Festival. We've got some serious expansion plans in the works for next year, but for now, check out this year's "by the numbers" infographic below: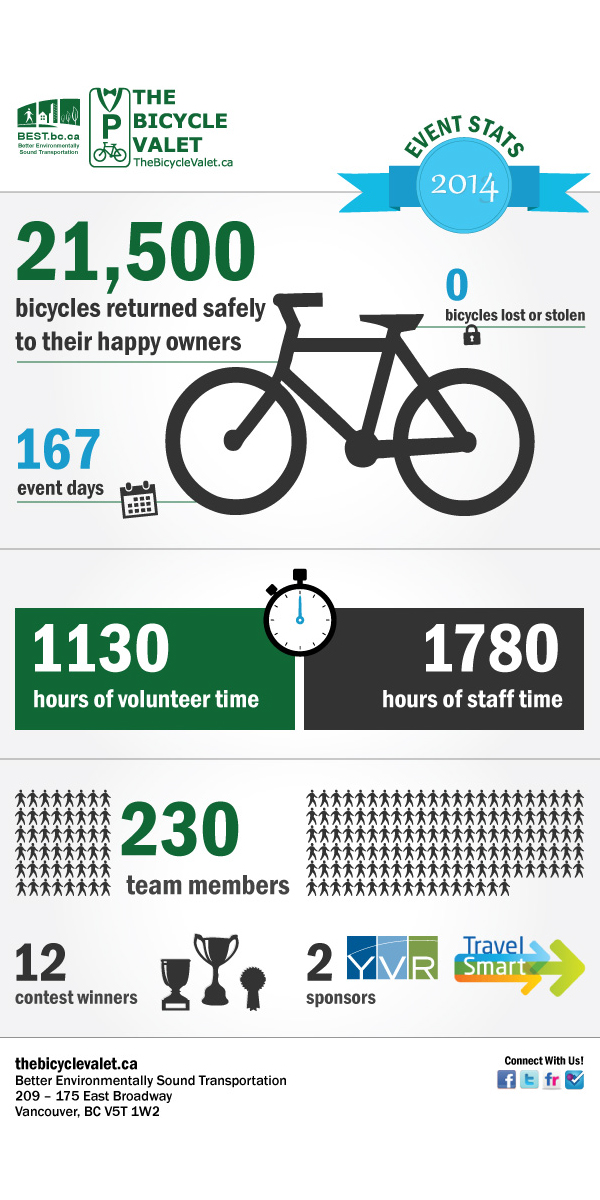 (Thanks Anna, an amazing volunteer, for putting this together for us).

End of the year also means it's time for our annual Bicycle Valet survey! This year we're trying to find out what you might be looking for in a more permanent Valet operation, as well as get some information on how we're doing, and where we can improve. If you could take a few minutes of your time and answer our short survey, it would be greatly appreciated! Oh, and you'll be entered to win one of two prize packs consisting of two books of one zone transit tickets (because some days you don't want to ride your bike).

To give general feedback on The Bicycle Valet service, fill out our ongoing online survey.
---
Phillips Benefit Brew: Thanks for your support!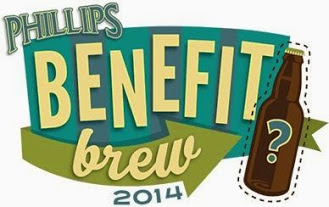 Well we didn't win, but we came pretty darn close! BEST was honoured to be selected as a finalist in the 2014 Phillips Benefit Brew contest and the final results put us in the top 5! Not too shabby! Thank you to Phillips Beer for the opportunity, and thank you so much to everybody who took the time to vote. Your support is very much appreciated.
---
BEST fundraising drive underway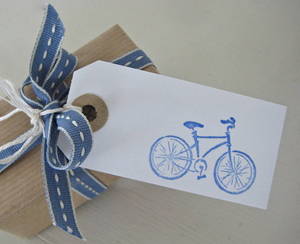 As a supporter of BEST, you have likely received a letter or email from us asking for your financial support. At BEST, we have had a phenomenal year extending the reach and scope of our programs. Highlights were The Bicycle Valet parking its 100,000th bike and STAR joining forces with the Langley Bus Co-op. But we need your help to continue this forward momentum!

Your contribution will allow us to not only offer our signature brand of The Bicycle Valet service at over 150 events throughout the region, returning over 25,000 beloved bicycles to their owners, it will enable us to expand these services to both offer the program in other regions (such as Victoria BC!) and to offer the program in a more semi-permanent way seasonally (think Granville Island!).

Elections around the Lower Mainland are behind us, the transit referendum question is on the table, and now we wait and see how, moving forward into 2015, the region resolves the important decisions it must make about its future. The benefits of sustainable transportation are being embraced around the globe, and we can't afford to be left behind. In order to continue to have a strong voice in favour of sustainable transportation initiatives for all people, of all ages we need your support going into the next fiscal year.

To ensure a sustainable future for our region, we need your help (and your vote in the referendum). We ask that you consider the following options:
Make a one-time tax deductible donation for $50, $100, $200 or more;
Become a BEST Friend with an on-going tax deductible monthly donation of $10 or more.
We thank you in advance for your generous support and for continuing to be part of the movement towards sustainable transportation.

---
Volunteer Testimonial: The magic of cycling!
By Megan McCann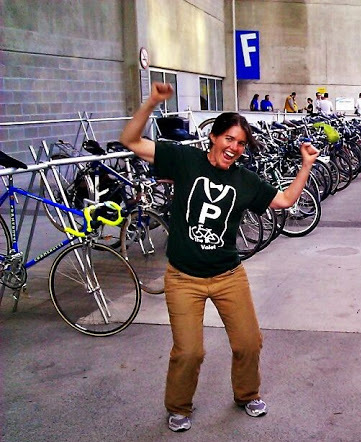 I don't think there has ever been a time when I haven't owned a bike. As a kid, it was a great way to gain freedom and not have to rely on public transit or lifts from parents. As an adult - is there nothing more magical than riding through the streets with friends on a warm summer's evening? No matter what else is going on in life, it seems impossible not to feel happy and carefree in these moments!

I grew up in Australia and I spent some time in Seoul, South Korea. Where I grew up was ok by Australian standards, but there was definitely room from improvement, particularly with attitudes - I remember once being hit by a half-eaten apple as I rode down a busy street. Seoul was a whole different experience. It was exciting to ride through the streets, if not sometimes a little bit death-defining. So when I first moved to Vancouver, I was blown away by how active the community was here, how much they had achieved in terms of biking infrastructure and also creating awareness within the community, I couldn't believe how good it could be.

I started volunteering for The Bike Valet as a way to support biking and sustainable transit in Vancouver. Having been on the receiving end of a bike thief, I love supporting a program that allows you to ride to an event and leave your bike somewhere that is safe and free!