DONATE NOW!
Dear Readers,
"Hot enough for you?" Well yes, as a matter of fact it is, thanks for asking. And like the rest of Vancouver we are out enjoying everything that's going on throughout the city in the way of festivals, patios, and just plain walking/riding around and looking at things. We're also in the middle of the BEST busy season: We just had a wrap on another successful Commuter Challenge (go team BC!), The Bicycle Valet is set to break more records, The Bus Co-op celebrated a successful first year, and Living Streets has a great new project for youth in the works. It's all in our newsletter, PLUS a special Road Story from our General Manager, Stephanie, about her recent trip to New Orleans, where in the midst of the revelry she still had the presence of mind to observe the state of sustainable transportation in that great city.

Oh, and like everybody else we're excited to hear the results of the transportation plebiscite …
---
Commuter Challenge Wraps its 25th Year!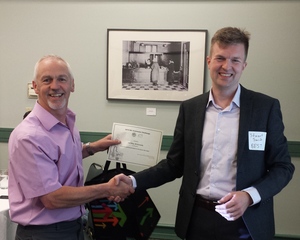 Commuter Challenge 2015 Coordinator Stuart Smith (r)
congratulates prize winner Carl May from R.R. Donnelly.

Commuter Challenge BC is wrapped for another year, all that's left is to mail out a few lingering prizes. From May 31, to June 6, participants in BC saved just shy of 50,000 kg of CO2 and came in 3rd nationwide based on total population participation.

Our grand prize winner, Aaron Smedley of Arc'teryx, took home a Kobo e-reader, an iPod shuffle, and a $50 iTunes gift card. In addition, with help from in-kind sponsorship, 24 other organizations and individuals from across the province were winners, including:
Vancity for most improved participation for a returning workplace
BC Housing for the most CO2 saved by all employees
You can see the full list of winners and prizes at http://commuterchallengebc.ca/2015-winners/

To celebrate, on June 23rd we held a wrap-up party at the YWCA Hotel in Vancouver for all participants and workplace coordinators, where we shared stories of sustainable commuting and presented prizes to the winners. In addition, we had a special transportation-related guest, Paul Krueger, Lead Planner for the City of Vancouver's Transportation Plan Team. Paul took us through the proposed improvements to the Burrard and Pacific intersection and talked about what his team is doing to make active transportation safer and easier for everyone.

Thanks to all our participants and workplace coordinators and we'll see you next year!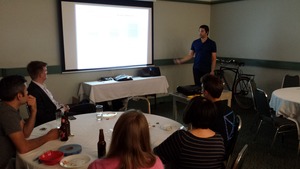 Lead Planner for the City of Vancouver's
Transportation Plan Team, Paul Krueger talks
to the crowd about proposed innovations.
---
The Bicycle Valet: Back at Granville Island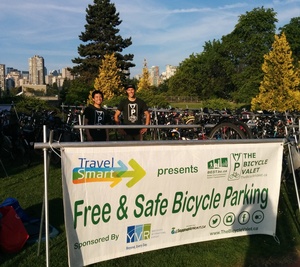 The Bicycle Valet at the Museum of Vancouver Happy Hour!
June was busy and exciting, with The Bicycle Valet parking almost 3,000 bikes! We had huge success at new events such as the FIFA Fan Zone for the 2015 FIFA Women's World Cup, Toast the Coast, and SFU's Bike Cafe series. In the summer heat people chose a pedal-assisted breeze over vehicle AC. Maybe it's the weather or maybe the word's getting out that we provide such a great service - for free!

Either way we're hoping for more fantastic weather during an even busier July, especially since we'll be back at a NEW & IMPROVED LOCATION for our Granville Island Seasonal Bicycle Valet! We're opening for our first day July 3, and will be open every Friday, Saturday, and Sunday throughout July and August from 10am to 7:30pm. Where is this fabulous new location, you ask? 1537 Johnston Street, which was previously used for wood carving! It's central and gorgeous, and we can't wait to see you there!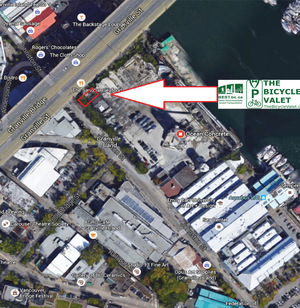 Some other events to look forward to in July:

July 1 - Canada Day at Granville Island (Ocean Concrete and False Creek CC tennis courts)
July 3 and 4 – FVDED in the Park at Holland Park
July 4 – MEC Paddlefest at Jericho Beach
July 4 – East Van Summer Jam in Strathcona Park
July 11 – Khatsahlano Festival in Kits (2 locations)
July 12 and 26 – Vancouver Whitecaps FC at BC Place, Gate C
July 14 – UBC Grand Prix, at Thunderbird Stadium
July 15 - Gastown Grand Prix in Gastown
July 25 and 29, Aug 1 – Celebration of Light at Sunset Beach
Sundays through to September - Food Cart Fest at SE False Creek

For complete information on these and other events as they are listed, check out our Calendar.

For more information about The Bicycle Valet, contact Sinead Stinson at sinead.stinson@best.bc.ca or 604.669.2860 ext.207.

---
Looking Good: The Bus Co-op turns 1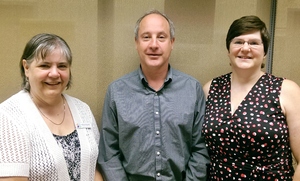 New Bus Co-op Board of Directors
L to r: Janice, Braydon, and Pam

The Bus Co-op is motoring along.

We had our second AGM (after one year of existence) on June 11 and the current Board of Directors (one delegate from each of the three member organizations) was re-elected!

Continuing in their current officer roles are: Janice McTaggart as President, Pam Murphy as Vice-President, and Braydon Short as Secretary/Treasurer.

Thank you all for your support of The Bus Co-op in its first year and your continuing support now. The early years especially are when volunteer board members all do extra work.

Readers interested in seniors transportation issues may want to take a look at this free presentation (visual and recording) on Falls Prevention and Transportation from the (US) National Centre on Senior Transportation. To access, click on Presentation or Recording under the Resources heading.

Outreach to organizations in Langley, Vancouver, and their surrounding areas continues. If you have any questions please contact Tanya Paz, The Bus Co-op Manager at 604-440-6222 or info@thebusco-op.com.

---



Living Streets: Empowering youth with digital media
This summer Living Streets is excited to partner with Surrey's Louie Tong YMCA for their Youth Digital Media day camps. At these camps youth are empowered to find and express their voice while making a healthy and active impact in their community. Living Streets will provide education about sustainable transportation and more livable communities, and youth will identify community and social issues that they are passionate about. Using digital media they will then story tell, promote, and create an action plan to advocate for change in their community.

Living Streets is excited to see the creative approaches the youth take to improve our communities. Stay tuned for updates, and follow us on Twitter @bestmobility or Facebook for sneak peeks of the digital media projects.

---
ROAD STORY
New Orleans: Sashaying the Second Line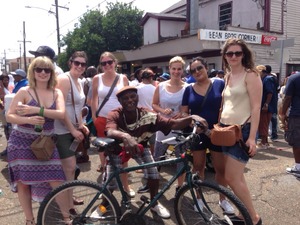 With Dewayne and his bike at the Second Line

By Stephanie Williams,
BEST General Manager
Taking a taxi from the Louis Armstrong New Orleans airport (no light rail option to be found), the first thing I noticed in the Treme area where we were staying was the plethora of one way streets. Not like your car-filled one way streets you often find in downtowns, these were calm and quiet, narrow streets, with one way actually making more sense. More cynically, they also allowed more room for everyone's favourite amenity, parking. Upon leaving the house and heading towards Frenchman Street, I couldn't help but notice the dire state of the sidewalks, with cracks so large and deep you had to keep a constant eye on the ground. Inevitably, we moved to the middle of the road.

Reaching a boulevard, I loved the calm island of refuge in what would otherwise have been a very wide road to cross. But I didn't appreciate the lack of right of way cars gave us as we tried to cross in a painted crosswalk. I couldn't help but think that when a city and its infrastructure doesn't respect pedestrians and other vulnerable road users, it is unlikely people in cars will.

In the five days I spent in New Orleans, I think I saw one bike lane. Painted of course. No protection. One of my friends had to point it out. I laughed. Because it was hardly worth noticing, ending after about a block.

There were glimpses of hope, though. I saw musicians carrying guitars on their backs as they rode down the street. I saw vibrant streets teeming with pedestrians, live music, often closed to cars. I ended up taking one of the most innovative bicycle rides I've ever experienced, which can be best described as a patio pulled by a tall bike.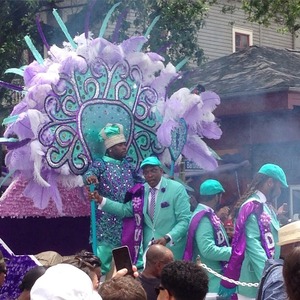 Fantastic looking guys sashaying down
the Second Line
I also experienced what has to be one of the first open streets initiatives, if not in name, by attempting to sashay my way down the famous Second Line. Held most Sundays, the New Orleans Police Department lead the way blocking the route to cars to ensure safety of the main line, or the members of the brass band, and the second line, those who follow the band just to enjoy the music. Stopping for some bbq out of a pick-up truck at one of the designated stops, I couldn't help but appreciate that while the Second Line has a very strong history of its own, this was placemaking at its finest. I couldn't refrain from smiling at the kids showing off their impressive dance moves on their front steps as the parade passed.

Can you imagine a type of Portland's Sundays Parkways mixed with Bogota's Ciclovia, Vancouver's own Car Free Days and New Orlean's Second Line? I can only dream, for now. As for New Orleans, I can only imagine that for a city still struggling to get back on its feet, investment in sidewalks and protected bike lanes might not seem like a priority. But for cities with a high degree of income inequality, allowing everyone to get around efficiently and affordably cannot take the backseat for long.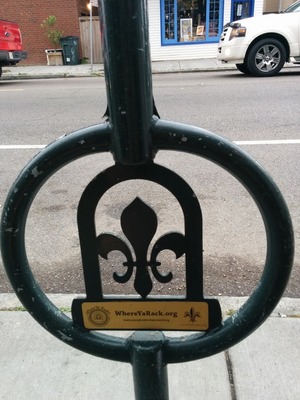 Everything has style in
New Orleans.
THANK YOU TO OUR SPONSORS:


---

Thank you for your continued interest in BEST!

Our Mission:
To advance the transformation to sustainable transportation

Our Vision:
Vibrant, healthy communities built around sustainable modes of transportation
As Canada's new
Anti-Spam Legislation
came into effect July 1st 2014, we are in the process of updating our mailing lists and documenting subscriber consent. We currently send you electronic communications that you have opted into in the past, or because you have participated in one of our events, utilized our services, or supported us in some way. We will continue to send you news and updates about our organization, but please note that you are free to unsubscribe at any time. If you would like to give us your permanent (until you unsubscribe) express consent, please click
here
.

We hope you will choose to stay with us at BEST!