DONATE NOW!
Dear Readers,
Oooo-eeee: Yep, it's hot. And not only are we having one of the hottest summers on record but we are running around in it. Our green & white Bicycle Valet banners are all around the Lower Mainland (including Pemberton); our Bus Co-op Manager has been spreading the word on Vancouver Co-op radio; and Living Streets is participating in the Surrey Y's Digital Camps. That's a lot of running around – and we want to tell you about it! So we invite you to take a moment, kick back, grab a cold one and read about this news AND MORE, MUCH MORE in this, the deep-in-the-heart-of-summer edition of our newsletter.
---
The Bicycle Valet: Bigger every year!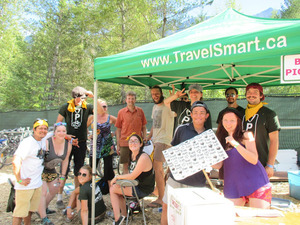 The Bicycle Valet team at the Pemberton Music Festival

July was another huge month for The Bicycle Valet, which saw us parking nearly 5000 bikes! Some highlights: We opened at our fabulous NEW Granville Island seasonal location - Fridays through Sundays all July and August at 1537 Johnston Avenue (the carving shed)! We had our first year up at Pemberton Music Festival, where bike parking wasn't the only thing that was free (also, free hugs)! We helped with the Grand Opening of the new McArthurGlen Designer Outlet at YVR! We were at Granville Social… Fusion Fest… Khatsalahno… Whitecaps games… and more!

But don't worry if you missed any of these, we've got plenty more coming in August!

August Bicycle Valet events booked so far:
Looking for more details on an event? Check out our calendar here.

Any questions about The Bicycle Valet? Contact Sinead Stinson, The Bicycle Valet Coordinator, at sinead.stinson@best.bc.ca or 604 669 2860, ext 207.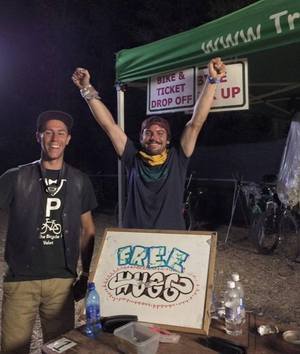 ---



The Bus Co-op: All Aboard!
Are you a community group in Langley or the surrounding area in need of occasional access to practical, affordable transportation? If you are a temple, church, seniors' centre or other community group, having the periodic use of one of the Bus Co-op's 18-22 passenger buses may be just what you need. With two buses and three member organizations, there is still plenty of room for more members - especially for evening and weekend bookings.
Bus Co-op rates are $40/hour, which includes unlimited kilometres, all fuels, maintenance, insurance, and the permanent parking spot. A Class 4 driver's licence is required to drive these community shuttles. Costs do not include a driver, although we have a list of drivers who may be available if you're looking for one.

If you're part of an organization in Aldergrove, Langley, Surrey, or White Rock, bus sharing could be especially handy for you – please consider sharing with us! For more information please contact Tanya Paz, Bus Co-op Manager, at 604 440 6222 or info@busco-op.com.

In other Bus Co-op news, on July 21, the now-famous Bus Co-op President Janice McTaggart and Bus Co-op Manager Tanya Paz were interviewed on Each for All - a show on Co-op Radio 100.5FM produced by Dale McGladdery and hosted by Robin Puga. It's a fun, hour long interview that also gets into programs and services that BEST/STAR provides. If you would like to listen click here, and press play on Tuesday Jul 14 20:00 2015.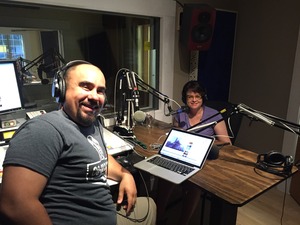 Robin Puga and Tanya Paz in the studios of
Vancouver's Co-op Radio.
---
Living Streets: Teaming up with Digital Media Camp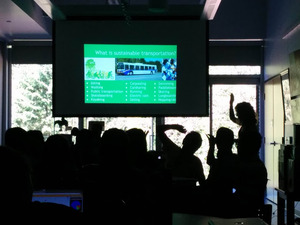 Living Streets has been working with the Surrey YMCA Youth Digital Media Camp this summer on video street audits. Surrey youth are using their digital media skills to bring awareness to important social and environmental issues in Surrey, while learning about sustainable transportation in their neighbourhoods.

Camp participants made some great observations and suggestions, including: "Someone walking or biking could easily fall into that ditch." "Maybe they could kayak in the ditch." "That bike lane is abnormally large!" And (while looking at a photo of swings at bus stops) "I'm moving to Montreal! Why aren't we funding this here?!"

Living Streets will continue to work with the Surrey YMCA and will post their videos on the BEST Facebook page. For more information about Living Streets or to get involved, contact Coral at coral@best.bc.ca, 604 669 2860, ext 208.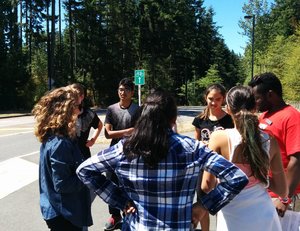 Digital Camp participants hit the streets
---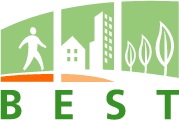 It's a good day to join BEST!

Have you ever thought of becoming a member of BEST? Why not make today the day!

If you are a regular reader of our newsletter you will know that there's a lot going on at BEST: The Bicycle Valet continues to grow (we have a new goal of parking 200K bikes); there are some very promising new developments at the Bus Co-op and STAR; Commuter Challenge just completed another successful run; and Living Streets is hoping to expand into new Lower Mainland communities.

In light of the 'No' vote in the recent transportation plebiscite, it is apparent that, in addition to providing valuable services, BEST continues to have an important role as a strong voice for sustainable transportation in our community. There is clearly a lot more work to be done – and the staff and volunteers at BEST are on it!

It is with the financial and moral support of members and supporters that we can continue to grow and make a difference. We hope you will consider joining us today.
---
SFU's Surrey Transportation course returns

Registration for SFU's popular Surrey Transportation Lecture Program is now open. This annual course, co-sponsored by the City of Surrey and the SFU City Program, is a comprehensive introduction to transportation in the Lower Mainland, with a particular focus on Surrey. Guest speakers include senior staff from City of Surrey, TransLink and others. The program also features several field trips, including site visits on a chartered TransLink bus as well as an interactive walking tour of City Centre. You'll learn about how transportation planning decisions are made, but it's also a great opportunity to meet others, ask questions and chat about transportation issues in our community.

For more information and to register, visit here.
---
Cruising Vancouver's Public Art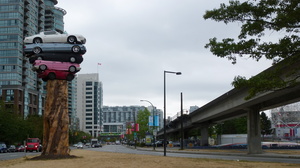 If you have been down near Science World over the last few months you couldn't help but notice "
Trans Am Totem
" by Marcus Bowcott. Standing 10 metres high it is made up of 5 Trans Am cars stacked on top of an old growth cedar trunk. One of the latest pieces in Vancouver's growing collection of public art it is a comment on our 'out with the old, in with the new' consumer society and the unique position of the car in our culture.

There is some great public art around Vancouver these days, a lot of which can be seen from the seawall – making cycling or walking around the seawall an even nicer way to spend a sunny summer day.

For more information check out the Biennale website and the City's public art registry.
THANK YOU TO OUR SPONSORS:


---

Thank you for your continued interest in BEST!

Our Mission:
To advance the transformation to sustainable transportation

Our Vision:
Vibrant, healthy communities built around sustainable modes of transportation
As Canada's new
Anti-Spam Legislation
came into effect July 1st 2014, we are in the process of updating our mailing lists and documenting subscriber consent. We currently send you electronic communications that you have opted into in the past, or because you have participated in one of our events, utilized our services, or supported us in some way. We will continue to send you news and updates about our organization, but please note that you are free to unsubscribe at any time. If you would like to give us your permanent (until you unsubscribe) express consent, please click
here
.

We hope you will choose to stay with us at BEST!