DONATE NOW!
Dear Readers,
This month as part of our special series commemorating BEST's 25th Anniversary we are delighted to have a story by Rita Koutsodimos about the early days of Bike Month – those were quite the times, attempted coup and all! Also in this month's newsletter we have a feature on one of our fantastic volunteers, Justine, a petition for improved cycling infrastructure, and news about The Bicycle Valet, STAR, and Commuter Challenge. Happy reading and Happy February everyone – may you be surrounded by love and chocolate!
BEST's 25th Anniversary
Bike Month: First, you thwart a coup!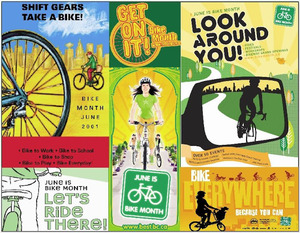 by Rita Koutsodimos

I'll never forget my first day at BEST. I practically skipped over to MEC Headquarters on my way to the BEST AGM. As I approached I noticed a line-up forming and this reinforced my excitement "Wow!", I thought, "here is an organization with an active and engaged membership!" But as I got closer, I noticed some characters who looked quite a bit tougher than the folks on the bikeways.

It turned out a group of motorcyclists was trying to stack the board and take-over the organization! Later we heard rumours that this was motivated by their belief that BEST was the recipient of several million dollars in bike funding that Translink had recently announced. Luckily, a group of old BESTies put out an SOS to all their buddies (some even flagged down cyclists on the Ontario Bikeway), stacked the meeting, and thwarted the coup.

So it was a crazy, dramatic start to one of the most fun jobs I've ever had. Hired in March, I had just three months to organize what would become the first Bike Month in June 2000.

BEST had been running Bike to Work Week for several years at that time but it was expanded to a month to extend the reach of the campaign. The thinking was that the three extra weeks would make it easier for individuals and organizations to participate or host events. And a month would give municipalities more time to organize the openings of new bike ways or announce investments in new facilities (which were sorely needed and what we knew would ultimately be the game changer).

Beyond commuter-cycling, we also wanted people to think of biking as a great way to get around for all kinds of reasons. The message was: 'June is Bike Month: bike to work, bike to school, bike to shop and bike to play!'

What I loved about BEST was working with an amazing group of environmental activists and urbanistas who were absolutely committed to slowing climate change and creating vibrant communities by changing the way people get around. It was the start of a new millennium, which felt like a big deal at the time, and we were all so full of optimism (albeit tempered with a healthy dose of pragmatism and a smidge of cynicism).

At the time, attitudes towards cycling in the city were not quite as enlightened as they are today. It wasn't uncommon to be yelled at or derided for taking up road space. We knew if we were going to make a difference, we had to make sustainable transportation options go mainstream.

So, we worked hard to break the stereotypes about cycling as just something done by lycra-clad road warriors or crunchy granola peaceniks. Our poster that year, was developed to reflect the diversity of Vancouver and the tag line was in Punjabi and Chinese as well as English. We wanted everybody to see themselves there – to visualize the fun that they would have riding around on a bike.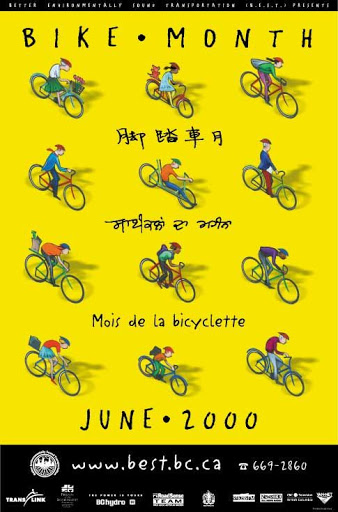 The media was our frenemy – giving us space to discuss the issues but so often within a negative frame. I can remember sitting across from CKNW's crusty host, Peter Warren who launched into the interview with: "There's a battle between bikes and cars for the streets of Vancouver – can they really co-exist?!!" Even affable Rick Cluff once asked me why we hated cars.

But things were starting to change. That year we convinced the Vancouver Sun to run a feature profiling prominent business leaders and professionals that were regular cyclists. And reporters like Frances Bula, Stephen Quinn, Kevin Griffin and Frank Luba were making the connections between growth, transportation planning, sustainability, and liveability of the region.

When I look around today, and see the cycle tracks downtown or parents and kids riding to school or the number of women riding - I'm amazed at how far we've come in a relatively short time. It makes me happy and proud to be part of the BEST history. So Happy 25th Anniversary BEST! You've come a long way, baby…and you've got a bright and active future in front of you!

Rita Koutsodimos is currently working at the BC Healthy Living Alliance where she advocates for provincial funding for a BC-wide Active Transportation Strategy and other policies to make the people of BC healthier and happier.
***
A message about Bike Month from our GM,
Stephanie Williams:

When I first started at BEST, June is Bike Month didn't mean a lot to me. I had no idea of its history, the far-reaching messages normalizing cycling across Canada and even North America, or the fun surrounding the annual Clean Commute Breakfast, bringing sustainable transportation advocates together in the CBC plaza. I did however get an inkling of the importance of the event when I was picked up at 5:00am to help set it up.

Since the last Bike Month campaign in 2011 I've continued to see the iconic green and white signs proclaiming "June is Bike Month" in the windows of bike shops around town. I've always loved the simplicity of the message, and the celebratory nature of the campaign. Browsing through the archives to gather materials to showcase BEST's 25th anniversary, I began to understand the importance of Bike Month. Rita's story really illustrates that.

So when long time sustainable transportation advocate Steve Kisby approached me with the idea of revitalizing the campaign in a small way, it seemed like the timing was just right. In 2016, keep an eye out for a few Bike Month signs in town and a focus on all of the bike related events in Vancouver in the month of June. While each month is a great month to bike, June is Bike Month, and we're going to celebrate it. Stay tuned.
---
Call for BEST memorabilia

This year as part of our 25th anniversary celebrations we are gathering together as much BEST history as we can to share in our newsletter and on social media. Also in the works is a book (actually more like a zine) about BEST which we hope will be chockablock full of images from the past.

So we are wondering: Do you have in your possessions old newspaper articles about BEST, photos taken of BEST events and people, and/or any other memorabilia relating to early BEST programs? Could you loan them to us?

If you can help we will take very very good care of your treasures and return them to you in pristine condition! For more information please contact Sinead at sinead.stinson@best.bc.ca, 604 669 2860, ext 207.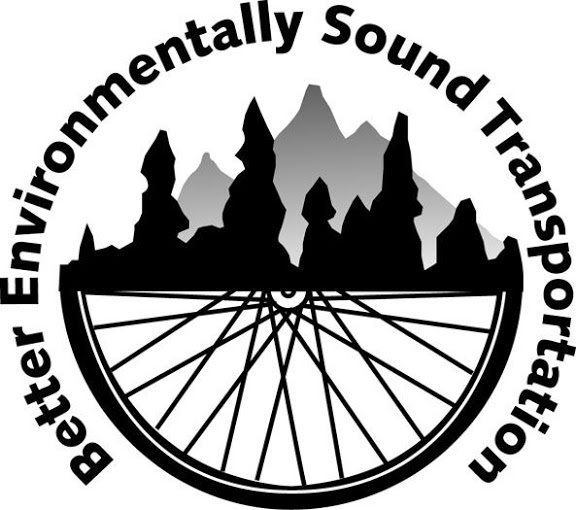 ---
The Bicycle Valet: Planning for 2016


At the record-smashing 2015 Whitecaps Home Opener
The dust never settles at The Bicycle Valet, and we're here planning away for the 2016 season. We've been growing every year and this year, our 10th in operation, promises to be our biggest yet!!

As we write, it looks like our first event will be March 6th with the Whitecaps Home Opener! Last year we smashed the record for the most bikes parked at a Home Opener game, parking 115 bikes, when previous years we always parked around 10 ... can we do it again this year? How about at the FIFA Men's Qualifier match on March 25th?!

Upcoming events not to miss if you love a safe bicycle:

- Modo Spring Run-Off- Come on down (by bike) to run or cheer at Stanley Park on March 20th
- FIFA Men's Qualifier game between Canada and Mexico at BC Place. We'll be at BC Place Gate C for this game on March 25th
- All Whitecaps home games at BC Place Gate C
- Vancouver Sun Run on April 17th at BC Place Gate C.
- Party for the Planet on April 23rd at Surrey City Centre

And many more to come ... keep your eye on our calendar as more events get added every week!

For more information on The Bicycle Valet contact Sinead Stinson, sinead.stinson@best.bc.ca or 604 669 2860, ext 207.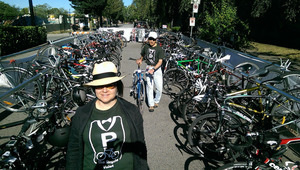 It was a very busy and sunny day at
Main Street Car Free Days in 2015.
---
Volunteer story: Justine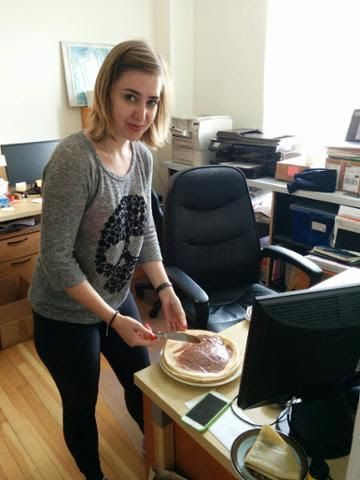 At BEST we are fortunate to have volunteers from all over the world working with us. Volunteers might help at The Bicycle Valet or one of our other programs or around the office – whatever they do, we are enriched by their participation. This month we asked Justine, who is from France, to answer our BEST Volunteer Questionnaire.

What were you doing in France before you came to Canada?
After spending 2 years in Wales finishing my bachelor's degree, I decided to spend time at home with my family and my friends. I stayed home for 6 months travelling around France and visiting everybody I know.

Why did you want to come to Canada, and Vancouver in particular? How long are you here for?
I knew that my English level wasn't high enough, that's why I decided to go somewhere for 4 months to take English courses. I selected the English program at EF school, as with this school you can go study English almost anywhere in the world. My decision to come to Vancouver was really random, I had a phone conversation with a man who works for EF in Paris and he asked me where I wanted to go. I already knew that I wanted to go either to the USA, Canada, or Australia, and that I wanted to do an internship in something about the environment. After a few minutes of conversation he told me, "I think the best city for you would be Vancouver!" That is how I decided to come here, I just followed this man's intuition, and it was probably one of the best decisions of my life. I would love to be able to thank this man, but unfortunately I don't even know his name.

I've been here now for almost 2 years, and I love this city! I will probably stay for many more years!

How did you come to volunteer at BEST?
With the EF program, I wanted to do an internship, but I had trouble with the work permit so I chose to do some volunteering instead. I didn't know anything about BEST and it was the manager of the work/internship program who got me the interview.

What are you doing for BEST?
I'm doing many different things for BEST, whatever they need help for I'm there! I've already worked for The Bicycle Valet and Living Streets. I'm also going into the BEST office once a week, where they can use my help for diverse tasks like updating the websites, doing some research, updating databases, updating the system for the contest entries, and scanning or organizing documents. And sometimes when I have time I bring them homemade cakes or crêpes, to keep a happy atmosphere in the office!

What have you learned / how have you benefited from your volunteer work with BEST?
My work at BEST taught me a lot about office work, but also about the city; I discovered new events that I didn't know about before; and I also met amazing people through this organization!

What would you say to somebody thinking of volunteering?
To volunteer with BEST is a great experience, and anyone who is concerned about the environment, the community or transportation, or just likes to socialize with people, would love it. Especially great is the fact that they can join the awesome volunteer dinner twice a year!

***
If you are interested in volunteering for BEST, visit our website or contact Sinead Stinson, sinead.stinson@best.bc.ca, 604 669 2860, ext 207.
---
STAR: "Keep Moving!" gives tools to older drivers

Are you an older driver, or the family member of an older driver? If you are, you may be interested in "Keep Moving!", a handbook created by BEST's STAR program that provides tools for older drivers and their families to help them become aware of changes that happen as drivers age, and to assess when it is time to look for alternatives.

In a sensitive and caring manner, the workbook asks questions, presents conversation starters, and encourages open discussion between everyone concerned. Issues considered include vision, hearing, memory, medication, strength & flexibility, general health concerns, overall driving performance, and reaction time.

Older drivers can work through the manual on their own, with family members, or with friends. It's a great resource to approach a delicate subject in a helpful way.

The manual is available to download for free at the STAR website. For more information about the manual and about the STAR program, please contact Stephanie Williams, stephanie.williams@best.bc.ca, 604 669 2860 ext 212.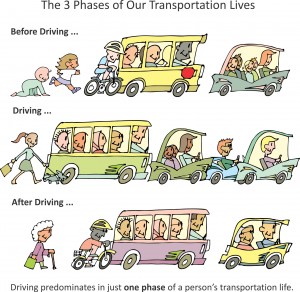 ---



BC Commuter Challenge: How will you get to work?
The 2016 BC Commuter Challenge will take place this year from June 5-11, during Canada's National Environment Week. This popular corporate event encourages Canadians to leave their cars at home and rewards walking, cycling, carpooling/ride-sharing, taking transit and telecommuting. It's free to join, and ALL participants are eligible to win one of the great prizes donated by our generous sponsors!

Every year BC does very well in the Challenge, and we are starting to gear up for another great competition. This year Steve White will be coordinating the event, so you can expect a call from Steve over the next weeks as he gets in touch with businesses around the province.

If you are interested in learning more about the Challenge now, check out the Website, like the BEST Facebook page, and follow us on Twitter! You are also welcome to send a message to Steve at commuterchallenge@best.bc.ca.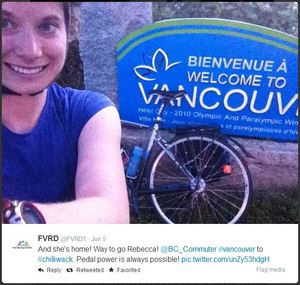 ---
Help improve cycling infrastructure! Sign the Petition!
The Government of BC is currently working on their new Climate Leadership Plan. Improved cycling and walking should be a big part of that plan. In addition to reducing GHG emissions, cycling and walking also makes our communities more vibrant and safer while reducing healthcare costs and improving the economy.

Please join with the BC Cycling Coalition in urging the Government to invest $1 billion in networks of safe paths, protected bike lanes, sidewalks, improved cycling facilities on highways & bridges and safe routes to school in communities across the Province. This investment should be accompanied by cycling education for children and adults.

It is time for bold action to enable everyone in BC, including children and seniors, to cycle or walk for their everyday trips. Sign the petition and spread the word to your friends!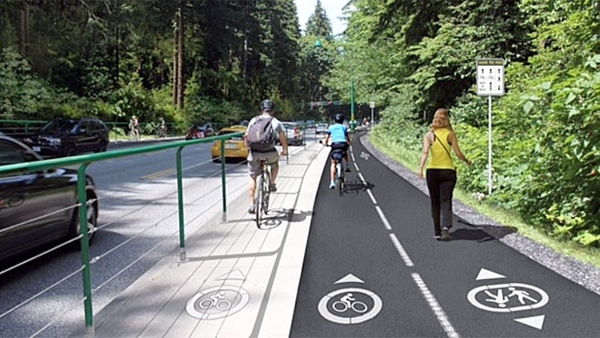 THANK YOU TO OUR SPONSORS:


---

Thank you for your continued interest in BEST!

Our Mission:
To advance the transformation to sustainable transportation

Our Vision:
Vibrant, healthy communities built around sustainable modes of transportation
As Canada's new
Anti-Spam Legislation
came into effect July 1st 2014, we are in the process of updating our mailing lists and documenting subscriber consent. We currently send you electronic communications that you have opted into in the past, or because you have participated in one of our events, utilized our services, or supported us in some way. We will continue to send you news and updates about our organization, but please note that you are free to unsubscribe at any time. If you would like to give us your permanent (until you unsubscribe) express consent, please click
here
.
We hope you will choose to stay with us at BEST!