LYERLY CEO RECEIVES HIGHEST NATIONAL AWARD FROM RED CROSS
Lyerly stood alongside notable humanitarians including actor, Sean Penn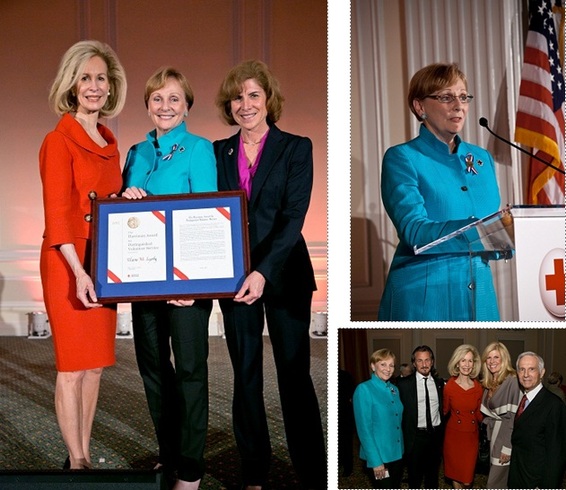 From left: Bonnie McElveen-Hunter, Red Cross National Chair, Elaine with Harriman Award and Gail McGovern, Red Cross CEO; Elaine giving her acceptance speech; Elaine, Sean Penn, Bonnie McElveen-Hunter, Melanie Sabelhaus, Buzz Heidt
On October 24 at the American Red Cross Philanthropic Assembly in Washington D.C., Elaine Lyerly received the Harriman Award for Distinguished Volunteer Service. The award, based solely on accomplishments, is the highest national award from the American Red Cross and recognizes a volunteer who has provided extraordinary service that extends to people and places beyond the local community.
"I am honored to be among such incredible people. People who have made an immeasurable commitment to help change our world," said Elaine Lyerly. "Yet, I am also humbled in knowing there is still much work left to be done."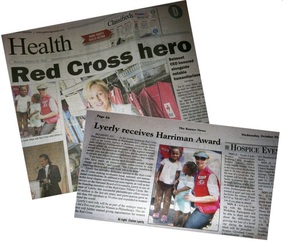 Actor and humanitarian, Sean Penn, was at the Assembly as well. He received the International Humanitarian Service Award for his extensive work in Haiti. Deborah MacSwain was also presented the Harriman Award for Distinguished Volunteer Service for her dedication to the mission of the American Red Cross.

Singer/songwriter, Emeline Michel, most known for her performance for "Hope for Haiti Now," closed the assembly with an inspiring vocal selection.
Lyerly has provided dedicated service to the Red Cross for 37 years making invaluable local, national and international contributions. In addition to her longtime commitment to her local chapter and blood services region, as well as her service on the National Board of Governors, Lyerly is one of the founding members of the Red Cross Tiffany Circle. Because of Lyerly, this successful philanthropic effort raised $45 million in the last six years and participation grew to more than 900 members in 70 cities and expanded to women around the world.
Lyerly's next role will be as part of the strategic team to lay out a five-year plan for Women in Philanthropy. This initiative will further expand giving opportunities for the Red Cross.