September's Theme: Welcome
---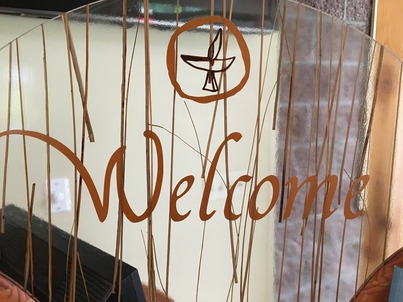 ---
Sara's Reflections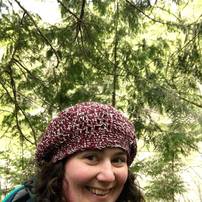 September is the beginning of the church year, the full religious education program begins again, and this year we have a new Interim Minister ... a perfect time for the theme of Welcome.
We want to be a welcoming community, but what does that truly entail? Smiles and greetings and the gestures of hospitality are certainly part of being welcoming. Our hospitality teams on Sunday mornings work hard to be welcoming to all who come through the doors.
Welcoming in our classrooms and youth groups means remembering that a newcomer doesn't know "how we always do it" and so insuring that there are printed materials and explanations of chalice lightings and other rituals and norms.
We must also always keep accessibility in mind. To be truly welcoming, people need to be able to get in and around in our building, and we must watch out for barriers, whether they are physical, economic, or other, that keep anyone from being welcomed here.
But the work of the recent White Supremacy Teach-In and of the Welcoming Congregations program reminds me that there is another aspect to Welcoming: being truly open-minded and curious about the differences that people bring with them.
Personally, I find this to be the most challenging task of welcoming. It is easier for me to call people in and share with them the way I do it. Think of that approach as a dinner party where you have everyone come in, follow your table manners, and eat your favorite foods. You love this dinner, and you are so happy to share it with others! I've hosted and attended dinner parties like this, and they can be quite lovely.
But what if the goal of welcome isn't to bring people to your way of doing things, but is instead to create something new through your relationship with the other? Think of this approach as a dinner party where everyone is invited to bring something of themselves to the table, perhaps as a potluck and sharing of favorites. Table manners may be different, the foods may be different, but everyone contributes and so the result reflects the people - all of them.
To be a truly welcoming and diverse congregation, we must be open to different ways of being in the world, as much as we are open to different skin colors and sexual and gender identities. This radical welcome .... a welcome that is willing to change self as it encounters and welcomes the newcomer into the circle .... is the deeper challenge I find in this theme.
---
Reflection Questions:
1. Do you spend more time welcoming in gifts or keeping out threats?

2. Can you remember the last time you truly "widened the circle"?

3. Might widening the circle mean you stepping away from the center?

4. Do you notice your ruts? Have you slipped so deeply into routine that you don't even notice anymore? When was the last time you welcomed in something new?
1.
Soul Matters Discussion Circle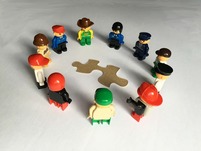 Join us on the 2nd Sunday of each month, 12:30-2:30 (Bring Your Own Lunch) for an open Discussion Circle on the theme of the month.
September's Discussion Circle will be on September 10th.
If you would prefer a Covenant Circle that meets regularly with the same people for a church year, our DRE is accepting applications for Facilitators now.
---
---
Spiritual Exercise
30 Days to Welcome Something New!

Let's be honest: When it comes to new experiences or skills, we're not that great at being a people of welcome. We like our ruts. We're comforted by what we know. We drift toward what we're already good at. Yes, there is safety in the status quo. And yet all that safety comes at a cost. Ruts may be comfortable, but they are also constricting. The status quo may be safe, but it's also stale and stifling. So this month let's welcome in the fresh air of something new: a new skill, new experience or new side of yourself. And a month's worth of effort is the perfect amount of time to take on this challenge, since it turns out that 30 days is how long it takes for new habits to form.

Here's some guidance and inspiration to get you on your way: ● https://www.ted.com/talks/matt_cutts_try_something_new_for_30_days#t-60619
3

● http://highexistence.com/30-challenges-for-30-days/ ● https://www.forbes.com/sites/jeffboss/2015/01/17/15-unique-thirty-day-challenges-guaranteed-tomake-you-a-better-you/#31b8b1e3291e ● http://www.makeuseof.com/tag/12-life-changing-challenges-can-try-30-day-projects/


Some questions to think about during your 30 days of something new: 1. Was your effort contagious? Did it lead to others welcoming something new? 2. How did it impact the quality of your days? Your mood? What was its gift? 3. What did you learn about your relationship with your "ruts"? Did your 30 days teach you something about why they are so hard for you to step out of? 4. In what way was this spiritual for you? 5. Do you think it will stick? Did something actually change for you? Are you now less likely to slide back into your old habits and the status quo?

A NOTE: If you can't pull off an entire 30 days, feel free to pick a different period of time.
---
Other Media That Might Inspire or Provoke:

---
For Young Souls: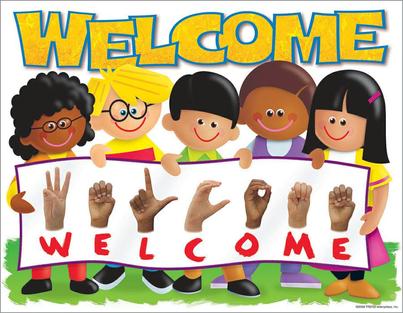 ---
Faith In Action: Welcoming Congregation Renewal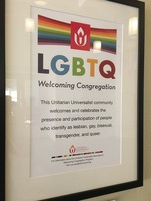 OUUC is currently in the process of renewing its Welcoming Congregation status. The Renewal Team was recognized by the Board last May, and approval by the congregation will be requested at the next congregational meeting.
Look for the new sign we received that now hangs in the Commons to the left of the office hallway! The renewal team meets on the 1st Sunday of each month, 12:30, at OUUC, and welcomes all to attend.
---
To receive other recommendations, words of wisdom, reflection questions, and more all through the month as we engage with this theme, join the
OUUC Soul Matters Facebook Group
!
In This Issue
Sara's Reflections
Reflection Questions
Spiritual Exercise
Recommended Media
For Young Souls
Words of Wisdom

---
Invitation by Shel Silverstein

If you are a dreamer, come in.
If you are a dreamer, a wisher, a liar,
A hope-er, a pray-er, a magic bean buyer. If you're a pretender, come sit by my fire, For we have some flax golden tales to spin.
Come in!
Come in!
---
He drew a circle that shut me out-- Heretic, a rebel, a thing to flout.
But Love and I had the wit to win:
We drew a circle that took him in!
- Edwin Markham

---
Here we are – all of us – all upon this planet, bound together in a common destiny, Living our lives between the briefness of the daylight and the dark. Kindred in this, each lighted by the same precarious, flickering flame of life, how does it happen that we are not kindred in all things else? How strange and foolish are these walls of separation that divide us! - A. Powell Davies
---
"Hospitality means primarily the creation of a free space where the stranger can enter and become a friend instead of an enemy.
Hospitality is not to change people, but to offer them space where change can take place. It is not to bring men and women over to our side, but to offer freedom not disturbed by dividing lines.
It is not to lead our neighbor into a corner where there are no alternatives left, but to open a wide spectrum of options for choice and commitment.
It is not an educated intimidation with good books, good stories, and good works, but the liberation of fearful hearts so that words can find roots and bear ample fruit"
- Henri Nouwen