March's Theme: Wholeness
---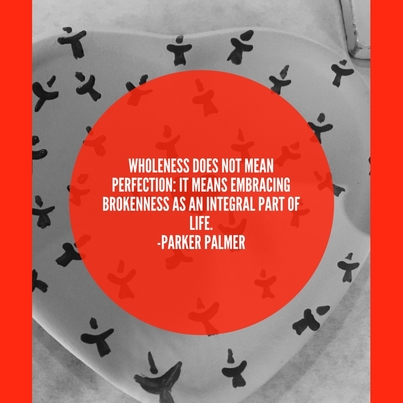 ---
Sara's Reflections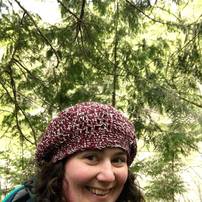 When our minister, The Reverend Thomas Perchlik, and I first sat down in the fall to plan out our themes for this year, we originally picked "Balance" for March. We were thinking about the Spring Equinox, about how this month is equal parts light and darkness, winter and spring.
But then we talked more recently and looked at the lesson plans I have written for the children's classes in March, and decided to change the theme to Wholeness.
I've been pondering that shift, from balance to wholeness. I think our culture emphasizes "Balance" more as an ideal, with the idea being that we should live "balanced" lives with just enough rest, just enough work, just enough fun, just enough duty, so that everything stays "in balance". Our culture doesn't talk as much about wholeness. What is a whole life?
Wholeness is a state of being our whole self, imperfections and brokenness and imbalances included. It is paradoxically easy (of course I am my whole self!) and difficult (ever feel fragmented and in conflict with yourself?) to live in wholeness.
Of the two, balance and wholeness, I find wholeness to be a more radical goal. If I aim for balance, there are formulas and equations and the practice of saying No and building a life a certain way. If I work for wholeness, I have to listen to my own inner voice so that I can match my inner and outer selves, and I have to embrace all that I am ... even the cracks and flaws. A whole life will be one that is true for you, and so no one can give you a formula or prescription of how to get there.
And that makes it perfect as a theme for our faith formation and spiritual practice this month!

---
Reflection Questions:
1. Where and when have you experienced brokenness? Have you been able to embrace that brokenness? What might heal if you did?
2. What do you see as the difference between balance and wholeness? If those were goals, how would you pursue them differently?
3. When and how do you experience your life as "enough"? What do you fill your life with when you are not experiencing "enough"? Would letting go of something actually help you experience more wholeness in your life?
---
Spiritual Exercise
Begin with Enough, End with Gratitude
Wholehearted living is about engaging in our lives from a place of worthiness. It means cultivating the courage, compassion, and connection to wake up in the morning and think, "no matter what gets done and how much is left undone, I am enough". It's going to bed at night thinking "yes, I am imperfect and vulnerable and sometimes afraid, but that doesn't change the truth that I am also brave and worthy of love and belonging". –Brené Brown
Gratitude for what is can help you celebrate your wholeness.

Start each day by telling yourself "I am enough".

End each day for two weeks by writing down what you are grateful for!

Reflect back on your practice. How did beginning with "enough" and ending with gratitude change the way you experienced your life and your days?
---
Other Media That Might Inspire: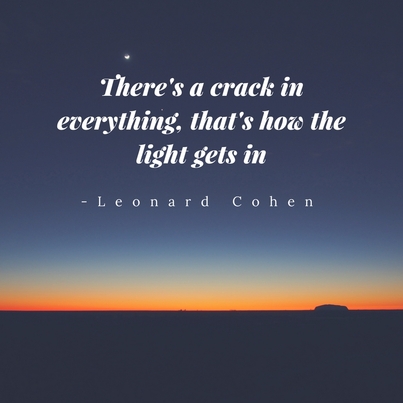 Songs
Japanese Bowl, by Peter Mayer
Hallelujah, by Leonard Cohen
Articles
Redefining Balance in Parenting and Activism: A Guide for Social Justice Families, by Jardana Peacock
---
Recommended Book: A Hidden Wholeness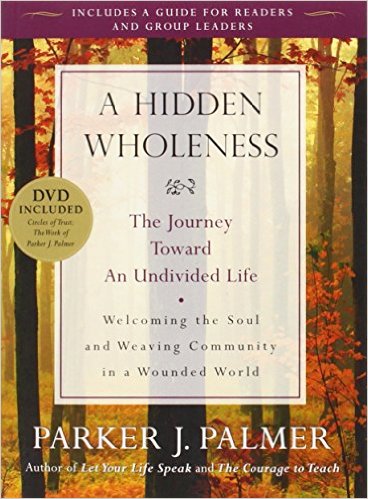 (Another recommendation for a Parker Palmer book! Yes, I love Parker Palmer.)
Here, Palmer reflects on how to live an undivided life in a world filled with forces of fragmentation.
---
To receive other recommendations, words of wisdom, reflection questions, and more all through the month as we engage with this theme, join the
OUUC Soul Matters Facebook Group
!
In This Issue
Sara's Reflections
Reflection Questions
Spiritual Exercise
Recommended Music
Recommended Books
Words of Wisdom

---
You are all things. Denying, rejecting, judging or hiding from any aspect of your total being creates pain and results in a lack of wholeness.
Joy Page

---
---
"I take literally the statement in the Gospel of John that God loves the world. I believe that the world was created and approved by love, that it subsists, coheres, and endures by love, and that, insofar as it is redeemable, it can be redeemed only by love. I believe that divine love, incarnate and indwelling in the world, summons the world always toward wholeness, which ultimately is reconciliation and atonement with God."
―
Wendell Berry
,
The Art of the Commonplace: The Agrarian Essays