Dear Religious Education Families,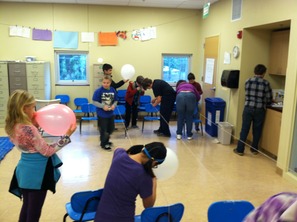 2015 is off to a great start with another wonderful Sunday this week! I am so thrilled with how well all our classes are going. Check out this picture of the Labyrinth Learning kids doing balloon rockets - lots of fun!
January's Theme: Open Minds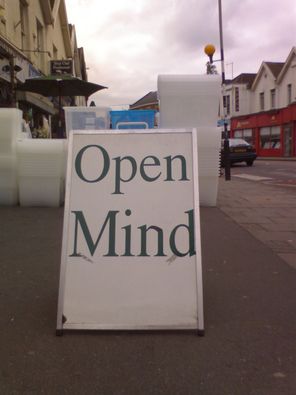 The theme for this month is "Open Minds". There is more about this theme on my blog.
We have focused so far on inventors, learning styles, astronomy, and our relationship to the universe. Next up: chemistry and science vs. religion or science with religion.
Sunday and Every Day: Taking It Home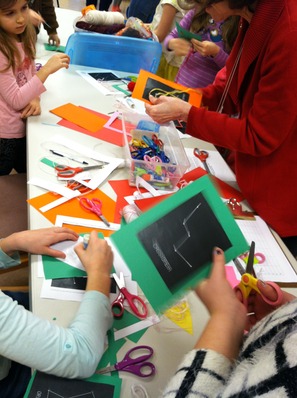 Last Sunday:
The Spirit Play (Pre-K) class had a story for the Violet Promise (Value the Web of Life) based on the book Earth Mother by Ellen Jackson.
Labyrinth Learning (1st-6th grade) learned about Unitarian astronomer Maria Mitchell (here's my video I made for the class), then had the choices of making balloon rockets, sewing constellation cards, reading books about Maria Mitchell, or exploring the NightSky app.
The youth group watched Neil deGrasse Tyson's "Most Astounding Fact" and then discussed their relationship to the universe and science versus religion.
To extend the conversations at home:
Maria Mitchell knew what she wanted to study and she studied hard.

What do you love to learn about?

What do you wonder about?
One of the six sources of inspiration for Unitarian Universalists is "Science and Reason".

How can we find spiritual or religious inspiration from science?

Are science and religion polar opposites or similar?

Humans have been looking to the stars and wondering about them as long as there have been humans. What do you look toward and wonder? As light pollution dims the night sky, what is lost to us

Tyson says we all want to feel connected to something larger, and that being connected to the universe makes him feel larger, rather than smaller. What do you feel connected to? How does thinking about the vastness of the universe make you feel?
Look Up!

---
This Sunday: January 18, 2015
9:15

11:00
Nursery Care
Spirit Play (pre-K) will have a story for Martin Luther King, Jr. Day.
Labyrinth Learning (1st-6th grade) will be learning about an historical UU who had an open mind, Joseph Priestley, and will be making fizz balloons, bubble paintings, and playing with air.
Our Whole Lives (not open to newcomers)
Youth Group will be discussing the relationship of science and religion.
This Week's Hospitality Team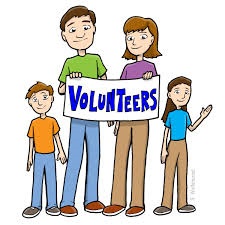 This week the Hospitality Team is the Peregrine Falcons (3rd-4th grade). If you are in 3rd-4th grade, please bring a snack or cookies to share!
The upcoming schedule for Hospitality Teams:
January 18th, Peregrine Falcons (3rd-4th grade)
January 25th, NOVA team (5th-6th grade
February 1st, Middle School team
February 8th, High School team
---
Announcements and Upcoming Events
Community Potluck and Game Night, Thursday January 15th, 6pm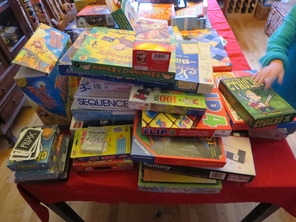 January's
Community Dinner
will be Game Night! Thursday, January 15 at 6:00 pm. Join us for a delicious potluck meal and fun games at this Community Night Dinner! Looking for an opportunity to meet people and get to know one another over a meal and your favorite game? Bring a game you would like to share or play one of the games we have on hand at
OUUC
such as Apples to Apples. Everyone is welcome - all ages and all gaming abilities welcome! Please RSVP to
Bonnie Guyer Graham
so we know how many tables to set up.
Attention Families: You may expect to receive a phone call in the month of January from one of our Family Ministry Team members. Our outreach seeks to gather input on how OUUC currently meets the needs of families and children as well as what we could be doing better. This information will be used to steer our activities and future planning. Thank you in advance for your thoughtful participation. Questions/comments? Please contact Tiffany Felch tiffany.felch@gmail.com or 360-451-0711.
****
Are you looking for a local MLK Day Service Project (good for families and youth)?
West Bay Woods Tree Planting and Ivy Pull on MLK Day of Service!
Mon. January 19th 10am-1pm
Come plant native trees and shrubs, spread mulch, and remove ivy with Stream Team as they join with the Olympia Coalition for Ecosystems Preservation (www.olyecosystems.org) and Washington Conservation Corps to restore the forest where local herons have chosen to build their nests. This is our last chance to do restoration work before the nesting season. Herons need 7 months of undisturbed quiet to nest and raise their young. Please dress for the weather. Gloves, tools, and hot beverages will be provided.
To register for this event, visit www.streamteam.info and click on "Register". For more information, contact City of Olympia intern Tamara Lindner at tlindner@ci.olympia.wa.us or 360-753-8159.
If youth will be going without parents, they need to bring a signed waiver, pdf available here.
****
Yours along the Journey,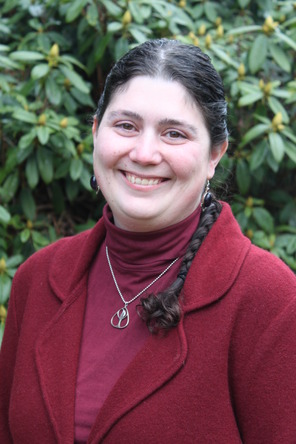 Sara Lewis, CRE
Director of Lifespan Religious Education
Olympia Unitarian Universalist Congregation
360-786-6383
Office Hours: Weds 10-1:30, Thurs 10-4, Friday 10-12:00
My Blog: The Children's Chalice