This Week In Religious Education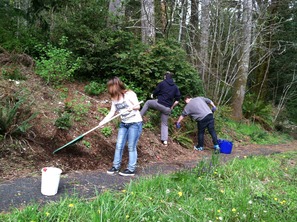 Wow! Easter is here already. It feels early this year. Do you know how Easter's date is determined each year? It is the first Sunday after the first full moon, on or after the Spring Equinox. This leads to the date of Easter changing a lot, depending on the year!
We marked the Spring Equinox last week, and this week we learned about the moon cycle and how that has been important to many different religions, including paganism which we are learning about right now. This Friday will be the Full Moon - the first after the Spring Equinox, leading to Sunday being Easter.
In addition to our regular classes, we had two groups doing a service project last Sunday: the 6th Graders and the High School Group both pitched in to pull weeds in the native landscaping we have put in above the ADA sidewalk ramp from East End Street. Thank you to all who worked on this project: the youth and their adult advisors (Karen Jackson, Sean Harrington, and Anisa Bentlemsani). It's so good to give back to the community in this way!

Sunday and Every Day: Taking It Home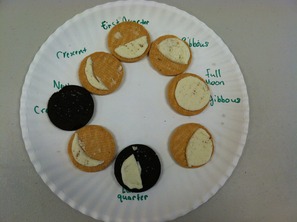 The Spirit Play (pre-K) class had a story about the how The Moon Changes.

Labyrinth Learning (1st-6th grade) also explored the moon cycle, watching this quick video from the History Channel, and then choosing between making oreo cookie moon phase charts, baking moon cookies (like I used to do with my mom, growing up pagan), or playing some moon themed fun games.
To extend the conversations at home:
I wonder if you have ever looked closely at the moon? Have you ever looked with a telescope? What does the moon look like to you?
How would the phases of the moon have mattered to earlier peoples? Why would the moon cycle be used for a calendar?
How are we connected to the moon? How does it affect us? (For instance: the tides, our bodies respond to it such as in women's menstrual cycles, some think it affects our behavior as well).
Is it possible that we should pay more attention to the moon cycle? How often do you pay attention?
Have you ever watched the moonrise together? I hadn't until one family vacation with my in-law's in Mexico, when I was introduced to the fun, calm, and beauty of watching both the sunset and the moonrise in the evening. You can find the time online for when the moon should be rising on any given day, and just find a good location to sit and watch for it. Depending on the day, the weather, the cloud cover, etc, you may get a really lovely sight! In our fast-paced and plugged in modern lives, try taking the time out to watch for something slower and more real.

---
This Sunday: April 5, 2015
Easter Services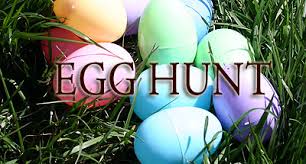 This year the Easter worship service will be Intergenerational, and designed for All Ages. It will have story, song, guided meditation, and ritual, and will mark both Passover and Easter.
We will still hold our Easter Egg hunt (I don't know about your kids, but this is a holiday favorite of mine!), but only following the 11:00 service.
Please come, and celebrate Easter with us. For the egg hunt, please be dressed for the weather, and please bring an empty basket for collecting eggs. It is not too late to contribute treats and prizes for the egg hunt. You can bring them on Sunday morning, and add them to the prize tables we will have in the Commons. Edible and non-edible treats are welcome, and they do not need to fit in an egg.
Middle and High School Youth: you are invited to help hide the eggs! If you want to do that, please check in with me before the 11:00 service begins, and plan to sit together with the Easter Egg Team: the whole team will exit the service together during the offering to go hide eggs at the park down the street.
There will be No Religious Education Classes at Either Service. Nursery care will be provided for children under 4 years of age.
No Hospitality Team This Week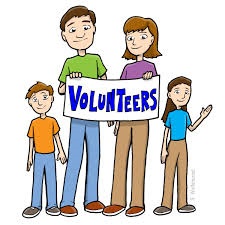 The (updated) upcoming schedule for Hospitality Teams:
April 5th, NO TEAM
April 12th, 3rd-4th grade team
April 19th, 5th-6th grade team
April 26th, 7th-8th grade team
May 3rd, Pre-K Team
Announcements and Upcoming Events
---
Save the Dates for Chalice Camp
July 6-10, 8:30-3:30. For ages 5-10. This year the camp will be Free of Charge! Registration will open in April.
*****
Easter Treats Needed! Easter is right around the corner - April 5th - and we will hold our children's Easter Egg hunt following the 11:00 service (at about 12 or so). Just like last year, we need treats for the kids: both edible and non-edible treats, and they don't need to fit into an egg.
*****
Youth (grades 6-12) Team for Crop Walk, May 3rd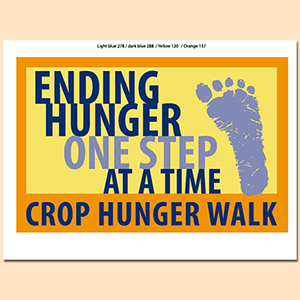 Crop Walk is an annual event of Interfaith Works, to raise funds for both local and global hunger relief. I have participated in Crop Walk many times, and found it to be a rewarding experience. "We walk, because they walk". All around the world, people have to walk for safe food and water. And because of that, we will walk this one time, even though our access to safe food and water is so much easier.
Youth, please join the team! Sign up for the walking team, and then set-up your own online page to ask for donations from your family and friends.
And then we will walk together on May 3rd! Save the date!
******
Parents Night Out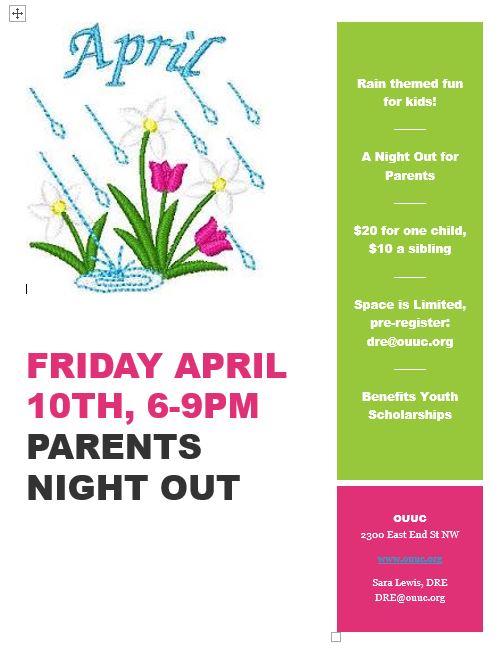 ---
Yours along the Journey,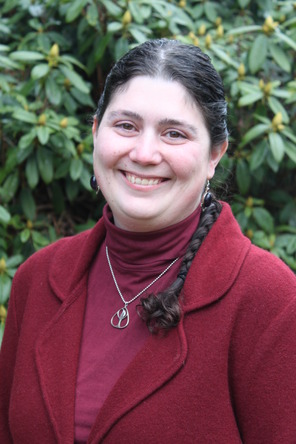 Sara Lewis, CRE
Director of Lifespan Religious Education
Olympia Unitarian Universalist Congregation
360-786-6383
Office Hours: Weds 10-1:30, Thurs 10-4, Friday 10-12:00
My Blog: The Children's Chalice