This Week In Religious Education
The Unitarian Universalist Story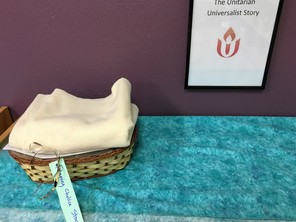 When we begin each new year of religious education classes at OUUC, we always start with core stories and lessons about Unitarian Universalism. Although there are, of course, so many good stories out there, so many people whose lives can inspire us, so many religions and holidays and Big Questions and .... well there is just SO MUCH that we
could
explore and learn about in religious education.
In fact, there is so much possible ground to cover in a UU religious education program that it can become scattered, random, and confusing. This is why I have us start each year grounded in our own story. Who are we? How and why do we gather together? What history and tradition are we inheriting? What values do we affirm as UU's?
Then, once we have that core thread to hold on to, we can start to explore all of those other interesting threads!
---
Our Theme Is: Identity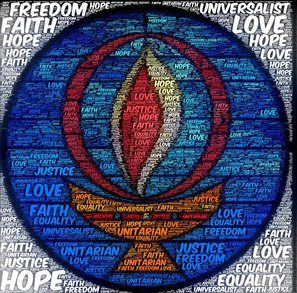 In October our theme is
Identity.
In particular, we will be exploring our Unitarian Universalist Identity in all the religious education classes: our history, these two traditions that came together as the two UU's, our 7 Principles, and what we value as Unitarian Universalists. You can read more about this theme in the
monthly Soul Matters email.
---
Sunday and Everyday: Taking It Home
Speaking Up About Your Faith Identity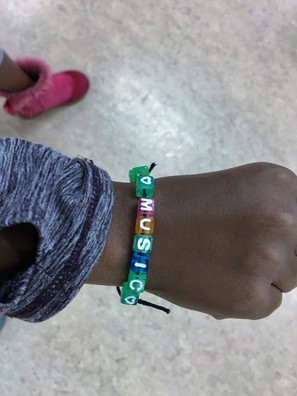 In our classes this past Sunday we explored questions of Identity and our "first U": Unitarianism. In the Spirit Play (preK) class we told the story of
Francis David
and King John Sigismund, while in Labyrinth Learning (1st-5th grade) we told the story of William Ellery Channing's important sermon "
On Unitarian Christianity
". One of the follow up activity stations was to make necklaces or bracelets that proclaim some aspect of your identity (see picture).
Middle School was about identity and conformity, through the lens of Unitarian
Rod Serling's
Twilight Zone episode "In the Eye of the Beholder".
To extend this learning at home:
1. Talk about the name
Unitarian Universalist.
It's a
really long name
- do you like it? What would you call our faith tradition if you got to rename it?
2. How do you explain your church to others when they ask?
3. Do you feel much pressure to conform to standards of look, dress, behavior, etc? How much of your identity is a group identity and how much are you unique?
4.
Faith in Action
for this week: Practice talking about Unitarian Universalism. Play act, with one family member pretending to be someone else asking questions and another trying to answer them. You can see a similar activity (although meant for a classroom group) here:
http://www.uua.org/re/tapestry/children/grace/session5/115242.shtml
---
Next Sunday, October 16th
9:15
Nursery Care
Spirit Play (pre-5th grade): John Murray Comes to America. The story of Universalist John Murray's change of heart as he reclaims his Universalist faith in Love.

11:00

Nursery Care
Spirit Play (preK): John Murray Comes to America. The story of Universalist John Murray's change of heart as he reclaims his Universalist faith in Love.
Labyrinth Learning (1st-5th Grade): Hosea Ballou and the Muddy Children. The story of how Universalist minister Hosea Ballou learned about love from his father when he was a small child.
Middle School (6th-8th grades): The Fifth Dimension: Four O'Clock. An episode of The Twilight Zone is used as the jumping off point for a discussion about the dangers of being judgmental.
---
Announcements and Upcoming Events:
---
Halloween Party!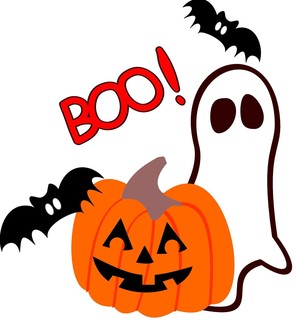 Saturday October 29th, 5pm
Haunted classrooms!
Costume Contest!
Games!
Treats!
Our Middle and High School youth will be putting on a fun and fabulous Halloween Party for folks of all ages to enjoy.
Donations for the RE Scholarship fund will be accepted, and there will be a Bake Sale.
Please join us for this fun event!
---
Young Singers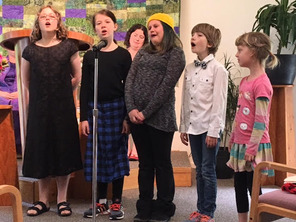 The OUUC Young Singers are rehearsing again! This children's choir is open to all young singers, and rehearses most Saturdays 9-9:45 at OUUC. Come join them and add your voice to the choir!
---
Yours along the Journey,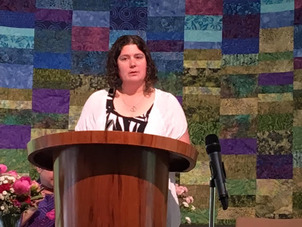 Sara Lewis, CRE
Director of Lifespan Religious Education
Olympia Unitarian Universalist Congregation
360-786-6383
My Blog: The Children's Chalice