This Week in Religious Education
---
Youth Volunteers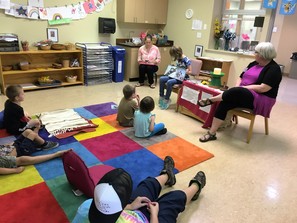 I have really enjoyed having two of our rising Middle Schoolers volunteer as Guest Readers for the summer kids class. It's great for the younger kids to have youth work with them, and it's great for youth to gain that experience of leadership and volunteerism.
Did you know there are many ways that youth can volunteer at OUUC?
Hospitality Teams are open to youth in Middle or High School. On a Hospitality Team youth would help with greeting at the door, handing out orders of service, getting the sanctuary set up or cleaned up, or collecting the offering.
High School youth can teach religious education classes! Whether in the pre-K class or the elementary grades program, high school age youth are wonderful teachers, and gain great volunteer experience (I have written letters of recommendation or been a job reference for youth based on their RE volunteer experience).
Youth can also serve on many of our committees or help with work party days (such as weeding).
Why should youth volunteer at OUUC? It's good experience, it can be fun, they can gain new skills and confidence, and they can take action for something they care about. But also, a religious community is not something you just consume ... it's like a home, which is truly yours when you pitch in to take care of it.
I encourage you to talk to your youth about volunteering and whether they would like to do that at OUUC. And if you or they have any questions at all, let me know!
---
Announcements and Upcoming Events:
---
Spirit Play Class Needs Volunteers!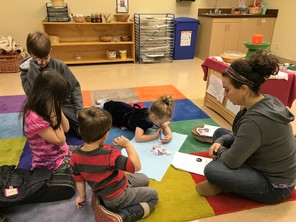 Spirit Play is a Montessori-based method (pre-5th at 9:15 and preK at 11:00) and will have stories chosen to coordinate with the themes of the month and to meet the four content areas of our Spirit Play program: Our UU Story, the Cosmic Story, The UU Principles and Sources, and The Wheel of the Year. It is also a goal for us to present diverse stories.
Job Description:

Team of 2-4 teachers, each teaching solo

Time commitment: About twice a month, teach during the 11:00 service. Small amount of prep time (about 15 minutes before class, and reading an email mid-week). Approximately 3-5 hours to do initial self-guided training materials, a Fall and Spring volunteer gathering (about 3 hours each), and an hour-long teacher in-service lunch on the 4th Sundays of each month (attend as often as you can).
Type of activity:

in this method, the teachers come in and read a story to the kids, using physical props that are put together in a "story basket".

The method here really is the message, as we strive to create an environment of calm, reflective, loving care for each individual's exploration of experiential wondering questions.

If you can sit on the floor and enjoy young children, this position is for you.
For the next church year, we need two more volunteers to work with this age group. If you are interested, please contact our DRE, Sara Lewis, to apply!
---
Religious Education Program Wish List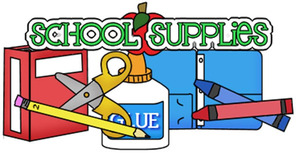 Back to School Shopping is upon us! Want to toss an extra item in your basket to help out the OUUC RE program? Here is our current wish list:
children's scissors
an electric pencil sharpener
glue sticks
markers
blank paper-doll cut-outs (especially in a variety of skin tones)
non-perishable snacks
Donations can be brought to the DRE's office. Thank you!
---
Summer Religious Education Volunteers Needed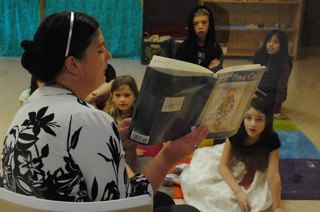 This summer our Religious Education program is "Rainbow Readers". We need volunteer readers to come to the 11:00 service and share a favorite picture book with the kids. If you don't have a book you'd like to read, our DRE can help you get one.
---
Interfaith Camp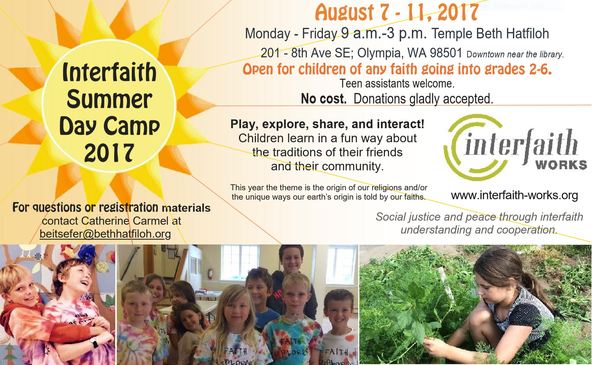 http://interfaith-works.org/event/interfaith-summer-day-camp-2017/
---
2017-2018 Program Registration Open

It's time to register again! This year there are different forms for children and for youth.
---
Join the OUUC Families Facebook Group

Join US here!
---
Yours along the Journey,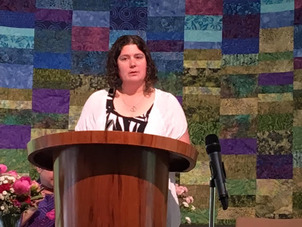 Sara Lewis, CRE
Director of Lifespan Religious Education
Olympia Unitarian Universalist Congregation
360-786-6383
My Blog: The Children's Chalice