This Week In Religious Education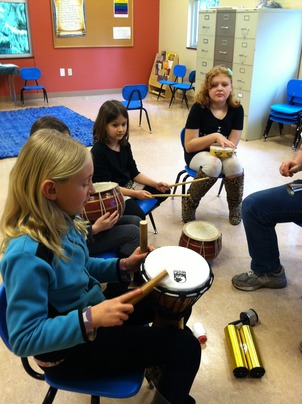 Pictured here are kids in the Labyrinth Learning class, having a percussion circle last Sunday.
This coming Sunday will be an Intergenerational Worship Service (the Chocolate Communion), so there will be no Religious Education classes.
Additionally, I will be away on family vacation and Teresa Cooper, member of the Family Ministry Team, will be my substitute.
There will be Nursery Care, and fidget bags for the kids to make use of during the worship service. I hope you all have a wonderful Sunday!
February's Theme: Beginnings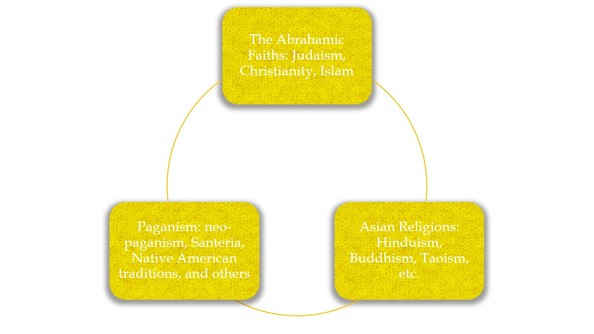 The theme for this month is "Beginnings", and it is also the beginning of our focus on the goal of Religious Literacy for Paganism and Indigenous Traditions. Religious Literacy of all the world's religions is too large a goal to cover well every year, so we have developed this three year rotation. For more about our goals, see my latest blog post.
In February we will look at the unknown beginnings of human religious practice and at two creation stories from two different indigenous traditions: the Yoruba people of West Africa and the Onondaga people of Northeast North America.
Sunday and Every Day: Taking It Home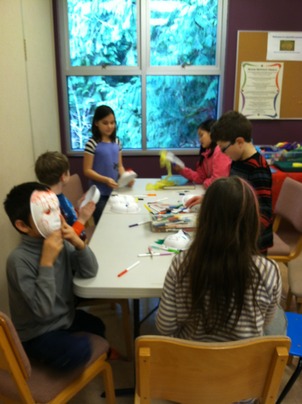 Last Sunday:
The Spirit Play (Pre-K) class had a story called You Are Stardust, based on a lovely picture book, which recounts the interconnected nature of all matter in the universe.
Labyrinth Learning (1st-6th grade) explored the Yoruba religious traditions, with an African Creation story, a drum circle, clay creations, and mask making (the goal being to create a mask that reflects your identity).
The High School youth looked at cave paintings and discussed the possible origins of human religion.

To extend the conversations at home:
I wonder how it feels to be stardust?
I wonder if you can feel yourself growing? I wonder if the Universe is growing?
The Yoruba creation story has two creators. How would you describe those creator figures?
I wonder how humans first developed religion?
What is "religion" anyway?
Why did humans develop religion?
What is the relationship between reverence and fear? Awe and vulnerability?
Creativity in Your Family Spiritual Practice:

This Sunday we looked at origins and creation stories and early human art. Creativity and the impulse to create can be a wonderful part of your spiritual practice. Whether you draw, write, dance, sing, sculpt, or engage in some other creative endeavor, you can use that practice to explore your understandings of the nature of reality and the universe and to touch your inner wellsprings of spirit. Sharing this practice with your family can bring you closer together as well.
An excellent resource for this is The Artist's Way for Parents by Julia Cameron.

---
This Sunday: February 15, 2015
This Sunday is an Intergenerational Worship Service. Please attend the worship service as a whole family for whole community worship.
9:15

11:00
This Week's Hospitality Team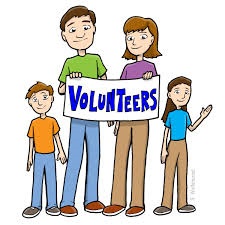 This week we will have no Hospitality Team.
The upcoming schedule for Hospitality Teams:
February 22nd, 1st-2nd grade team
March 1st, 3rd-4th grade team
March 8, 5th-6th grade team
---
Announcements and Upcoming Events
Parent's Night Out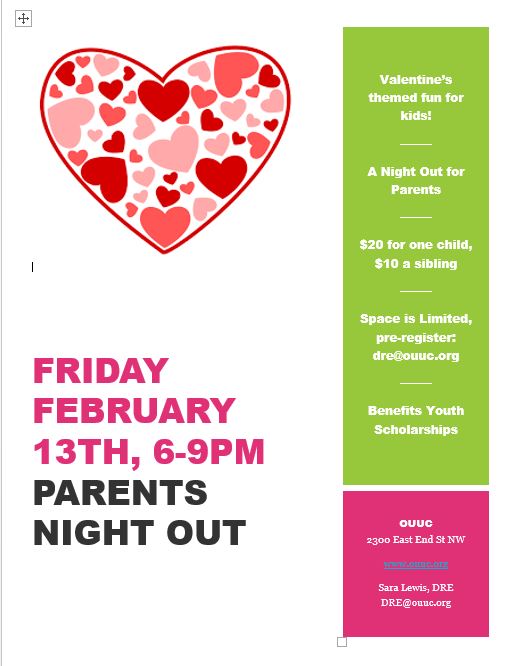 Kindergarten-1st Grade Our Whole Lives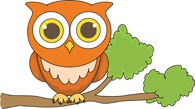 It's time for Our Whole Lives (OWL) for the K1 grades! Our Whole Lives is a comprehensive and holistic sexuality education program designed to give children a developmentally appropriate, anti-bias, and values-based understanding of human sexuality. You can read more about OWL on the UUA website, or you can talk to any of the many parents of older kids at OUUC whose children have already had this program.
The program is 8 weeks long and will be offered on Sunday mornings, 9:30-10:30 starting March 1st. Sara Lewis and Barry Zickuhr will be the facilitators.
There is a mandatory Parent Orientation on February 22nd, 12:30-3pm. If you cannot make that orientation, you will have to do a make-up orientation or your child cannot register for OWL.
For more information or to register, email Sara at dre@ouuc.org
******
Register Now for the Three Congregations Retreat May 1-3
Calling all Unitarian Universalists from around the South Puget Sound! You are invited to an all-ages retreat with the Saltwater, Tahoma, and Olympia congregations at Seabeck Conference Center May 1-3 on the shores of the Hood Canal.

This retreat is an opportunity for us to get to know one another better, relax, and engage more deeply with our faith. Full time registration includes meals, lodging, a guest speaker, other workshops, and fun activities.

Our guest speaker, Eileen Mejia, will lead us in a series of activities and discussions designed to help us build community within and across our congregations, discover where our values converge, and explore the diversity of talents and strengths in our communities. It will be highly participatory and engaging.


In addition, the retreat will feature a variety of activities to enjoy together. There will be a talent show, s'mores and singing around the fire pit. Outdoor activities include hiking, volleyball, ping pong, and boating on the lagoon. There will be a rope labyrinth set up for walking throughout the weekend. There will be multiple opportunities for worship, and for connecting in small groups. The retreat is family-friendly, and designed to be enjoyed by people of all ages. Childcare with special activities for the children will be available as needed for families throughout the weekend.

Act now to receive a discount on your registration! Full-time registration for an adult is $150 for the weekend if received by March 1. Part-time registration is also available, as well as reduced rates for children and youth. Registration is available online at: http://www.saltwaterchurch.org/retreat

For more information, contact Jen Sabel (866-1827 or jcsabel@gmail.com). She will be available in the Commons Sundays during February.
******
Facilitators sought for a possible Small Group Ministry for Parents group. Have you wished that there was a parents group at OUUC? Do you enjoy listening and drawing forth the stories of others? Do you have six hours a month (twice a month small group ministry meeting and two hours a month for a facilitators check-in meeting) to give to creating this kind of community and going deeper on your spiritual journey of parenting? If you are interested in helping to create a small group ministry offering for parents, facilitators are being sought now! Facilitators would work in teams of 2-3, and would choose a time that was mutually convenient to offer the small group ministry gatherings. Email me at olydre@gmail.com if you are interested!
******
Seussical Skit! The "Soiree" event before the Books, Beans, and Brownies sale (all to benefit the Out of the Woods Shelter) will be "Seussical" themed this year. The creative leadership team of Kelly and Mary Ann Thompson are organizing some skits and entertainment, and would like to do a short Seuss skit with kids. The Soiree is on Feb. 20th, and there would be a couple practice dates arranged as well. If you are interested, contact Kelly at KT2oly@gmail.com or Mary Ann at maryannreadsalot@aol.com
Yours along the Journey,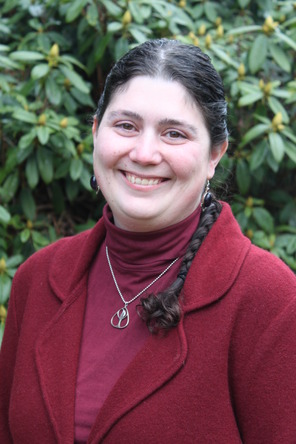 Sara Lewis, CRE
Director of Lifespan Religious Education
Olympia Unitarian Universalist Congregation
360-786-6383
Office Hours: Weds 10-1:30, Thurs 10-4, Friday 10-12:00
My Blog: The Children's Chalice