This Week In Religious Education
Putting the Fun in Our Program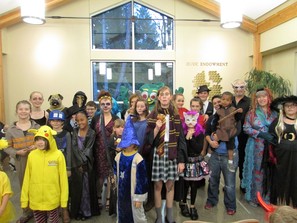 Our Religious Education program is not just about learning and knowledge, or even just about spiritual growth and practice. All of those things happen, but they happen in a Community, and community needs to have Fun with each other sometimes!
So a Big Thank You to everyone who made the Halloween Party a big success last weekend:
The High School and Middle School groups, and their parents (we had such high participation in setting up and cleaning up - THANK YOU!); the families who baked or contributed treats for the party; Anna Jones and Trish Kelso for set up help; and everyone who attended and donated to the RE scholarship fund that helps our youth all get to CONS, camps, trainings, etc. There were more than 50 people in attendance (because that's when I lost count), it was great fun, community building, and the youth raised $421 for their fund. Thank you all!
---
Family Cottage Meeting with Food, Fellowship, and Fun!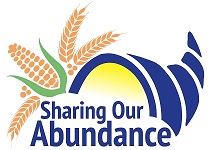 Please join us for a cottage meeting for families on November 6th, 12:30. The Family Ministry Team will be providing lunch and birthday cake, and there will be childcare. Please feel free to bring a food or beverage to share to expand the lunch, if that's easy for you.
We'll be exploring questions of abundance, what OUUC means to us and our families, and what we need from this community.
---
Our Theme Is: Abundance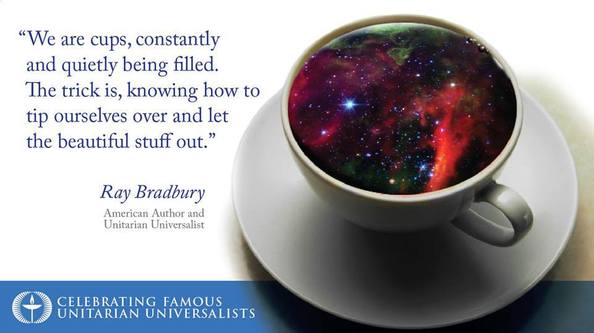 ---
Sunday and Everyday: Taking It Home
Day of the Dead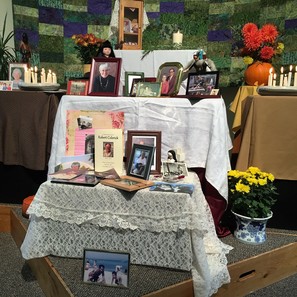 Last Sunday all ages worshipped together for our Day of Remembrance service. We created this altar together with tokens, pictures, and candles for those we have loved who have died.
To extend this learning at home:
1. Talk about death. It's a subject we often avoid, but children have questions about it. It's also good to have the conversation at an unemotional time, rather than waiting until your child is actually confronted with a death. There are
good tips here
and I also recommend the UUA bookstore's book
About Death.
2. Remember your ancestors. Get out the old photo albums. Share the stories. Pass on the legacy.
3. Faith in Action Adventure for this week: Visit a cemetery. Look at the grave markers and discuss what people have chosen to put on them - names, dates, other words, pictures and what stories they tell. It can be a great lesson in history and a starting place for a discussion of death.

---
Next Sunday, November 6th
DAYLIGHT SAVINGS! Turn Your Clocks Back One Hour
9:15
Nursery Care
Spirit Play (pre-5th) Diwali
11:00

Nursery Care
Spirit Play (preK) Diwali
Labyrinth Learning (1st-5th grades) Diwali
Middle School Group: Lessons from the Twilight Zone: "A Most Unusual Camera"
12:30
High School Group: "Daylight Savings Party: Jammies and Birthdays"
Family Lunch and Cottage Meeting
---
Announcements and Upcoming Events:
Donations Needed:
We need old CD's for an art project in November. If you have old CD's or DVD's that are scratched or unusable that could be recycled into children's art, please drop them off at the DRE's office.
We also need snack donations to refill the RE snack pantry. Non-perishables such as crackers, cookies, granola bars, popcorn cakes, etc. are perfect. Juice is also appreciated. You can bring stuff to the DRE's office or put it straight into the cupboard in the kitchen labeled "RE".
---
De-Stress Your Holidays!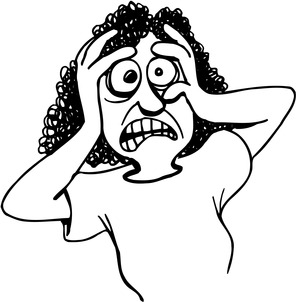 The Holiday Season is coming! Here are two offerings to try and De-Stress this time of year for families:
Unplug the Christmas Machine Discussion and Lunch, November 13th 12:30. Lunch and childcare provided, and no need to read the book ahead of time. RSVP to dre@ouuc.org
Family "Make Your Own Gifts" Workshop, December 11th 12:30. Lunch and craft supplies provided, so kids and parents can make simple gifts (and wrap them!) for gift giving at the holidays. RSVP to dre@ouuc.org
---
Young Singers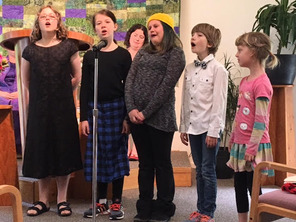 The OUUC Young Singers are rehearsing again! This children's choir is open to all young singers, and rehearses most Saturdays 9-9:45 at OUUC. Come join them and add your voice to the choir!
---
Yours along the Journey,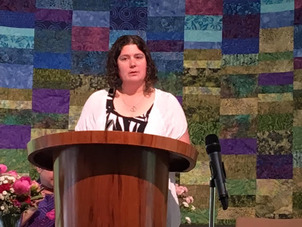 Sara Lewis, CRE
Director of Lifespan Religious Education
Olympia Unitarian Universalist Congregation
360-786-6383
My Blog: The Children's Chalice