Wonderful Middle School Events Last Weekend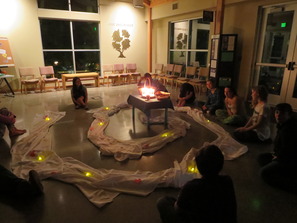 It was a busy and very good weekend in our Middle School program (6th-8th grades). We hosted an overnight lock-in for them Friday night, with a group-prepared dinner, candlelit worship, lots of games, and a movie. The next day, the group got up and had a big breakfast at church, then headed out for a field trip to the Islamic Center. They were given a wonderful welcome and tour and were there for the call to prayer.
This is our year for doing Neighboring Faiths for this age group. This is one of our most popular programs, involving exploration of other faiths and field trips to visit them, promoting better interfaith understanding in our youth.

---
November's Theme is Grace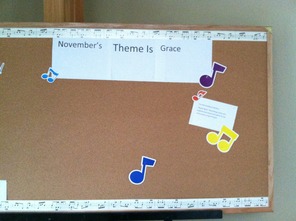 Guiding questions for this month are:
What do you think "grace" is? When have you experienced grace?
When do you feel loved? Do you have to earn or be worthy of that love?
How can you love others unconditionally?
Viewing grace through the lens of our Abrahamic Faiths religious literacy focus, we will be exploring the parables of Jesus that are about the unconditional love of God: the lost sheep and the prodigal son.
Sunday and Every Day: Taking it Home
---
I'll Love You Forever, The Prodigal Son, and Amazing Grace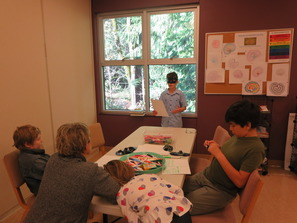 This week we had some fun classes! The Spirit Play class had the story Love You Forever, and the Labyrinth Learning class had the parable of the Prodigal Son with debates between the sons, making Thank You cards, and a dramatic re-enactment (which the kids re-imagined as a less patriarchal version of the story). The High School group met to share music that fills each with a sense of Grace - an eclectic bunch of music it was!
Extend the Conversation at Home:
I wonder how it feels to be loved? I wonder how it feels to love?

I wonder if we have to be good or work hard to earn the love of our parents? What does it mean to be loved unconditionally? What does it feel like to love someone else unconditionally?

Do you love anyone or anything, even when they don't behave well? (People, pets, etc?)

Should people be cared for and loved, no matter what? How should we treat the people who have done bad things? How should we treat the most vulnerable or most despised people in our society?

What is basic human nature? Is it bad and in need of something to uplift it, or is it good in itself?

How do you deal with your bad, sad, mad, or uncomfortable feelings?
This Week's Full Week Faith Action:
Is there someone who has been there for you in your darkest times? Who takes care of you when you feel awful or you've made a mistake? Tell them Thank You for that!
---
Next Sunday: November 22nd, 2015
This week will be a multigenerational worship service, The Welcome Table, focused on the Guest at Your Table program and Thanksgiving.
There will be no Religious Education classes other than Middle School. Please bring your kids to the worship service!
9:15
Nursery Care Only (4 years old and younger)
11:00
Nursery Care (4 years old and younger)
Middle School Group: Summary of Exploration of Judaism and Islam
---
Upcoming Events and Announcements:
Youth Group Events This Week:
1. The Middle School Group is doing a Field Trip to Temple Beth Hatfiloh this Friday night (be there by 6:45 or meet at OUUC by 6:15 for carpool). RSVP to dre@ouuc.org
2. The High School Group (and they invite any Middle Schoolers who would like to join) are doing a service volunteer project at the Food Bank (downtown Olympia location) on Saturday 1-4pm. Meet there. RSVP to dre@ouuc.org
---
Make a Holiday Gift Bag for a Homeless Neighbor
On December 6th, you are invited to join a multigenerational project to create and pack gift bags that can be given to our homeless neighbors during the holidays. This has been an annual project in the children's program, but this year we wanted to let everyone of any age join in!
We will decorate the bags, and pack them with a variety of goodies that people bring in for the project. Afterward, each participant can take a bag home with them, to give to someone in need they encounter during the season.
Items to bring for the bags:
batteries
hand and foot warmers
warm socks and gloves
gift cards to fast food restaurants, grocery stores, or gas cards
protein-rich snack foods (granola bars, jerky)
toiletry items
feminine hygiene products for female-specific bags
---
Holiday Drop and Shop!
Do you need a little time without the kids to get some holiday shopping, or wrapping, (or napping?) done? Bring them to church on December 12th 1-4pm!
The kids will make a gift for their parents, have some holiday-themed fun, and watch How the Grinch Stole Christmas, while parents have a chance to get some holiday busyness attended to without the entourage.
Limit 20 kids, suggested donation $15/child (all to benefit the RE Scholarship fund)
Register now by emailing dre@ouuc.org
---
Yours along the Journey,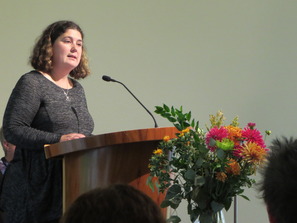 Sara Lewis, CRE
Director of Lifespan Religious Education
Olympia Unitarian Universalist Congregation
360-786-6383
My Blog: The Children's Chalice