Dear Religious Education Families,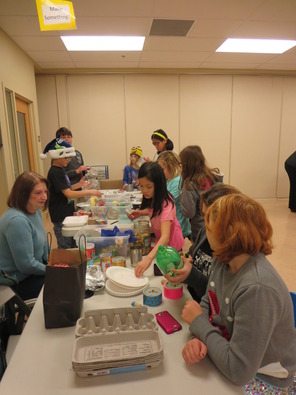 Last Sunday we had a nice big group for Children's Chapel and some great classes. I really enjoyed the inventions that were created from recycling bin materials.
January's Theme: Open Minds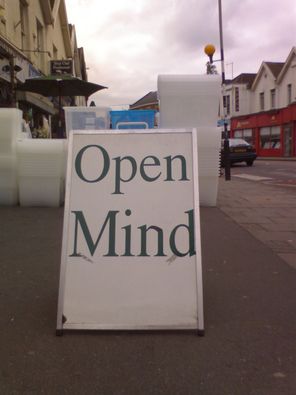 The theme for this month is "Open Minds". There is more about this theme on my blog.
Sunday and Every Day: Taking It Home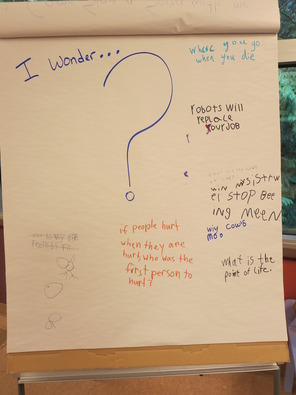 On January 4th we had Children's Chapel for preschool-6th grade, focused on Open Minds. We practiced a meditation to try and achieve an Empty Mind, and then also shared some of the questions we have in our active questing minds (see picture).
The Spirit Play (Pre-K) class had a story for the Indigo Promise (Insist on Peace and Justice) about two Native American sisters who become mountains in order to keep their people from going to war.
Labyrinth Learning (1st-6th grade) learned about Unitarian inventor Lewis Latimer (here's my video I made for the class), then had the choices of building electrical circuits with snap circuits, creating an invention out of recycling bin materials, or playing games about inventions (invention charade, for example).
The teens learned about different learning styles and discussed how knowing their own learning style could help them in school and life.
To extend the conversations at home:
How can you speak up for what you believe in, like Peace and Justice?
What questions and ideas do you have in your mind? What could you do about those questions? What ideas can you act on?
What would you love to see invented?
How does UU respect for the inherent worth and dignity of everyone relate to accommodating and accepting different learning styles?
How can learning more about your own mind and how it works help you in life? What is your preferred learning style? What are your strengths? Weaknesses?
Take a Learning Style Quiz:
http://www.edutopia.org/multiple-intelligences-assessment
Try meditating together:
---
This Sunday: January 11, 2015
9:15

11:00
Nursery Care
Spirit Play (pre-K) will have a story for the Violet Promise (Value the Web of Life), Earth Mother.
Labyrinth Learnings (1st-6th grade) will be learning about an historical UU who had an open mind, Maria Mitchell, and will have stations about space, stars, and rockets.
Our Whole Lives (not open to newcomers)
Youth Group will be discussing the idea that we are related to the Universe and science/religion after watching this short video about Neil deGrasse Tyson's "Most Astounding Fact"
This Week's Hospitality Team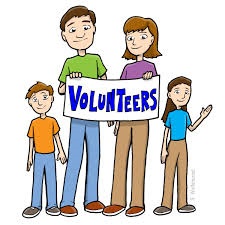 This week the Hospitality Team is the Helpers (1st-2nd grade). If you are in Pre-K, please bring a snack or cookies to share!
The upcoming schedule for Hospitality Teams:
January 18th, Peregrine Falcons (3rd-4th grade)
January 25th, NOVA team (5th-6th grade
February 1st, Middle School team
February 8th, High School team
---
Announcements and Upcoming Events
Attention Families: You may expect to receive a phone call in the month of January from one of our Family Ministry Team members. Our outreach seeks to gather input on how OUUC currently meets the needs of families and children as well as what we could be doing better. This information will be used to steer our activities and future planning. Thank you in advance for your thoughtful participation. Questions/comments? Please contact Tiffany Felch tiffany.felch@gmail.com or 360-451-0711.
****
Are you looking for a local MLK Day Service Project (good for families and youth)?
West Bay Woods Tree Planting and Ivy Pull on MLK Day of Service!
Mon. January 19th 10am-1pm
Come plant native trees and shrubs, spread mulch, and remove ivy with Stream Team as they join with the Olympia Coalition for Ecosystems Preservation (www.olyecosystems.org) and Washington Conservation Corps to restore the forest where local herons have chosen to build their nests. This is our last chance to do restoration work before the nesting season. Herons need 7 months of undisturbed quiet to nest and raise their young. Please dress for the weather. Gloves, tools, and hot beverages will be provided.
To register for this event, visit www.streamteam.info and click on "Register". For more information, contact City of Olympia intern Tamara Lindner at tlindner@ci.olympia.wa.us or 360-753-8159.
If youth will be going without parents, they need to bring a signed waiver, pdf available here.
****
POnline Learning Opportunity! During the dark, wet, and cold winter days, wouldn't it be nice to stay at home warm and cozy, perhaps in your slippers, and still be able to take an Adult Education class and deepen your own spiritual development? Director of Lifespan Religious Education, Sara Lewis, is offering an online version of the class Claiming Your Religious Past, a course that re-examines and retrieves positive aspects of participants past religious associations as well as unpacking some of the negative associations from the past. The course will be a blend of Facebook (so you can do it completely on your own time at your own convenience), personal journaling work, and online videoconferences on Fuze (to utilize this tool you need a computer with microphone and webcam). Class starts January 14, and you can sign up online now.
****
Please Note that due to a scheduling conflict there will be no Parents Night Out this month. Watch for the next one in February!
Yours along the Journey,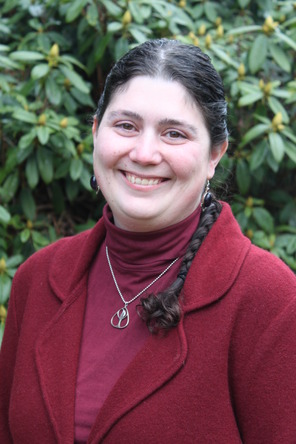 Sara Lewis, CRE
Director of Lifespan Religious Education
Olympia Unitarian Universalist Congregation
360-786-6383
Office Hours: Weds 10-1:30, Thurs 10-4, Friday 10-12:00
My Blog: The Children's Chalice