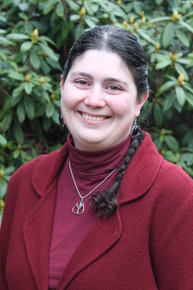 What's your Meyers-Briggs type? Your learning style? Your enneagram? Not to mention, if you get sucked into online quizzes: what type of dog would you be? Which Disney Princess are you?
Many of us love to explore our own selves, defining our identity in many ways. The questions of personal identity (are we souls with bodies, bodies with souls, what is the essential unchangeable self and does that survive the death of our physical body, and so on) have been debated since at least the time of the Greek philosophers.
And then we have group identities as well, just to make it even more layered and complex. As Unitarian Universalists, what does that mean about our personal identity and what is the group identity of Unitarian Universalism? Can knowing one UU tell us anything that we can generalize to apply to all UU's? If you've been around very many UU's, you will realize that it would be dangerous to generalize and perhaps "unique" is the best descriptor for individual UU's.
Can knowing one UU congregation be generalized so that now we know all UU congregations? If you've been to other congregations, especially those spread apart in geography or size, you will realize that congregations can be very different from one another.
So what is our identity? What is our identity as our own self? What is our identity as a Unitarian Universalist? What is our identity as a congregation? And what is our identity as a religious tradition and movement?
These are the questions we will be exploring this month, and you can begin right now by reflecting on these:
Where are you coming from? What religious traditions formed you, and what are the positive and negative experiences and ideas you carry from that tradition?

What have you always thought or believed and where have your ideas and attitudes evolved over time?

What experiences have you had that make you feel connected to OUUC? To Unitarian Universalism?

If a friend asked you to describe your church, what words would you use? What are the congregations defining characteristics, in your opinion and experience?
Sara Lewis, Director of Lifespan Religious Education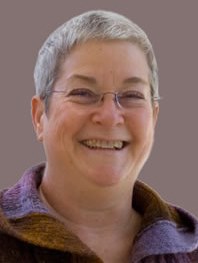 This question tends to elicit a list of our roles: I am a UU minister, a singer-songwriter, a spouse, a sister, a daughter, an aunt, a friend. It may also invite a list of descriptors: I'm a middle-aged, cis-gender, straight "white" woman with diabetes. Some of us think in terms of personality traits or even inventories: I'm warm, dedicated, friendly, or I'm an INFP on the Myers –Briggs inventory and a "7" on the enneagram.
In other words, we tend to think of identity as the particulars we can name about ourselves that, taken all together, seem to comprise who we are. But do they really?
There's another identity question that I find useful: Whose am I? This question invites us to ponder our identities not as independent, but as interdependent, beings, suggesting that we are formed and exist in relation to others and through our commitments. Considering whose I am leads to different sorts of insights.
When I say I am a UU minister, I identify my role, but say nothing about myself in that role. When I instead consider the relationships and commitments without which I would not be a UU minister, I locate myself in the interdependent web of all existence. When I consider that I am my calling's, and life's (that I am beholden and accountable to my calling to ministry and to life itself) I say something meaningful about how I understand myself in the role of UU minister. When I think of myself as a UU minister, I know that I am also my grandmother's and my father's because they were the ones who taught me about faith and imbued me with a sense of connection to worship and religious institutions that has proven both deep and abiding.
What does it mean to say "I am life's?" I could write, "I am life," and it would certainly be true that I am one of life's iterations, but to suggest that I am life's implies allegiance, and places certain demands on me about how I live my life, from how I care for myself to how I tend my relationships and my calling to ministry.
But I believe there's another "I," something that exists and that is conscious of our roles and descriptors, our relationships and allegiances, but is nevertheless beyond and independent of them, such that if all of those things changed, there would still be an "I." That is the "I" that some have called the soul, or the seat of the soul.
There's a big question facing OUUC at this moment in time: Who are we as a congregation? Soon the search committee will be describing OUUC to prospective ministers. Before they do, though, they'll be asking you "Who are we?" in a number of ways, collecting information, gathering your perspectives and your hopes for the future of OUUC and your next settled minister. Their mandate is not simply to gather data and perspectives to share with a minister, but also to synthesize and interpret that information in order to describe who you, collectively, are. If you and they will seek beneath the various markers of your congregational identity, to questions of whose you are (to whom or what beyond yourselves do you owe allegiance?), you will open yourselves to greater awareness of your calling as a congregation, and help ministers in search come closer to understanding the soul of OUUC.
Invitation to Reflection:
Pair up with a friend. One person (person A) starts by asking the other "Who are you?" and listens to the response. The speaker (person B) responds with whatever comes to mind. Person A then repeats the question, with person B responding with whatever comes to mind. This process is repeated for 5 minutes, with nothing but the repeated question and the spontaneous responses. The partners then switch places for 5 minutes.
Do the same with the question "Whose are you?"
Finally, reflect together for a few minutes on what you noticed as you were sharing this process with each other.
Tip: You can also do this alone, in a journal. Simply write the question at the top of the page, then answer it, glancing back to the question after each answer, then responding.
Emily Melcher, Interim Minister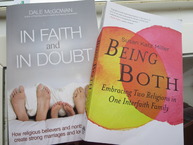 At General Assembly this year, I heard author Susan Katz Miller talk about her complex religious identity and how she has navigated being part of an interfaith family and raising children who consider themselves both Christian and Jewish. In her talk she asked us how many of us are in relationship with someone who doesn't share our religious identity. So many hands went up! Mine was one of them.
My husband is not a Unitarian Universalist. He's not religious, and although he will come to OUUC occasionally for me or the kids, church is not his thing. Sometimes that can be hard, and I know I'm not alone - many of you are also leaving part of your family at home on Sunday morning, and navigating family life with mixed religious identities and affinities.
Two books that are for folks like us:
Being Both: Embracing Two Religions in One Interfaith Family by Susan Katz Miller is primarily about Christian/Jewish families, and profiles some fascinating communities that have been formed for intentional multi-faith families who don't think you have to choose only one identity at a time.
In Faith and In Doubt: How religious believers and nonbelievers can create strong marriages and loving families by Dale McGowan is about relationships between one partner who feels they are religious and another who feels nonreligious. It is a fascinating blend of big picture data on religion and non-religion in America today, profiles of mixed-belief couples, and advice on what can make or break this kind of relationship.