Dear OUUC Families,
The year is off to a great start and classes continue to go well! This coming Sunday I will be away chaperoning some of our middle school youth to the district Middle School Conference on Vashon Island. Sarah Meyer, member of the Family Ministry Team, will be substituting for me.
Important Scheduling Note:
The length of the worship services has changed (Emily's worship services seem to be a bit shorter than we were used to before), and we are also noticing that the kids are staying in the worship service longer. In order to have enough time for a class, I want to announce an end time for the classes. Feel free to get a cup of coffee and enjoy coffee hour for a bit of time and then come back to sign your kids out at the end of class time.
First Service Classes: 9:15-10:30 (start in the worship service)
SpiritPlay 11:00-12:15 (start in the worship service)
Labyrinth Learners: 11:00 -12:15 (start in the worship service Except for 1st Sunday)
OWL: 11:00-1pm (Not Starting in worship service)
High School Group: 11:00-12:30 (not starting in worship service)
---
September's Theme: We Light This Chalice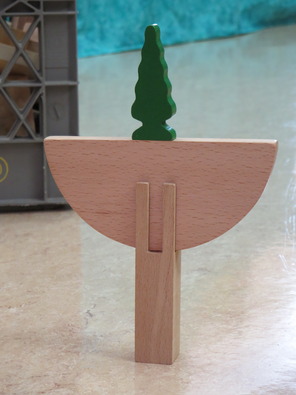 The overall theme for September Religious Education classes is
We Light This Chalice.
After we create class covenants and get to know one another, we will begin exploring the symbol of the Flaming Chalice. We will learn the history of this symbol, and explore the concept of symbols in general.
To learn more, there are brochures about the Flaming Chalice in our brochure racks, or you can check out this information on the UUA website:
http://www.uua.org/beliefs/chalice/
Last Sunday the Spirit Play class learned about the Flaming Chalice and our 7 Promises, and the Labyrinth Learning class learned the story of how the chalice came to be and had a chance to make their own chalice to take home.
---
Sunday and Every Day: Taking it Home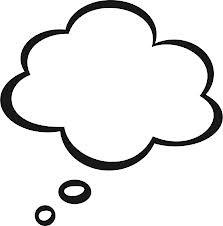 Last Sunday we explored the story of the Flaming Chalice.
To extend the conversation at home:
1. Why is the Flaming Chalice our symbol?
2. What do you like about the Flaming Chalice? What makes it a good symbol?
Also consider incorporating Lighting a Chalice into your home practice: perhaps light the Chalice before dinner (even just once a week or on special occasions) and try out some different chalice lightings, like this song:
A Chalice Lighting Song:

(to the tune of Row, Row, Row Your Boat)




Light, light, light the flame,

peaceful as a dove,

Joyfully, joyfully, joyfully, joyfully,

Fill the world with Love.



---
This Sunday: September 28th, 2014
9:15
Nursery Care
Backyard Wildlife Sanctuary Class (3rd-8th graders) Field Day 2 Please dress for the outdoors and the weather!
SpiritPlay (pre-6th grade) The Flaming Chalice Story: A story about refugees in Europe and how the symbol of the Flaming Chalice meant hope and help to them.
11:00
(We will be collecting an offering each week in the Spirit Play and Labyrinth Learning classes, if the children want to bring cash for the offering. For more on why and how we are doing this, read my blog post.)

Nursery Care
SpiritPlay (pre-1st grade) The Flaming Chalice Story: A story about refugees in Europe and how the symbol of the Flaming Chalice meant hope and help to them.
Labyrinth Learning (1st-6th grade) Symbols: The class will examine the idea of symbols and how we represent ourselves through the symbols we choose, such as the Flaming Chalice.
Our Whole Lives (7th-9th grade, must have completed orientation) NO CLASS
High School Being Together Part Two: the group will create a covenant
---
Announcements and Events
Listening Sessions With the Rev. Emily Melcher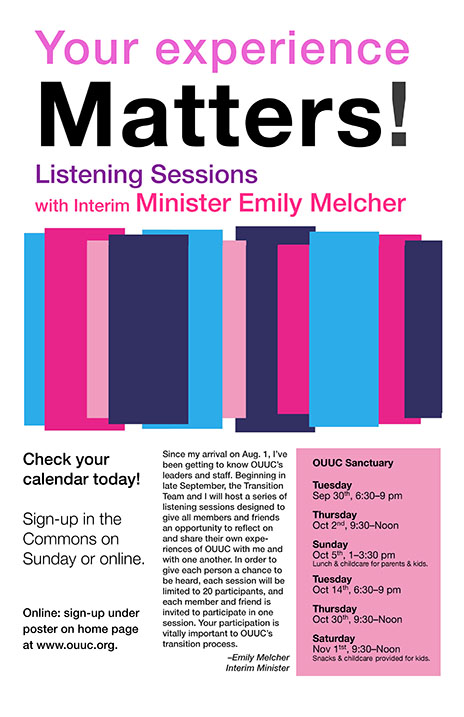 Sessions are meant to reflect on our experiences of OUUC, and are part of the Transition process. It's important that the voices of families are included, and there are two sessions with childcare provided. Please sign up today!

---
Hospitality Team Pancake Breakfasts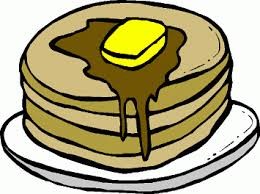 This year we are organizing the kids and youth into Hospitality Teams. Each team will have a Sunday they are providing hospitality support for, and jobs the youth can volunteer for will include: Greeting (handing out orders of service), bringing cookies for coffee hour, bringing snack for class, and bringing a parent to help in class.
We'll have six teams:
Preschool-Kindergarten
1st-2nd Grade
3rd-4th Grade
5th-6th Grade
7th-9th Grade
10-12th Grade
Please plan on attending a Pancake Breakfast Meet and Greet to get to know the other members of your team and learn more about how this will work.
All Breakfasts will be 9:30-10:30 in Classroom 5
10/5 - Pre/K and 1/2
10/12 - 3/4 and 5/6
11/2 - 7-9 and 10-12
---
Parents Night Out, 2nd Fridays, 6-9pm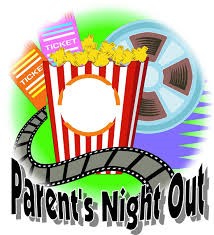 Next Parents Night Out will be October 10th
Bring the kids to have fun at church while you get a night out!
A simple dinner will be served to the kids, there will be fun and games, and a movie as we start winding down later in the evening.
The cost is $20 for one child, $10 for additional siblings. All the money raised will go toward our Youth Scholarship Fund that helps youth attend UU and Social Justice events such as conferences, trainings, Goldmine Leadership School, General Assembly, or justice trips with the UU College of Social Justice.
Limit 20 kids, so reserve your place now by emailing Sara at dre@ouuc.org!
---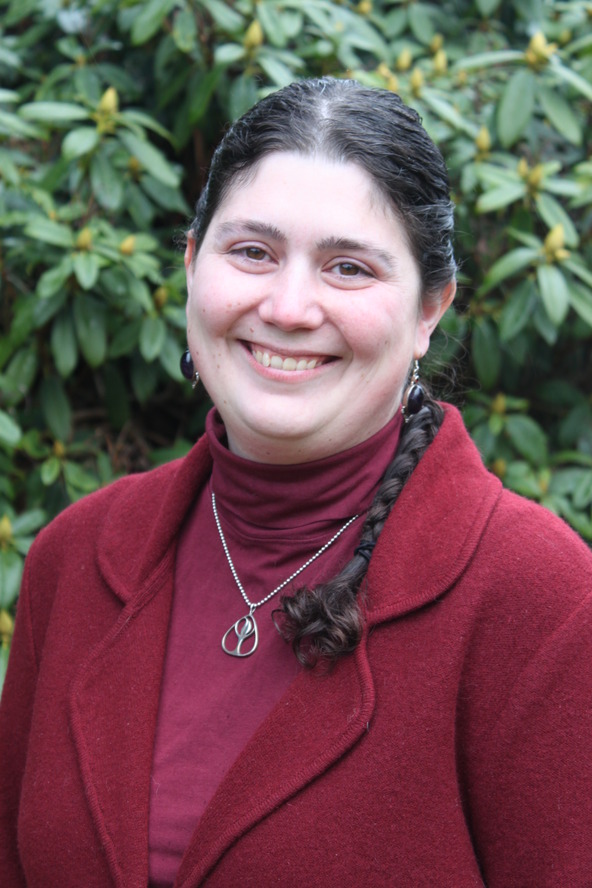 Yours along the journey,
Sara Lewis, Credentialed Religious Educator
Director of Lifespan Religious Education
Olympia Unitarian Universalist Congregation
360-786-6383 ext. 102
Office Hours: Wed 10-1:30, Thurs 10-4pm, Friday 9:30-12:00, Also available by appointment
Sara's Blog: The Children's Chalice