This Week In Religious Education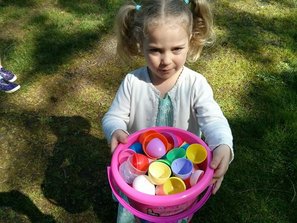 It was a lovely Easter this last Sunday. Thank you to all the Middle and High School youth who helped hide eggs, and our wonderful adult volunteers and staff who helped out as well: Rich Kalman, Erik and Tiffany Felch, and Anisa Bentlemsani.
And thanks to our wonderful staff, Bonnie and Anisa, who thought to invite the children from the Out of the Woods shelter to come and join in on the Easter Egg Hunt fun. The guests at the shelter joined us, and were most welcome.

Sunday and Every Day: Taking It Home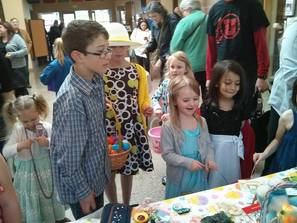 In the intergenerational worship service, we told the story of Jesus's crucifixion and resurrection, from the perspective of his mother Mary and Mary Magdalene.
Now, despite the fact that this is the Easter story, it may be one that many of our children have not really heard before. This is a story about Jesus, who we UU's sometimes aren't sure how to talk about. This is a story about death, which can be an uncomfortable topic to discuss with children. And this is a story about a miracle - resurrection - which many, if not most, of us do not believe could literally happen. All of this makes it a challenging story to discuss as a family, but there are at least two very important reasons why we should not ignore this story:
In our society, our children will encounter people who do believe in a literal interpretation of this story, and the story itself is part of the cultural mainstream. To have a familiarity with the story is part of the religious literacy (for all religions) that we all need to be members of a religiously pluralistic society.

The story touches on deep themes, and can be a source of wisdom and a way to explore our deepest questions and understandings. You do not have to "believe" in the story to gain insight from it.
To extend the conversations at home:
I wonder how it feels to see a loved one suffer? To have a loved one die?
Who have you loved (pets included) who has died? In what ways did you honor and care for them after their death? (Rituals of remembrance, burials, etc)
I wonder if those rituals and remembrances made or make you feel better? Do they comfort you?
In the story of Jesus, he returns to life after dying. What do you think about that? What do you think happens after people die? (Be ready to share your own perspective on this - kids are curious what you think too!)
We celebrate Easter in the spring, when new life is all around: baby animals and birds, plants growing again. How is the story of Jesus a metaphor for spring? For hope? For new beginnings?
Meet Jesus: The Life and Lessons of a Beloved Teacher by Lynn Tuttle Gunney. For ages 4-8, this book introduces Jesus from a progressive point of view.
Jesus Christ Superstar a musical by Andrew Lloyd Webber, is a fun and thought provoking take on the days leading up to Jesus's crucifixion. It's appropriate for middle and high school youth. Although there is the 1973 movie version, my experience is that the newer 2001 version will go over better with youth, with fewer fashion-related distractions.
About Death: A Unitarian Universalist Book for Kids is a good resource for UU families talking about death. It includes an explanation of what happens at a typical funeral or memorial service, as well as a story about the loss of a pet, and common Q and A's about death.
---
Important Reminder: In the Event of a Fire or Earthquake Evacuation, Children and Youth Will Stay With Their Teachers Until Parents Come Sign Them Out. Evacuate yourselves, and then come find your child's class group and sign out with the volunteer holding the clipboard.
---
May's Theme: Mother Earth
This month in our religious education classes, as we continue to learn about indigenous traditions and paganism, the theme will be Mother Earth. We will explore the female divine as it has appeared in traditions from around the world, and look at ecological perspectives that use the metaphor of Goddess or Mother for nature and the earth.
This Sunday: April 12th, 2015
9:15
Nursery
K1 OWL (pre-registration required)
11:00
Nursery
Spirit Play (pre-K) will have the story Earth Mother, based on a picture book by Ellen Jackson.
Labyrinth Learning (1st-6th grade) will be exploring the diverse images of the female divine. Parental warning: we will be viewing a video that depicts goddess imagery and contains female nudity. I believe these images to be tasteful and appropriate, but if you have any concerns, please talk to me. You can view the video here: https://youtu.be/zD_6ywDFr5g
There will be no 7-9 grade OWL because of Spring Break.
High School youth group will be discussing our obligation for safety, and how safe do we need to be?
This Week's Hospitality Team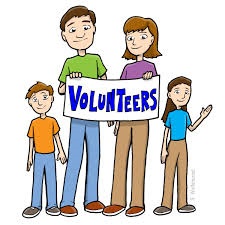 This week's hospitality team will be the 3rd-4th grade team. If you are on this team, please bring a healthy snack to share in the children's program. If you would like to be a Junior Greeter and help hand out orders of service before the worship service, arrive by 10:45 am and check in with me to get a stole and a spot on the greeting team.

The (updated) upcoming schedule for Hospitality Teams:
April 12th, 3rd-4th grade team
April 19th, 5th-6th grade team
April 26th, 7th-8th grade team
May 3rd, Pre-K Team
---
Announcements and Upcoming Events
Save the Dates for Chalice Camp
July 6-10, 8:30-3:30. For ages 5-10. This year the camp will be Free of Charge! Registration will open in April.
*****
Youth (grades 6-12) Team for Crop Walk, May 3rd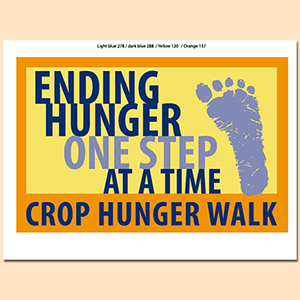 Crop Walk is an annual event of Interfaith Works, to raise funds for both local and global hunger relief. I have participated in Crop Walk many times, and found it to be a rewarding experience. "We walk, because they walk". All around the world, people have to walk for safe food and water. And because of that, we will walk this one time, even though our access to safe food and water is so much easier.
Youth, please join the team! Sign up for the walking team, and then set-up your own online page to ask for donations from your family and friends.
And then we will walk together on May 3rd! Save the date!
******
Parents Night Out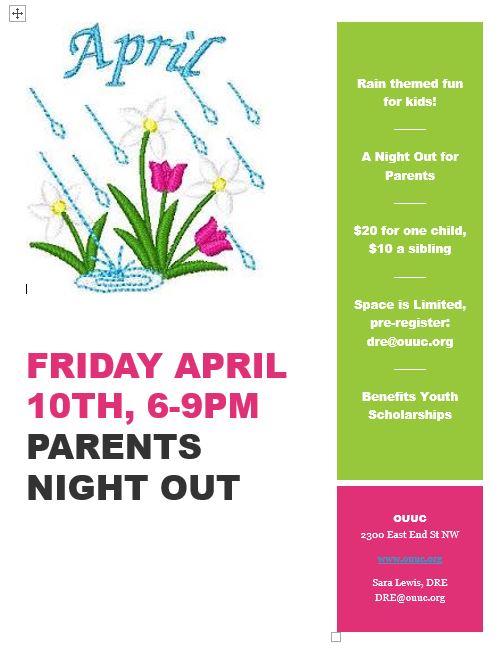 ---
Yours along the Journey,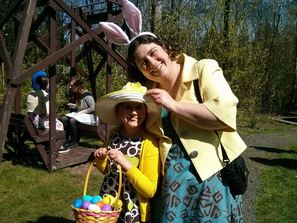 Sara Lewis, CRE
Director of Lifespan Religious Education
Olympia Unitarian Universalist Congregation
360-786-6383
My Blog: The Children's Chalice