September's Theme: Covenant
Our Theme-Based Ministry for 2016-2017
If you are new to theme-based ministry, here's the nutshell explanation. Essentially, it is the coordination of multiple ministries (in our case: worship, music, religious education, and small group ministry) around one monthly theme.
Each month, you will receive this newsletter Soul Matters @ OUUC, and can engage with the reflection questions and ideas presented here.
There will also be worship services on the theme, and

the children and youth will be engaging with the theme in their religious education classes. The Circles of the Spirit small group ministry will also be on theme each month.
You are also invited to join the

soulmatters @ OUUC facebook group
2016-2017 Themes:
September: Covenant
October: Identity
November: Abundance
December: Possibility
January: Prophecy
February: Creativity
March: Balance
April: Embodiment
May: Integrity
---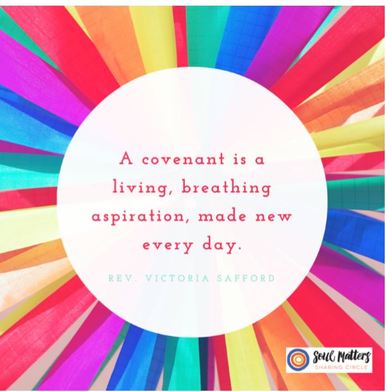 ---
Spiritual Exercise:
Whose Am I?

Quaker teacher, Douglas Steer writes:

The ancient question, "Who am I?" inevitable leads to a deeper one: "Whose am I?" – because there is not identity outside of relationship. You cannot be a person by yourself. To ask "Whose am I" is to extend the question far beyond the little self-absorbed self, and wonder: Who needs you? Who loves you? To whom are you accountable? To whom do you answer? Whose life is altered by your choices? With whose life, whose lives is your own all bound up, inextricably, in obvious or invisible ways?

So, whose are you? This exercise invites you to honor this core covenantal question by living with four different photographs this month. Here are your instructions:

1. Find and print out four pictures of four different people:
● one of a person that represent your promises to those that have gone before you
● one of a person that represents your promises to those who will come after you
● one of a person that represents your promises to someone central to your life right now
● one of yourself -- past or present -- that represents your promises to yourself
2. Put these four pictures in a place you will see every day this month. Perhaps tape them to your bathroom mirror or stick them in your wallet. Maybe frame them and place them on your desk or stick them with magnets on your fridge.
3. Make a conscious effort to reflect on them every day and do at least one thing to further or honor your promise to one of these people.
4. If you are part of a Circle of the Spirit, you can bring your four pictures to your small group and share how living with them altered your days. Or consider discussing this exercise as a family.

(Note: consider making this a group effort and do it as a couple or as a family.)
---
What Does It Mean to Covenant?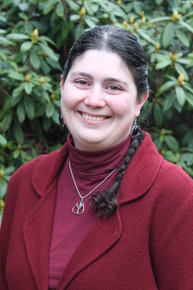 Very soon, our Religious Education classes will be resuming, with new and returning volunteers forming intentional learning communities with new and returning children and youth in our congregation. Each and every class and age group will begin the year by creating a classroom covenant.
The children and youth will be active in the creation of their own covenants, proposing and discussing ideas for what should go into those living documents that will hang on the wall, but may come back down for discussion or revision, or for newly joining class members to sign. What does it mean to create a covenant in the classroom?
Sometimes it is too easy to think of our classroom covenant as simply a behavior contract. This approach manifests in a list of "don'ts": Don't interrupt, don't hurt people, etc. Sometimes a few "Do's" get in there as well: Do Listen, Do Participate. Of course, some of this is necessary to establish a working community, whether that be a family, a classroom, a marriage, a workplace, or a congregation. We need to agree on what behaviors are within our group norms.
But a covenant goes so much deeper than a simple list of rules, and that is why covenanting is a truly spiritual practice. A covenant is not a contract or a list of rules; a covenant is the promises we make to one another and makes clear the perimeters of our right relations. In other words, a covenant is more like marriage vows than an employment contract. What do we promise to one another? What do those promises ask of you? How do we move back into right relationship or back into covenant after a promise is broken (as they will be from time to time)?
In the classrooms at OUUC, this vision of covenant challenges us to move beyond the Do's and the Don'ts. It challenges us to make promises such as: "We will listen to each other with open minds and hearts", or "We will respect that each person's story is their own to tell", or the ever popular youth group promise to "step up, step back" (introverts speak up, extroverts give them more space to do so).
To covenant in this way asks us to stretch the way we are in the world, rather than constraining it. It is more a spur to growth, less a limit on freedom. And thinking in these covenanting terms doesn't stop at the classroom door. How can our families covenant with one another? (Some ideas for doing this as a family here.) How can we each covenant with nature, or with life? Can you covenant with yourself? What promises would that entail?
How would it be to live your whole life in a sacred covenant with what you find most holy? How would it be to live in covenant with your own wholeness?
---