This Week In Religious Education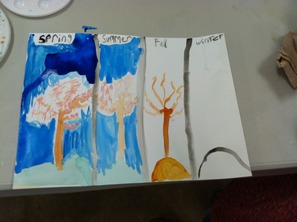 The first Sunday of March went very well, with sunshine making our look at the seasons and connection to nature bright and cheerful and giving the youth and adults participating in the Walk/Wheel/Run event a glorious day to be outside.
March's Theme: Rhythms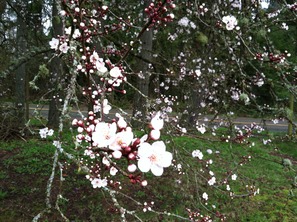 The theme for this month is "Rhythms". As we learn about indigenous traditions and paganism, we are taking note of how many of these traditions are closely tied to the seasons and nature. This month we will be learning about rhythms in nature: the seasons, the tides, the moon phases - and the stories that different traditions have told about these rhythms.
Sunday and Every Day: Taking It Home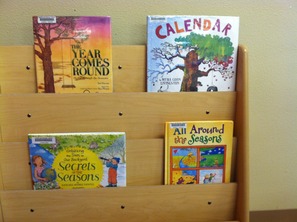 Last Sunday: We had Children's Chapel to introduce the theme of the month, and we sang hymn #73 Chant for the Seasons.
The Spirit Play (pre-K) class had a lesson about the Wheel of the Year.

Labyrinth Learning (1st-6th grade) also learned about the pagan Wheel of the Year and had activities to explore the four seasons.
To extend the conversations at home:
I wonder which season you like best?
I wonder how celebrating the seasons can bring us closer to nature?
I wonder what feels sacred to you?
How can we live more seasonally?
What do we lose if we are disconnected from the seasons?
Look at how you celebrate the seasons as a family, and perhaps choose some new traditions or rituals to mark the rhythm of the year. You can find wonderful ideas from a pagan point of view in the book Circle Round: Raising Children in Goddess Traditions by Starhawk, or for more mainstream ideas there is The Book of New Family Traditions by Meg Cox.

---
This Sunday: March 8, 2015

9:15

Nursery Care
K1 Our Whole Lives (9:30-10:30)
11:00
Nursery Care
Spirit Play (Pre-K) will have a story about the Calendar months and what happens in each month.
Labyrinth Learning (1st-6th grade) will be exploring another rhythm: the Tides, and hearing a story from the Northwest Tribes called How Raven Made the Tides.
OWL (7th-9th Grade) will be meeting. This class requires pre-registration.
High School youth group will be meeting to discuss the wheel of the year and to plan/contribute future meetings and events.
This Week's Hospitality Team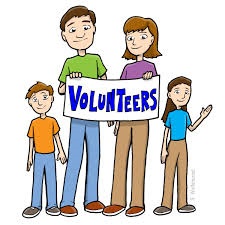 This week's Hospitality Team is the 5th-6th graders. If you are in 5th-6th grade, please bring either cookies for the coffee hour or healthy snacks for the kids' classes. It is also your turn to be a Junior Greeter, helping to hand out the orders of service before church. If you would like to do that, arrive about 15 minutes early (10:45am), and check-in with me to get set up.
The (updated) upcoming schedule for Hospitality Teams:
March 8, 5th-6th grade team
March 15th, High School team
March 22, pre-K team
March 29, 1st-2nd grade team
---
Announcements and Upcoming Events
******
Register Now for the Three Congregations Retreat May 1-3
Calling all Unitarian Universalists from around the South Puget Sound! You are invited to an all-ages retreat with the Saltwater, Tahoma, and Olympia congregations at Seabeck Conference Center May 1-3 on the shores of the Hood Canal.

This retreat is an opportunity for us to get to know one another better, relax, and engage more deeply with our faith. Full time registration includes meals, lodging, a guest speaker, other workshops, and fun activities.

Our guest speaker, Eileen Mejia, will lead us in a series of activities and discussions designed to help us build community within and across our congregations, discover where our values converge, and explore the diversity of talents and strengths in our communities. It will be highly participatory and engaging.


In addition, the retreat will feature a variety of activities to enjoy together. There will be a talent show, s'mores and singing around the fire pit. Outdoor activities include hiking, volleyball, ping pong, and boating on the lagoon. There will be a rope labyrinth set up for walking throughout the weekend. There will be multiple opportunities for worship, and for connecting in small groups. The retreat is family-friendly, and designed to be enjoyed by people of all ages. Childcare with special activities for the children will be available as needed for families throughout the weekend.

Act now to receive a discount on your registration! Full-time registration for an adult is $150 for the weekend if received by March 1. Part-time registration is also available, as well as reduced rates for children and youth. Registration is available online at: http://www.saltwaterchurch.org/retreat

For more information, contact Jen Sabel (866-1827 or jcsabel@gmail.com). She will be available in the Commons Sundays during February.
******
General Assembly is coming to Portland in June! GA is the annual gathering of the UUA and brings UU's from all around the country together. It can be an amazing experience to see so many UU's in one place: worshipping, learning, practicing democracy, and witnessing together. The location of General Assembly moves around the country, and is rarely this close and easily accessible for us. I have never taken my children to a General Assembly before, because of the cost of airfare, but this year we can drive and so I will take the kids. There is childcare, a UU kids camp for the middle graders, and youth caucus for high schoolers that you can sign up for. Many of the events and workshops at GA are also designed to be multigenerational. I think it's a wonderful opportunity for all the families at OUUC to have GA so close this year! Registration will open on March 2nd, and childcare spots are limited. Register early if you want to save yourself a spot. See the UUA website for more information.
******
Save the Dates for Chalice Camp! July 6-10, 8:30-3:30, ages 5-10. This year the camp will be free of charge! Space will be limited to 20 kids, registration opens in April.
******
Parents Night Out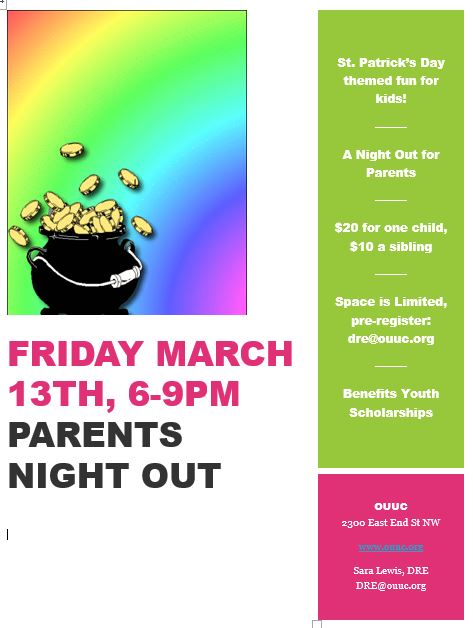 Yours along the Journey,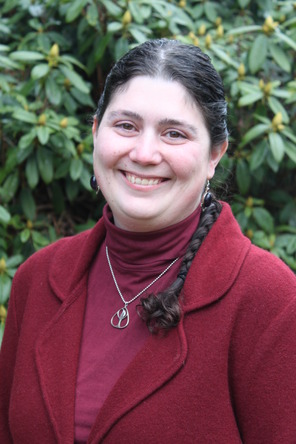 Sara Lewis, CRE
Director of Lifespan Religious Education
Olympia Unitarian Universalist Congregation
360-786-6383
Office Hours: Weds 10-1:30, Thurs 10-4, Friday 10-12:00
My Blog: The Children's Chalice