This Week In Religious Education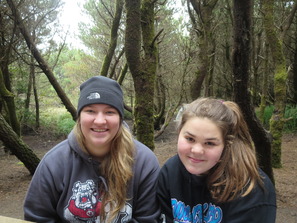 This weekend was one of my favorite events, with the youth doing Coming of Age this year going off for their silent vigil retreat. The youth, their mentors and families, and I headed off to Grayland Beach State Park, where the youth spent 24 hours in silence and mostly all alone (other than our regular wellness checks). It's always a stretch to go that long in silence, and they both faced that challenge and found it meaningful.
Thank you to their mentors, Melissa Denton and Taffy Lund. And thank you to Tiffany Felch for subbing for me in RE on Sunday so I could be out at the beach with the girls.

Sunday and Everyday: Taking it Home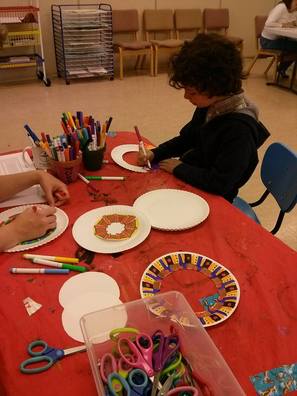 The theme this month is "Endings", and we are still working on our goal of "Religious Literacy: Earth-Based and Indigenous Traditions", and so this Sunday we had classes about death and the spirit world.
In Spirit Play this Sunday the children had the story Nana Upstairs, Nana Downstairs.based on the book by Tomie DePaola
In Labyrinth Learning, we had a story of the spirit world from Africa, and then station choices that had games and art from Africa and an exploration of our own family trees.
Extend the Conversation at Home:
Who have you loved or cared about who has died? How do you remember them?
Have you ever felt like the spirits of the dead communicated with you? Have you ever felt like your ancestors are watching out for you? What do you think about the idea of ancestor spirits?
In the end, we all will die. How does the reality of death affect the way we live our lives?
What do you think happens after a person dies?
Take Action as a Family:
Talk about your own family tree, and what you know about your ancestors. Make time for the kids to talk to their grandparents, and have them ask about and hear stories about the grandparents own parents and childhoods.
And, with memorial day coming up, consider the possibility of visiting a memorial or a graveyard to leave flowers for ancestors or for the dead. I have done this many times with my children, and found it to be meaningful to them.
---
May's Theme is: Endings
This Sunday: May 24th, 2015
9:15
11:00

Nursery Care
Spirit Play (pre-K) will have a the story The Origin of Death
Labyrinth Learning (1st-6th grade) will have the Native American story, The Origin of Death, and will have stations about population pressure and resources.
There will be no Middle or High School youth group meeting.
This Week's Hospitality Team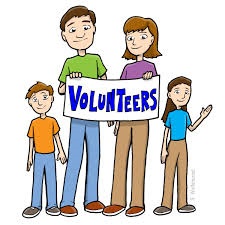 This week there is no designated hospitality team due to the three day weekend. If you are in town this week and coming to church, please consider bring a healthy snack to share in the children's program. If you would like to be a Junior Greeter and help hand out orders of service before the worship service, arrive by 10:45 am and check in with me to get a stole and a spot on the greeting team.

The upcoming schedule for Hospitality Teams:
May 24th, NO Hospitality Team
May 31st, Pre-K grade Team
---
Announcements and Upcoming Events
Jabberwocky Skit for the Children and Youth Service, June 14th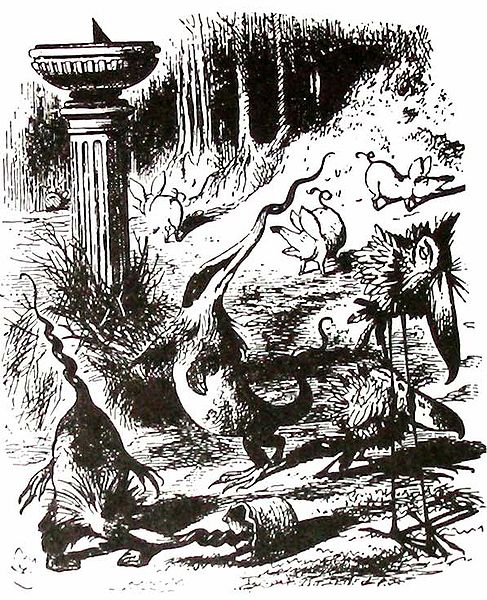 We will have a dramatic skit/reading of Jabberwocky, as adapted and directed by Amy Taylor, at the worship services on June 14th. If you are interested and available, the first practice will be during the 11:00 class this Sunday.
For questions or to RSVP, email me at dre@ouuc.org
Pictured is an original illustration for the poem, Jabberwocky, (It is in the public domain).

---
Help In Summer RE!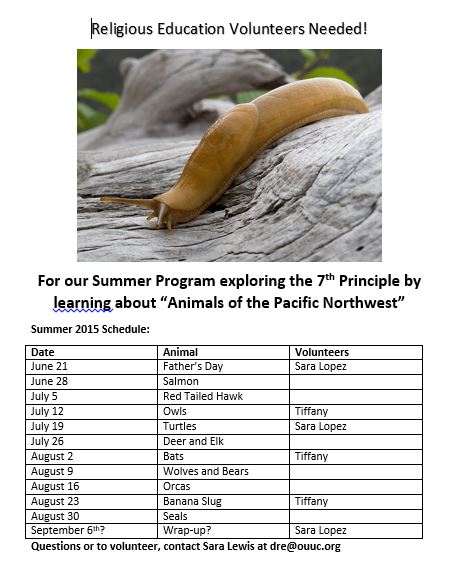 ---
Type Title Here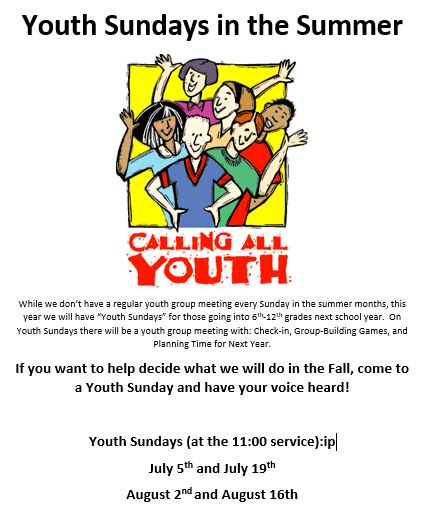 ---
Chalice Camp 2015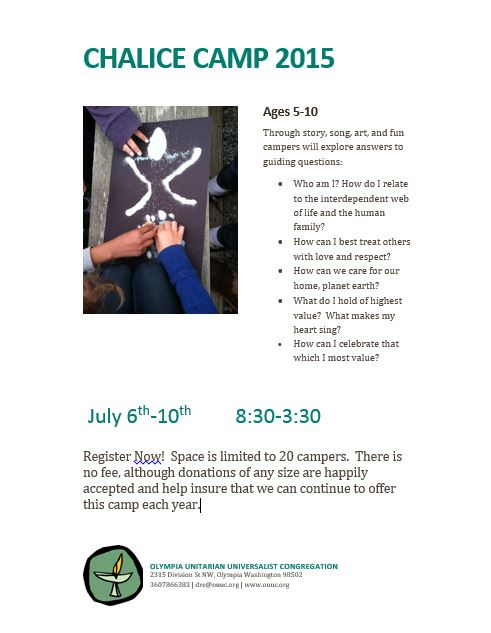 Interfaith Camp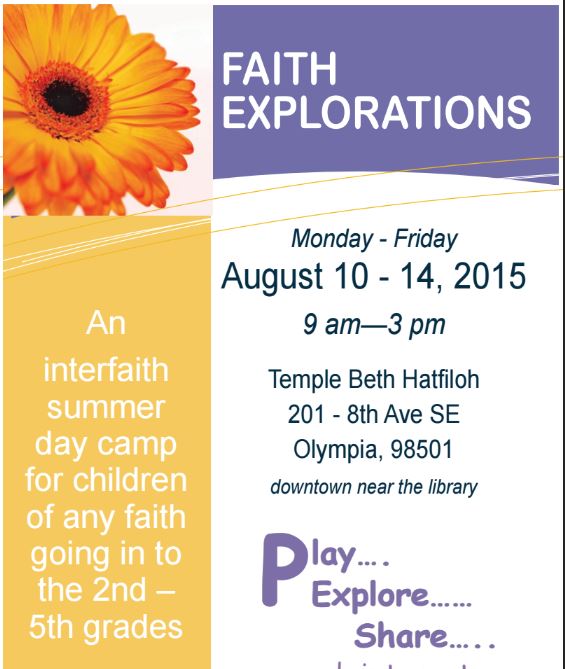 Interfaith Works sponsors this summer camp, hosted at Temple Beth Hatfiloh. For more information, or to register, contact Catherine at beitsefer@bethhatfiloh.org
---
Yours along the Journey,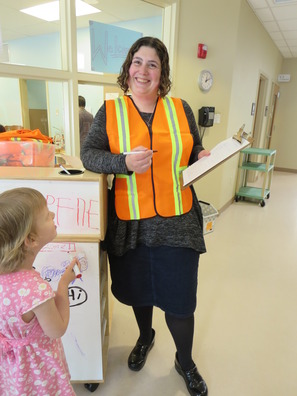 Sara Lewis, CRE
Director of Lifespan Religious Education
Olympia Unitarian Universalist Congregation
360-786-6383
My Blog: The Children's Chalice