FEBRUARY
Monday, February 15th
Our friends at Chuck E. Cheese on Congaree Road are hosting a fun, family-friendly third-party fundraiser for our House! Follow this link to learn more.
Thursday, February 18th
Red Shoe Society's 7th Annual Kickoff Event at the Courtyard Marriott Greenville Downtown from 5:30-7:00pm. Click here to learn more!
APRIL
Saturday, April 16th
Red Shoe Society's First Annual Plane Pull at Greenville Downtown Airport. Sign up today!
Sunday-Monday, April 24th-25th
12th Annual Ronald Cup Celebrity Classic and Pairings Party
---
Our wish list is comprised of monthly needs ranging from food, to everyday household products and beyond. Why you ask? We seek help from our amazing community members to serve hundreds of families a year. We couldn't do it without you! Check out our January wish list here, and on social media every Wednesday.
Thank you for helping us to #KeepFamiliesClose!
---
AMAZONSMILE
It's true! Follow the link below to shop through our AmazonSmile portal. Amazon will donate a portion of your purchase directly back to our House with no added cost to you.! AmazonSmile is a convenient way to support our House every time you shop. Now that is easy: https://smile.amazon.com/ch/57-0844123
---
COMMUNITY FUNDRAISERS
Are you or your kids looking for a way to give back to our House this spring? Plan a car wash, host a bake sale - the opportunities are endless. Read more about how you can host a community fundraiser on behalf of our House today!
706 GROVE ROAD | GREENVILLE, SC 29605 | 864-235-0506

---

5-year-old Kaeden Addison is so full of love and energy, one would never know all of the struggles he has endured as an infant and young child. His mom, Carol, was working in Aiken as a surgical technician in 2010 when she became pregnant with her second son. Concerns for Carol's health during the pregnancy forced her to stop working and focus on staying well. During her second trimester, Carol's doctor found fluid in Kaeden's brain. Blood tests confirmed that Carol had contracted toxoplasmosis, an infection that is caused by a parasite but rarely shows symptoms. The infection had been passed to Kaeden during the pregnancy, with major implications for Kaeden's brain development.
Born in November 2010, Kaeden was diagnosed with hydrocephalus, a condition in which spinal fluid accumulates on the brain. He went into surgery for VP shunt placement at just 3 days old; this was the first of more than 15 operations that Kaeden would have on his brain. In addition, Kaeden's eyes did not develop completely; he consequently had to have one eye removed when he was 3 months old.
Due to complications with that surgery, Kaeden has had 7 surgeries on his eye, with another scheduled for January 2016. Kaeden also deals with hip dysplasia, epilepsy, cerebral palsy, myoclonic jerks, cluster seizures, and paralysis on his left side.
Although he is in a wheelchair and limited in his ability to communicate, Carol says that Kaeden is expressive in his own way and "lets me know how much he loves me."
Continue reading Kaeden's and Carol's story of courage HERE.
---

VOLUNTEER NEEDS
Looking to get more involved at the Ronald McDonald House?
Be a "guest chef" for our families! After a long and sometimes emotional day, our families look forward to coming "home" to a hot meal. These meals are such a stress-reliever for our families, making it one less thing for our families to worry about--and it truly makes our House feel like "home." We are able to provide this service each and every night thanks to our generous volunteers. We still have several available dates open! Please contact kmurphy@rmhcarolinas.com for more information or to set your date to be a guest chef!
VOLUNTEER SPOTLIGHT
Special thank you to our friends at Elliot Davis Decosimo who generously donated their time to clean, organize and lend a hand with other household tasks last week. We were happy to have a such dedicated group of volunteers who always had a smile on their faces! Thank you so much!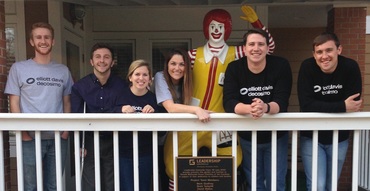 ---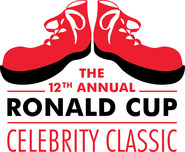 We invite you to be a part of our mission by joining us for our 12th Annual Ronald Cup Celebrity Classic on April 24th and 25th, 2016 while enjoying a spring golf outing at Green Valley Country Club in Greenville, S.C. Situated in the foothills of the Blue Ridge Mountains and meandering through the natural terrain of the Reedy River Valley, Green Valley Country Club's course originated in 1958 by the world-renowned architect, George Cobb. Today, the 18 spectacular holes are played by top professionals from all over the world and played host to the Web.com's BMW Pro-Am Golf Tournament.
Arrive on Sunday, April 24th for an unforgettable Pairings Party at the country club featuring an open bar, local, southern cuisine, golf-inspired wines, cigar bar and soothing jazz sounds, by Joe Gransden, looking over a picturesque mountain-scape. The next morning, Monday April 25th, meet us on the green for your tee time and a great day of golf. Start the morning out with a hole in one with a continental breakfast and signature Mimosa and Bloody Mary bar. Finally, join us for "Grilling on the Green" cookout and awards ceremony after your round of golf.
The 12th Annual Ronald Cup Celebrity Classic will offer you an premier, member-guest style experience, with the opportunity to make a difference in the lives of children and families in need! Find out who our celebrities and sign up today here.
---

As the official furniture provider for RMHC, La-Z-Boy has furnished 130 Ronald McDonald Houses. That means that over the years, the kindness and generosity of La-Z-Boy has comforted thousands of families when they needed it most. Earlier this month our Georgia Carolina branch generously donated 3 new pieces to our House! We are beyond grateful for the support of our local La-Z-Boy Partner.
PARK PLACE CORPORATION & GROUNDS GUYS
A new year, a new bed! Park Place Corporation, a bedding producer in Greenville, generously donated 13 mattresses to our House. On January 15, the beds were unloaded by the Grounds Guys of Southern Greenville into the House and placed in the guests' bedrooms. Thank you so very much to Park Place and Grounds Guys for #KeepingFamiliesClose! Watch the Fox Carolina segment here.
---
Special thank you the ladies of the Junior League of Greenville for the honor of being one named of your 2016 community grant recipients. These finds will go to help ‪keep families close at our House. We are excited to have your members at our House volunteering and helping us to better serve our families! Thank you, thank you, thank you!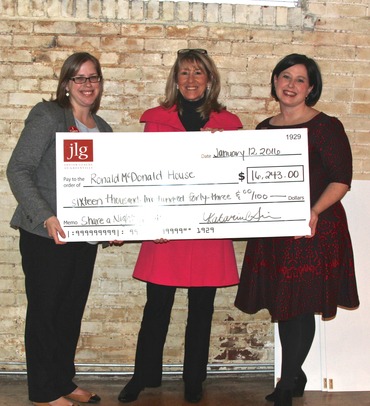 ---
WANT TO LEARN MORE ABOUT THE
RONALD McDONALD HOUSE?
VISIT OUR WEBSITE OR CALL TO SCHEDULE A VISIT!
We invite you to get to know some of our precious families who have experienced first hand the importance of #KeepingFamiliesClose. Watch here!
---