A great year coming for Puerto M0relos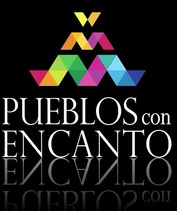 Puerto Morelos will become its own municipality next year. It will bring many changes for us and great challenges for the fledgling council that has been formed prior to the election of the President in the middle of the year. We can look forward to some heated campaigning. We have also formed a Tourism Commission whose first act has been to apply to the State to name Puerto Morelos a Pueblo con Encanto. Hopefully, this will be achieved by the end of this year. The next step will be to become a Puerto Magico. These initiatives will bring Federal funding and increased promotion. Anyone with property and businesses should be very happy. It will also improve the town for all our visitors.
New Restaurants coming soon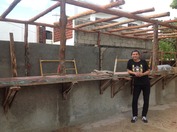 At least 6 new restaurants are about to open in Puerto Morelos Centro! Weather and licenses permitting. Seen here is Armando who is opening, with his partners, in Rojo Gomez opposite Primary School, a seafood and meat restaurant with chef signature style to traditional cuisine. It is rumoured 100% Natural is opening where Loteria was. Opposite the Handicraft market an Italian restaurant is preparing to open (hopefully more than just pizza) and a steak restaurant with lovely folk from Hidalgo, called El Campanario. Around the corner from them, on the beach street, some young chefs have ingeniously redesigned a sea container to be their new restaurant. Then back in town, opposite Posada el Moro, Victor is preparing hydroponics, fish breeding and fertilising and mushroom cultivating in readiness to serve all these organic goodies in his restaurant. (he also has some great washingtonia palms for sale right now)
Puerto Morelos Council and Tourism Commission, Inaugural celebration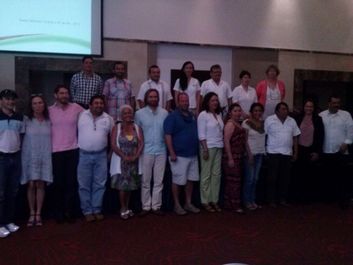 Beach clean up Private Initiative started

Some time early next year our municipality will have funding for a government sponsored beach clean right now it is
up to us!
A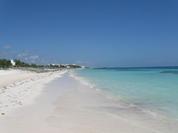 group of property owners is taking donations to clean the beach between Playa Sol and Casita Blanca with great results. Please help by donating, send via Paypal to PMWhiteSandBeaches@gmail.com
OPEN HOUSE DEC 12TH. YOU ARE INVITED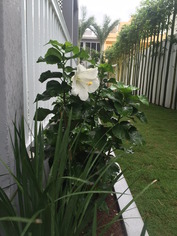 Brand new! Casa Grande will be showing for the first time! came along and enjoy this gorgeous new house, Avenida Ninos Heroes 778 Puerto Morelos Centro.
Casa Gaviota, Calle Andres Quintana Roo, will also be open, giving you a good idea of what property is available in Puerto Morelos now.
More information: Marilyn O'Connor, traveltreasures@hotmail.com.
Mi Cocina


Richards new location is right next to the handicraft market, great place for breakfast and lunch. He had gyoza today, yum. Last year he was La Duna and he's loving the new location next to Puerto Morelos' radio station 89.1fm
Link to site
Dancing with Chedraui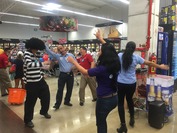 Well it put a smile on my face! This is the store manager at Chedraui yesterday disco dancing like a crazy with his staff during a Capistrano ham promotion. Who would want to live anywhere else?