In 2004 when Herban Health started our first clinic at Free at Last, a drug and alcohol recovery center, one of our patients said that he had been talking about acupuncture with the residents of the homeless shelter where he was staying. There were a number of the residents who were interested in acupuncture after they heard of his experience. We contacted the administration at InnVision, the nonprofit organization running the shelter located at the Menlo Park Veteran's Hospital, and that started a long, productive and rewarding clinic at that location.
We offered acupuncture in a group setting, at Clara Mateo once a week for two hours to 10-15 residents of Clara Mateo and other drop in patients, many of them veterans. In Spring of 2011, unfortunately, Clara Mateo closed its doors. Working at Clara Mateo has been very rewarding for all of us who participated, providing some calm and relief from discomfort for people in such stressful situations. Fortunately we have been able to start a weekly clinic at the Homeless Veteran's Emergency Housing Facility http://www.hvehf.org/ , also located at the Menlo Park's Veteran's Hospital campus, and we continue to be inspired by the resilience of the people we treat and the appreciation that they show us.
---

Nutrition Classes for Boys and Girls
In the month of May, Herban Health provided three classes for the Boys and Girls Club http://bgcp.org/ in East Palo Alto. Emily Shore, Gaby Valencia and Afshin Moktari had a great time teaching 10-14 year olds about how healthy food and simple exercises could make them feel better. The kids jumped right in to cut up fruits and make dehydrated snacks, using a wonderful dehydrator donated to us by Excalibur Dehydrators in Sacramento. They also enjoyed making pizzas and experimenting with different toppings, surprising themselves with how good unexpected ingredients tasted. It was a wonderful experience for all of us and we are grateful that the Boys and Girls Club gave us the opportunity to share some healthy ideas.
---
Herban Health Summer Picnic!
| | |
| --- | --- |
| | On August 7, Herban Health held a picnic at Bell Street Park in East Palo Alto for its volunteers, patients, and their families and friends. It was a beautiful fun filled day with music floating in the soft breeze and much good cheer. More than 65 people made new friends and celebrated the old ones. They feasted on a yummy barbecue and the incredible food brought by many people, relaxed under the warm sun, and played a few games of volleyball. It was a heart warming and truly delightful time and we look forward to making it an annual event. |

---
Reaching Out to the South Bay
Based on the success that we have had in the extended East Palo Alto area, we are working to develop a clinic in the South Bay. There are many individuals and families living in the larger San Jose area, who are struggling to meet their basic needs, including new immigrants from Southeast Asia (e.g. Vietnam, China, the Philippines) and other Asian countries. We are presently working with AACI (Asian Americans for Community Involvement, www.aaci.org) to develop a clinic working with their clients. We are recruiting practitioners who are interested in doing volunteer work within community based organizations in the South Bay area, including those who have fluency in languages other than English. If you are interested in volunteering in the South Bay, or helping to expand our work, please contact us at dladine@aol.com




"What to Eat" by Linda Nanfria
I love to eat fresh whole foods that satisfy with flavor and a little crunch. You can always save money by eating fresh foods that are in season, or those that are around most of the year because they store well. Cabbage, limes, and apples are amongst them and are delicious eaten fresh and uncooked in the following recipe, a favorite of mine. It is diabetic appropriate, naturally sweet/tart, uses healthy oil/citrus juice dressing and is high in fiber. It's quick to make and stores well. Serve it as a side, or serve larger portions with some chicken to turn it into a main dish.
Appleslaw
½ cabbage, cored and shredded thinly (or buy a 10 or 12 oz. pkg. finely chopped)
1 or 2 apples, any type or color, washed, DO NOT PEEL*, cored and sliced thinly, then slivered lengthwise into matchsticks.
Zest of 1 or 2 limes (wash and use the fine side of a grater to gather the green surface part of the citrus skin. (zest before juicing)
Juice of 1-2 limes
1/3 cup olive oil
Salt & pepper to taste

Put all ingredients in bowl and toss to mix flavors.
Additions are optional; if you have it on hand or in the garden add a little chopped parsley, cilantro, or thinly sliced red onion.

Bio: Linda Nanfria taught cooking/culinary for 12 years, was trained by Culinary Academy graduates at Viking Home Chef. A former culinary instructor at The Art Institute at Sunnyvale, she believes eating fresh whole foods is the most delicious path to health. Linda earned an MA degree in Education and a BA in Journalism.

Linda Nanfria, chef/instructor and foodie extraordinaire offers ideas on ways to eat delciously without losing flavor or satisfaction. Recipes reflect Herban Health's HEFTY formula Healthy Economical Fast and Cheap.

A Walk to Remember

Fall is here and the cooler but still sunny weather is just the perfect time to take a walk.
Walking is a great exercise for our physical and emotional health. As illustrated in an old Chinese saying: "A walk of 100 paces after meals equals a life of 99 years". According to Traditional Chinese Medicine, walking stimulates the circulation of the blood and adjusts the functions of the five vital organs of the body. It helps with digestion, reduces muscle tension and stress, improves sleep, and clears the mind.
Recently, walking has been shown to confer another health benefit. In a study reported in The Proceedings of the National Academy of Sciences, (http://www.pnas.org/content/108/7/3017) healthy but sedentary men and women in the mid-60s were divided into two groups of exercise regimens: walking or other less aerobic exercises such as stretching. After one year of walking around a track three times a week, building up to 40 minutes at a stretch, a moderate expansion of the hippocampus was observed. The hippocampus is the part of the brain important to the formation of memories. In fact, this group of subjects also showed a bigger improvement in memory tests.
So, walking is good for your memory as well as for your health!
TAKE YOUR BRAIN FOR A WALK!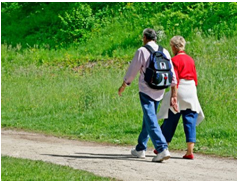 Case Studies

We are starting Quarterly Case Studies, with the first one to take place on Sunday October 23rd, starting at 4 p.m. with light snacks provided. We will have one prepared case study, and then have an opportunity to discuss the case, as well as to discuss other cases and questions that practitioners might have. It will be an opportunity to share professionally, and to have fun as well. The location will be in East Palo Alto. Please let us know if you are interested in coming, by calling Dyanne at (650) 327-7894.

Hawthorn Sauce
Shan Zha or Hawthorn Berries, according to traditional Chinese medicine, reduces food stagnation and transforms accumulation. It helps to break down meat and grease and ease digestion. Recent studies have also shown that Shan Zha can reduce
high blood pressure and lower serum cholesterol. Here is a recipe for hawthorn sauce ( http://www.nuherbs.com/resources/thanksgiving ) that can be served in place of the traditional cranberry sauce with the rich and savory food at the Thanksgiving dinner.
• 1/2 pound dried Hawthorn berries (shan zha) • 6 cups water • 10-12 tablespoons sugar
Soak the shan zha in water for 15 minutes. Drain and rinse. Soak for another 15 minutes. Drain well.
Bring 6 cups water to a boil, then add the berries. Cook for 15 minutes at medium heat, stirring every so often. Add sugar. Turn heat down to a simmer and cover, stirring occasionally. Cook for another 15 minutes. Taste for sweetness and add sugar if needed, incorporating it into the sauce. Remove from heat. Let cool and thicken to a delicious sauce.
Serves 4-6.