We have mentioned in our last newsletter that Art can be an effective tool in mental health treatment. As a start, we have given patients some paper templates to color at home and patients were loving, claiming that this activity has been helpful in relieving their stress and anxiety. In fact, we have seen their drawings and they are wonderful. We have included a few examples for your viewing in this newsletter, and we hope to include more of them on our website soon.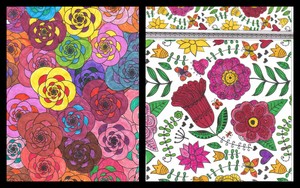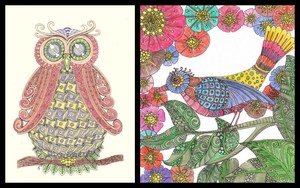 Modesta L Leonor O Emily L Maria Luisa L
---
Starting in September, for nine months, two art therapy interns will be working within a number of East Palo Alto community organizations to provid group and individual counseling. The aim is to use art as a tool for building confidence and self esteem, understanding ourselves better and increasing skills in communication. Both interns, SUSANA NAVARRO RAMOS AND JENNA SARACENO, will be using a variety of art forms, one of whom who also uses movement as a form of art. Services will be provided in English as well as Spanish. For more information contact Herban Health in order to determine where and when these services will be offered.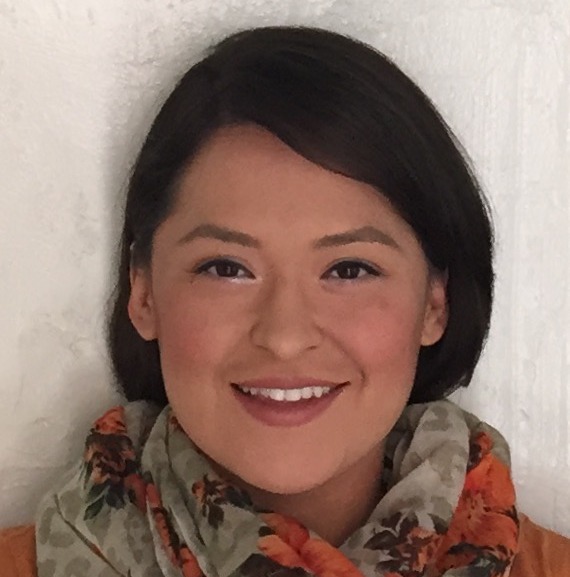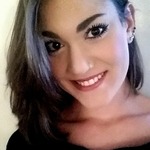 Susana Navarro Ramos
Jenna Saraceno
---
"HAPPY FOOD" CLASSES AND TRAINING
In May, four people from the East Palo Alto community were trained as educators in how to eat nutritious, tasty, quick and inexpensive meals. The training was done through Leah's Pantry (http://leahspantrysf.org/) in San Francisco and additional training by Emily Caruthers, a Marriage and Family Therapist (MFT) and a member of the Eating Disorder Resource Center, on the subject of emotional eating and recognizing eating disorders. Our group is ready to reach out into the community, providing people with information and skills for themselves and their families. We will be doing our first training soon. We will be helping people to gain knowledge and also to form cooking clubs, where groups of people can gather on some regular basis to learn new recipes and ways of preparing food. Our Community Educators are Shirley Banks-Lawrence, Carla Bedford, Mele Heimuli, and Jasmine Rubio. We have consultants who will be helping in working with recipes so that they will be particularly tasty. Our educators will also be relying on all those FOODIES that we have in East Palo Alto who will add to the delicious smells and tastes coming from the kitchen.
---
HERBAN HEALTH HAS A GRANT FOR SUPPORTING OUR HEALTH EDUCATORS, BUT IN ORDER TO USE THAT GRANT WE NEED TO RAISE MATCHING FUNDS BY NOVEMBER 1 . We are asking for donations to reach our goal of $5000 to be used exclusively for the community educators as they go out into the community, giving classes in churches and other organizations. Any help that you can give us would be greatly appreciated. Donations can be made online at our webpage http://herbanhealthepa.org/donate.php
---
Emily Caruthers MFT has provided a questionnaire to be used to evaluate when we are eaing because we are hungry or because of some other reasons, such as stress, need for comfort or distraction. By learning to identify the underlying factors affecting our appeptite and cravings we can more easily make changes over time to our eating habits that are not helpful for our body and mind.
Are you an emotional eater?
• Do you eat more when you're feeling stressed?
• Do you eat when you're not hungry or when you're full?
• Do you eat to feel better (to calm and soothe yourself when you're sad, mad, bored, anxious, etc.)?
• Do you reward yourself with food?
• Do you regularly eat until you've stuffed yourself?
• Does food make you feel safe? Do you feel like food is a friend?
• Do you feel powerless or out of control around food?
The difference between emotional hunger and physical hunger
Before you can break free from the cycle of emotional eating, you first need to learn how to distinguish between emotional and physical hunger. This can be trickier than it sounds, especially if you regularly use food to deal with your feelings. Emotional hunger can be powerful. As a result, it's easy to mistake it for physical hunger. But there are clues you can look for that can help you tell physical and emotional hunger apart.
• Emotional hunger comes on suddenly. It hits you in an instant and feels overwhelming and urgent. Physical hunger, on the other hand, comes on more gradually. The urge to eat doesn't feel as dire or demand instant satisfaction (unless you haven't eaten for a very long time).
• Emotional hunger craves specific comfort foods. When you're physically hungry, almost anything sounds good—including healthy stuff like vegetables. But emotional hunger craves fatty foods or sugary snacks that provide an instant rush. You feel like you need cheesecake or pizza, and nothing else will do.
• Emotional hunger often leads to mindless eating. Before you know it, you've eaten a whole bag of chips or an entire pint of ice cream without really paying attention or fully enjoying it. When you're eating in response to physical hunger, you're typically more aware of what you're doing.
• Emotional hunger isn't satisfied once you're full. You keep wanting more and more, often eating until you're uncomfortably stuffed. Physical hunger, on the other hand, doesn't need to be stuffed. You feel satisfied when your stomach is full.
• Emotional hunger isn't located in the stomach. Rather than a growling belly or a pang in your stomach, you feel your hunger as a craving you can't get out of your head. You're focused on specific textures, tastes, and smells.
• Emotional hunger often leads to regret, guilt, or shame. When you eat to satisfy physical hunger, you're unlikely to feel guilty or ashamed because you're simply giving your body what it needs. If you feel guilty after you eat, it's likely because you know deep down that you're not eating for nutritional reasons.
From http://HelpGuide.org
---
VOLUNTEER HIGHLIGHT - DAVID LIN
In this newsletter, we would like to pay tribute to David Lin, who has been volunteering at the Saturday clinic despite being busy with school work as a high school senior. David has been an invaluable member (and one of the youngest) of our HH team and he has helped to make our clinic run much more smoothly and with higher efficiency. David is a young man with few words, but very dedicated and focused on what he is doing. We are both sad and glad that he will be off to college this Fall, in the East coast no less. We wish him all the success (and fun) at college and look forward to his visiting us whenever he is back in the Bay Area.
---
EAT FRESH RECIPE (from http://eatfresh.org)
Rice Cooker Quinoa, Chickpeas, and Greens (A Budget-friendly recipe)
• Serves: 5
• 1 hours 10 mins. (Dairy-free, Gluten-free, Low Added Sugar, Vegan, Vegetarian)
Quinoa is a complete protein with lots of vitamins. Use it as a great substitute for white rice or pasta.
Ingredients
• 1 Cup Quinoa
• 2 Cup Water
• 1 Cup Greens (spinach, kale, collard greens) chopped
• 1 Cup Chickpeas
• 1 Cup Cranberries dried
• 3 Tablespoon Olive oil
• 6 Tablespoon Lemon juice
What You'll Need
• Measuring cup • Measuring spoon • Knife • Cutting board • Slow cooker • Mixing Spoon
Directions
1. Mix all ingredients in rice cooker
2. Cook for a normal cycle
3. Stir twice while cooking
Substitution Tips • Use raisins instead of cranberries. • Use orange juice instead of lemon juice. • Cut this recipe in half to save money.
Nutrition Info and more Serving size: 1 Cup Total calories: 219 Total fat: 4.8 g Saturated fat: 0.7 g Fiber: 5.6 g Sodium: 168 mg