2013 CRC STAR Award open now
The 2013 CRC STAR Award is the Minister's award for recognising CRCs for excellence in collaborating with small and medium enterprises (SMEs) to develop and deliver innovation. Applications are now open and will close on 28 March 2013.
The 2013 CRC STAR Award will be presented at the CRCA Excellence in Innovation Awards Dinner, on 16 May 2013 during the CRCA's annual conference in Melbourne, by a representative for the Minister for Tertiary Education, Skills, Science and Research.
Don't miss this opportunity to have your CRC recognised for its work with SMEs.
Application form and guidelines
---
Industry Innovation Precincts consultation sessions
The Australian Government is embarking on a new round of consultation on Industry Innovation Precincts, one of the key initiatives announced in the $1 billion Plan for Australian Jobs. The Minister for Industry and Innovation Greg Combet said stakeholder feedback would inform the detailed design of Industry Innovation Precincts.
Industry Innovation Precincts will foster collaboration between industry and the research sector in Australia to create new growth opportunities and enhance the competitiveness of Australian business. The Government released the Industry Innovation Precincts Consultation Framework Paper and called for submissions from stakeholders.
"These new industry-led Precincts will strengthen innovation by creating networks and boosting collaboration between firms and researchers to share knowledge and take advantage of business opportunities," Mr Combet said. "The framework outlined in the paper is designed to ensure there is flexibility to establish Precincts that meet the needs of industry."
The Government will establish up to 10 Industry Innovation Precincts. The first two Precincts will be in the Manufacturing and Food sectors. The remaining Precincts will be selected through 2013 after a competitive selection process.
Consultation sessions will take place in capital cities and regional centres during March. Written submissions on the consultation paper and draft guidelines close 22 March 2013.
---
CRC for Aboriginal and Torres Strait Islander Health funds trials of vaccine to prevent rheumatic fever
The Queensland Institute of Medical Research has begun human trials of a vaccine for Streptococcus A, the germ that causes rheumatic fever. The vaccine has been developed over more than 20 years by Professor Michael Good from Griffith University's Institute for Glycomics and scientists at QIMR.
Animal studies have shown the vaccine makes the immune system produce antibodies which kill the germ. Repeated attacks of rheumatic fever can cause a build-up of damage to the heart valves, known as rheumatic heart disease. It's largely a disease of poverty.
"Infection rates in remote indigenous communities in Queensland are among the highest in the world. Nine out of every ten people affected in this State are indigenous," Professor Good said.
The vaccine trial is funded by the CRC for Aboriginal and Torres Strait Islander Health. The research was funded by the National Heart Foundation, the National Institutes of Health, the CRC for Vaccine Technology, the Perpetual Foundation and the Prince Charles Hospital Foundation.
---
Kraft Foods showcases TableTop technology from Smart Services CRC
The TableTop connected surface software was showcased by Kraft Foods as part of the opening of their high technology confectionery Centre of Excellence facility in Ringwood recently. The TableTop technology, developed by the Smart Services CRC with the University of Sydney, will provide Kraft with leading connected interactive surface technology which connects any interactive surface for seamless sharing of content and collaboration across a room or the world.
The new Kraft Centre of Excellence will use the latest available technologies from the Smart Services CRC as a way of staying ahead of the global competition through innovation. They will be replacing their old paper-based methods by using TableTop as part of their product development research into what consumers want.
Video of Kraft Foods' plans for TableTop technology.
More about TableTop technology features.
For more information contact Dr Anthony Collins.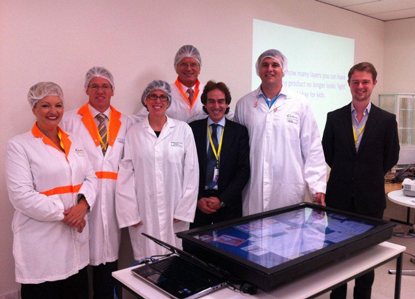 (L-R) Heidi Victoria MP, Member for Bayswater District, Minister Dalla-Riva, Minister for Employment and Industrial Relations, Minister for Manufacturing, Exports and Trade, Rebecca Dee-Bradbury (Kraft President Developed Markets, Asia Pacific), Victorian Premier Ted Bailleu, Warren Bradey CEO, Smart Services CRC, Nicolas Georges Director Premium Chocolate & Dairy Research & Development, Asia Pacific, Anthony Collins, Product Leader Smart Services CRC, at a demonstration of the TableTop software at Kraft Foods Ringwood

---
Ninti One aids roll out of new retinal camera to remote Australia
Ninti One, the managing body for the CRC for Remote Economic Participation, are partners in the Vision CRC program to deliver the Intelligent Retinal Camera to remote Australian communities. With comprehensive private and government partnerships, expertise in remote communities and connections throughout remote Australia, Ninti One is well positioned to help deliver the Intelligent Retinal Camera to Aboriginal communities.
Dr Tom Calma AO, Chair of Ninti One and currently the ACT Australian of the Year, welcomed the funding of the program. "New technology can only be useful if remote communities have the opportunity to understand the benefits and to have input into the rollout. We have had people working in these communities for many years and their knowledge and experience in helping communities will be vital to the program."
"This is an exciting development in delivery of innovation to remote Australia," said Tony Peacock, CEO of the CRC Association.
"There are many CRCs and other research bodies with knowledge, programs and products that have the potential to vastly improve the health and economic prosperity of our remote communities. Projects to deliver innovation products could partner with Ninti One in an effective use of its existing expertise and connections."
---
Outotec buy Scanalyse laser scanning technologies
Locally grown company Scanalyse has been bought by Outotec, the Finnish minerals and metals processing technology and services supplier. At the heart of the company's innovative products is laser technology originally generated in Curtin University supported by the CRC for Spatial Information. The start-up company also received venture capital funding from Stone Ridge Ventures as it grew to over 30 staff servicing more than twenty countries.
"It is a great move from a Scanalyse point of view as we can now tap into Outotec's global network and rapidly expand our reach" said Chief Executive Officer Peter Clarke. "Outotec's global centre of excellence in grinding is in Perth, and the Scanalyse operations will remain here."
"This is a great outcome for our partners and the CRCSI is proud to have played a critical role in the company's genesis" said CRCSI CEO Peter Woodgate. Peter Clarke agrees, having stated "No CRCSI, no Scanalyse. Simple as that."
---
Invasive Animals CRC research new virus for rabbit control
Wild rabbit numbers are booming, and biosecurity experts warn the pests are threatening farmland, native species and the ability of the landscape to store carbon. The Invasive Animals Cooperative Research Centre (IACRC) says rabbits are Australia's most costly vertebrate pest, setting farmers back about $200 million annually.
The IACRC is now investing with the CSIRO, universities and farmers in the largest rabbit biocontrol program in nearly two decades. Central to the strategy is a new, imported virus, which researchers hope to adapt in the lab so it stays ahead of any resistance the strain might develop in nature.
Mr Conroy said it was crucial government and industry continued combating these pests, as efforts to kill wild rabbits had produced a $70 billion benefit for agricultural in the past sixty years.
Read more from the IACRC. Read the full story from The Australian.