A winning year
Tony Peacock
This year has been a good one for the Cooperative Research Centres. Our Minister, the Federal Opposition and the most senior people in Australian science have all shown great positivity and enthusiasm for CRCs during 2012.

The CRC Program is really delivering. Just take a glance through the sheer number of prestigious awards that CRCs and their affliated businesses and scientists are getting shortlisted for or are winning.

We do extraordinarily well when it comes to any measures of, or awards for, research impact. Of course we should do, because CRCs are designed to create impact. They have the timeframe, scale and teams to achieve impact. Although they represent only a small slice of the Australian Government's innovation pie (about 1.7% of it), they get to draw on all the other parts of that system as well as international research and business. So we should produce the goods, and the evidence is there to show we do just that.

The challenges for 2013 are pretty clear from my perspective. We have to continue to make CRCs more relevant to more sectors and the structure of businesses in those sectors. For example, we currently work really well with agriculture where many of the small to medium enterprises are relatively similar (farms, for example) and already well organised and connected, usually through a levy system and their Rural R&D Corporation. But we do less well in developing CRC models that suit small to medium enterprises in other sectors like manufacturing or service industries. We need to work with those sectors to find the best ways of getting end-users to take the lead on research ventures.

We are due for another review during the year. Our Association will continue to argue for more flexibility to be allowed in the design of a CRC and measures to reduce the cost of bidding (in money, time and energy). In an age where an innovative start-up can grow from conception to a billion dollar valuation in less time than human conception can produce a baby, it is probably timely to explore ways of fast tracking dynamic proposals.

Of course 2013 is an election year. The CRC Association has enjoyed excellent hearings from the Government, the Opposition and the Australian Greens throughout this year and we expect that dialogue to continue. Innovation policy deserves a prominent place in the coming discourse.

I had the extraordinary privilege over the past fortnight to hear practice sessions of all seven* of the shortlisted CRC bids. As this Newsletter is issued, the final pitch is being made and the CRC Committee will convene over the next couple of days to prepare their advice to Minister Chris Evans. Congratulations to all those involved in developing outstanding cases for your CRC. We expect the Minister will make an announcement fairly early in the New Year.

Finally, thank you to everyone in the CRC Community for all your efforts, good wishes and assistance during the year. I've enjoyed the busy time but am completely reliant on our Office Manager, Pauline Quinane and part-time contributions from Sally (accounts), Karen (web, GroupSpaces) and Anni (everything else). The Board of the Association is very supportive and wise, and you will all be pleased to hear that our Chairman Tony Staley has recovered rapidly and is resuming his work on our behalf, replumbed, in 2013.

Our very best wishes to you for the Festive Season.

* This year the CRC Association was pleased to be able to provide help to all of the shortlisted bids. This was only possible due to the small round and will not be possible in 2013. We will need to limit our support in 2013 to Members, Associate Members and bids from Affiliate Member organisations.
---
CRCA Annual Conference news
About the Venue:
Where better to hold the CRCA Collaborate Innovate 2013 Conference than the innovative Melbourne Convention and Exhibition Centre? As the first 6 Star Green Star rated centre in the world, the MCEC represents leadership in best practice, innovation and sustainability. It was also the first centre in Australia to offer free Wi-Fi to all visitors and continues to raise industry standards in technology, imaginative catering and service options.
Located on the banks of the Yarra River in South Wharf, the MCEC is a short stroll from Melbourne's central business district, Conference accommodation and a 20-minute drive to Melbourne Airport connects MCEC to the rest of Australia and the world.

Conference Accommodation:
If you will be traveling interstate, or into Australia for Collaborate Innovate 2013, you can book your accommodation at the same time as you register. Rooms have been reserved at the Hilton South Wharf, the Crown Metropol, Oaks on Collins and the Grand Hotel Melbourne. Varying in prices, there is a room for every budget and in walking/tram distance to the MCEC.

Social Function update:
Wine tasting event tickets are still available, but hurry as only the first 50 to register can attend and they are going fast. Register today!

For more information please visit the Conference website.
Collaborate Innovate 2013 is proudly sponsored by:
RMIT University; DIISTRE; CSIRO; Phillips Ormonde Fitzpatrick; FAL Lawyers Russell Kennedy Pty Ltd; Centre for the Public Awareness of Science, ANU; Campus Travel; Australian Research Council; AutoCRC
Collaborate Innovate 2013 is proudly hosted by the Victorian Government.
---
ACE CRC wins 2012 Resilient Australia Award, Bushfire CRC Highly Commended
Antarctic Climate and Ecosystems CRC has won a 2012 Resilient Australia Award in the Training and Research Category for the Climate Futures for Tasmania Project.
The Climate Futures for Tasmania project took global climate change modelling and scaled it down to a 10-square kilometre grid across Tasmania. Modelling then projected the impacts that increasing greenhouse gases could have on agriculture, the general climate, frequency of extreme events, water and catchments and inundation from the sea.
The project leader of Climate Futures for Tasmania, Professor Nathan Bindoff of the ACE CRC, said information from the project would assist planning in areas such as emergency management, local government planning, infrastructure planning and food production.
The awards were announced on December 6 by Attorney-General and Minister for Emergency Management Nicola Roxon. The Resilient Australia Awards recognise innovative practices that are making our communities safer, stronger, more resilient and better prepared to manage any emergency situation.

The Bushfire CRC was recognised by a Highly Commended award for the impact of its collective research program over the past decade. The program of research projects by the Bushfire CRC was in the Nationally Significant and Cross Jurisdictional Category of the awards.
Read the ACE CRC press release
Read the Bushfire CRC press release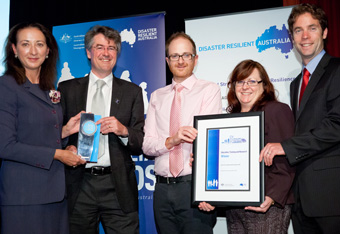 ACE CRC Resilient Australia Award
(L-R) Gai Broadtmann MP, Prof Nathan Bindoff, Dr Chris White
Suzy Gaynor,Dr Stuart Corney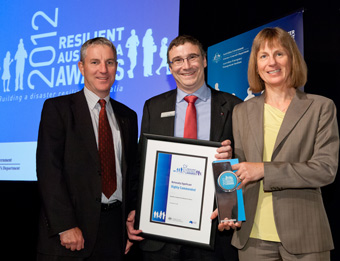 Bushfire CRC Highly Commended Award
(L-R) David Bruce, Dr Richard Thornton, Dr Noreen Krusel
---
CRC researchers shortlisted for Australian Innovation Challenge
Three CRC researchers were shortlisted in The Australian Innovation Challenge. The Australian newspaper runs the awards, in association with Shell, and supported by the Commonwealth Department of Industry, Innovation, Science, Research and Tertiary Education. The aim of the awards is to help drive some of the nation's best ideas to commercialisation or adoption.
CSIRO scientist Laihua Wang and his research team at the CAST CRC were shortlisted for CASTvac. CASTvac is a new vacuum valve boosting the efficiency of the manufacture of precision car parts. The valve is designed to overcome problems in vacuum assisted high-pressure die casting, used at the top end of the car-parts industry to cast aluminium components in moulds.
Harvey Dillon, director of the National Acoustic Laboratories, a member of The HEARing CRC, was shortlisted for a fully self-fitting hearing aid aimed directly at developing countries. The device, designed to be customised, fitted and fine-tuned by the user at home, does not require a computer or internet access.

Farzad Safaei from the Smart Services CRC and the University of Wollongong, was shortlisted in the Education category for the iSee video-conferencing tool. This system has also won a prestigious international award (see following story). The iSee video collaboration tool can support hundreds of users at once in custom-built virtual worlds. The tool allows students and teachers to interact naturally as if in a real classroom, according to Safaei.
More information on The Australian Innovation Challenge

More information on CASTvac, Self-fitting hearing aid, iSee Video collaboration
---
Smart Services CRC wins Asia Pacific
ICT Award
iSee, the video collaboration system developed by Smart Services CRC and the University of Wollongong ICT Research Institute has won an award in the Research and Development category at the 2012 Asia Pacific ICT Alliance (APICTA) Awards held in Brunei Darussalam in early December.
iSee is a multi-platform, real-time video collaboration tool that uses socially interactive video streaming to create a lifelike immersive environment for participants to look and feel natural. It is the first web-based application to fully utilise the social complexities of real-life interactions as a natural element of the technology.
iSee can host anywhere from two to hundreds of users simultaneously in custom-built virtual environments. Users are streamed in real-time video and can freely move around the 3D iSee space to interact as part of a dispersed workforce, host and attend events, such as conferences and to be actively involved in team meetings; share files and images and video on virtual screens in a range of professional or educational environments; and engage in collaborative learning via large group presentations or simultaneous smaller group workshops and discussion.

iSee is the ideal tool for CRC staff and researchers to keep in contact and collaborate. Contact Natalie Chapman if your CRC is interested in a demonstration.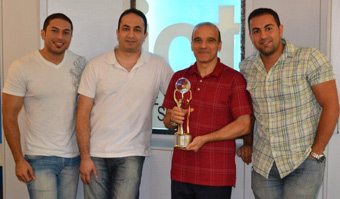 iSee team (L-R), Pedram Pourashraf, Aboozar Azarnoush,
Farzad Safaei, Amir Hesami
---
Chairperson of the Lowitja Institute wins Human Rights award
Pat Anderson, Chairperson of the Lowitja Institute, is the winner of the Human Rights Community Individual Award (Tony Fitzgerald Memorial Award) for 2012.
The award honours individuals for promoting and advancing human rights in the Australian community on a not-for-profit basis.
An Aboriginal advocate for human rights, Pat is recognised nationally and internationally for her leadership in promoting and advancing the human rights of Aboriginal and Torres Strait Islanders with a particular focus on the health, education and the protection of Aboriginal and Torres Strait Islander children.
The Lowitja Institute incorporates the CRC for Aboriginal and Torres Strait Islander Health.
Read the full press release
---
The 2012 Victoria Prize for Science and Innovation awarded to Ana Deletic
Professor Ana Deletic, from Monash Water for Liveability (Monash University's Centre for Water Sensitive Cities), has been awarded the 2012 Victoria Prize for Science and Innovation. The Victoria Prize celebrates excellence and honours achievements, including academic leadership and innovative research, while aiming to inspire similar dedication in aspiring scientists and inventors.
Ana Deletic, an international leader in stormwater research, became the first woman to receive a Victoria Prize in the award's 14-year history when she was awarded the $50,000 prize for physical sciences.
Professor Deletic has worked on treating stormwater and more recently on capturing stormwater for human use, particularly irrigation. Her work was an important factor in the successful bid for the CRC for Water Sensitive Cities which began in July 2012. She coordinates research and end-users for the Melbourne Research Hub of the CRC.
Read about the Victoria Prize
Watch a video of Professor Deletic's work
The CRC for Water Sensitive Cities announcement