No CRC Review in 2013
In perhaps his only decision relating to the CRC Program, the former Minister, the Hon Chris Bowen MP has decided that no CRC Review will be held in 2013. The program's reviewed formally every five years and so a review was due this year, five years after the 2008 O'Kane Review.
The CRCA had written to Minister Bowen seeking deferment of the review until 2014.
"A review in 2013 could be very disruptive to the funding process, with a big competitive round and the Federal Election due" said CRCA CEO Tony Peacock. "The 2012 Impact Study by the Allen Consulting Group was a major piece of work and extremely favourable for the CRC Program, so the Board thought there was little to be gained from a Review that might end up straddling the election".
The former Minister agreed to defer the review until 2014 saying "I have made this decision in light of recent demonstrations of the effectiveness of the CRC Program" and referring to the 2012 Impact Study and the Excellence in Innovation for Australia Trial report.
Professor Peacock has welcomed the appointment of Senator the Hon Don Farrell as Minister for Science and Research. The Hon Dr Craig Emerson MP has become the senior portfolio Minister. "Senator Farrell has met with some of the CRCs working on water research in relation to his previous responsibilities. I look forward to briefing him on the great work going on across the whole CRC spectrum" said Prof. Peacock.
---
2013 CRC STAR Award closing soon
The 2013 CRC STAR Award is the Minister's award for recognising CRCs for excellence in collaborating with small and medium enterprises (SMEs) to develop and deliver innovation. Applications close on 28 March 2013.
Application form and guidelines
---
Collaborate | Innovate | 2013
The Vitae Researcher Development Framework will be featured in the Education/Research Program Managers' Workshop at Collaborate | Innovate | 2013.
The Vitae Researcher Development Framework (RDF) supports world-class personal, professional and career development for researchers. Aspiring researchers can take control of their own professional development by identifying their progress across the wide ranging capabilities recognised by successful researchers. The associated RDF Planner enables researchers to identify expertise and capabilities, plan professional development, set personal targets and demonstrate evidence of success, on a regular basis. The Vitae RDF and Planner and relevance to researchers in trials in Australia will be discussed by the presenter Alison Mitchell.
---
NFF calls for new agriculture research CRCs
The National Farmers' Federation has released its Federal Election Policy Priorities calling for more research and development in agriculture.
"The agricultural sector has five key priorities leading into this election, five key areas that we are seeking commitments from all parties and parliamentarians to achieve," NFF president Jock Laurie said.
The five policy priorities are: growing Australian agriculture; investing in research, development and extension; increasing competitiveness and profitability; building a stronger workforce; and balancing agriculture and the environment.
Policy priorities include a re-investment in the Cooperative Research Centres program and the establishment of three new agriculture-based CRCs by 2015.
---
AMCRC invests in algae to fuel technology
As part of its 'Next Generation' program, the Advanced Manufacturing CRC is helping to fund and facilitate an exciting 'algae to fuel project' in partnership with MBD Energy and James Cook University. "MBD Energy is commercialising technology to use algal strains to generate algal bio-products such as animal feedstocks and fuels through the capture of carbon waste (e.g. from power plant emissions)", said Bruce Grey, Managing Director of the AMCRC.
James Cook University and MBD Energy have been collaborating on bio-manufacturing techniques that can make algae both a feedstock for prawns and an industrial waste treatment solution.
---
Poultry CRC launches iOS game
The Poultry CRC has launched an app in the iTunes store titled Egg Grab'n'Grade, available as a free download within Australia.

Egg Grab'n'Grade is an iOS game that illustrates the different types of eggs that are removed on a grading floor. It shows how eggs make their way from hen houses where they are laid, through the grading floor, to a packing station where they are put into cartons, and then on to shop shelves. Players must identify the cracked, dirty, misshaped, undersized or oversized eggs and move them to the appropriate 'buckets', while leaving the good eggs to go through to packing.

This game has been designed principally to teach school students about food safety and quality in the egg industry. It is compatible with iPad2, iPod4 and iPhone4 (and later versions of each). The game was developed in conjunction with Holopoint Interactive in Adelaide.

More about Egg Grab'n'Grade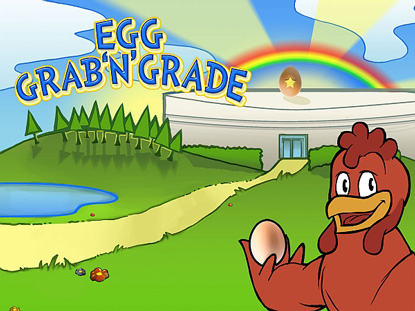 ---
Peter Cullen Trust Science to Policy Leadership Program
The Peter Cullen Water and Environment Trust is again looking for a diverse group of people who are actively involved in water system management to participate in our exciting leadership program.
Only 15 people will be selected and funded to undertake this journey of personal and professional discovery.
Applications close on the 30th April, 2013.
More information.
---
Free trial to the World's largest funding opportunity database
InfoEd Global's SPIN offers 40,000+ opportunities from 11,000+ sponsors, providing a single solution for Researchers and Principal Investigators who desire to spend less time searching, but still yearn for ideally suited and perfectly matched funding opportunities. The system has an intuitive, easy-to-use web interface which utilises powerful data mining capabilities and time-saving features to provide fast and comprehensive search results.
In celebration of InfoEd Global's support of CRCA Collaborate Innovate 2013, a CRC member trial of SPIN is planned. Representation is sought from all CRC member sectors to use and evaluate SPIN during the month of April. Please register your interest in participating in the trial to Damian Davini – InfoEd Global Regional Manager Asia-Pacific.
About InfoEd Global
---
Autism CRC seeks Independent Directors
Nominations are now open for four Independent Director positions for the inaugural Board of the Living with Autism Spectrum Disorders CRC (Autism CRC Ltd). Details about the application process and further information can be obtained from the Chair, Ms Judy Brewer.
Applications close on Friday 12 April 2013 and should be submitted by email.
---