CRCA Annual Conference news
Super Earlybird Registration is now available online – register now and save up to $150 – offer for a limited time only. Tickets to a Wine Tasting event sponsored by FAL Lawyers are available to the first 50 registrants only.
For more information or to register, please visit the Conference website.
---
CRC develops molecular 'trapdoor' for carbon dioxide
A team of Cooperative Research Centre for Greenhouse Gas Technologies (CO2CRC) researchers based at the University of Melbourne has developed a new material with exceptional properties for separating carbon dioxide from other gases.
The chabazite zeolite synthesised by Professor Paul Webley and his team, including PhD student Jin Shang and research Fellow Gang Li from the Melbourne School of Engineering, uses a molecular 'trapdoor' to separate molecules based on their properties rather than their size.
The material can separate carbon dioxide from gas streams at a wide range of temperatures and pressures and has excellent potential for separating carbon dioxide from power station flue gases and natural gas production.
Read the full press release
Read the journal paper
---
CRC launches online campaign for respectful use of social media
Up to 80 per cent of Australians aged between 12 and 18 will be exposed to the Young and Well CRC's interactive online campaign, Keep It Tame, which is backed by the nation's top 20 youth-focused websites and has been developed by young people, leading marketers and top academics.
Unique to the campaign is the application of an innovative digital tracking methodology which – in conjunction with a cohort study that will survey and interview young people over time – will measure its impact on behaviour change.
The campaign guides teenagers through a series of mock social media posts. As things turn nasty, an animated creature slowly becomes more grotesque, highlighting the hurtful effects of the online exchanges and ultimately encouraging people to act with respect.
Keep It Tame home
---
Call for action on world soil crisis
A distinguished Australian scientist, the winner of an international soil science prize, has called for Australia to lead a renewed global effort to reverse the alarming degradation and contamination of the world's food-producing soils.
Professor Ravi Naidu, the Managing Director of Australia's CRC for Contamination Assessment and Remediation of the Environment, is this year's recipient of the International Soil Science Award, presented annually by the Soil Science Society of America (SSSA).
"Global estimates of the amount of agricultural and pastoral soil lost each year range from 75 to 100 billion tonnes – that's over 10 tonnes a year for each person on Earth," Prof. Naidu says. "Furthermore, a satellite study by the United Nations Food and Agriculture Organization (FAO) revealed about 1 per cent of the world's farm land has been lost every year for the past quarter century."
"Such rates of degradation are completely unsustainable and risk exhausting the world's food-producing soils within two to three generations."
"Australian scientists are already hard at work trying to stabilise soils in various threatened regions – but now can do even more, sooner and more effectively. There is an opportunity not only for Australia to help its neighbours deal with an seriously intractable problem, but also to generate substantial new export income around smart technologies for overcoming soil, water and environmental problems associated with agriculture."
---
University start-up wins international sustainability award
SUSOP Pty Ltd, a new sustainability consultancy owned by The University of Queensland, has won an international award recognising its innovative approach to helping resource companies improve their contribution towards achieving sustainable development. The company was awarded the Sustainable Technology Award on November 1 by the Institution of Chemical Engineers in Manchester, UK. The award recognises a project or process that best demonstrates innovation in waste reduction, recycling, reuse or the lengthening of product lifecycles.
SUSOP Managing Director, Mr Stevan Green, and SUSOP Development Manager, Dr Glen Corder, who is a Fellow of the Institution, were at the ceremony to receive the award.
Emerging out of a three-year collaboration between industry and research partners through the Australian Government's Cooperative Research Centre for Sustainable Resource Processing, which included The University of Queensland, the SUSOP® approach is rigorous and robust, and integrates with existing risk management systems. Mr Stevan Green was the CEO of the CRC for Sustainable Resource Processing.
---
Apps for farmers
Farm Apps, a smart phone app development company, displayed its innovative farm management app F-Track Live at the NFF Canberra Congress last week. The complete farm management app has enabled farm managers and employees to update and access their physical livestock, cropping information, daily tasks and general inventory levels live from their smart phone. With the introduction of the new Android version of F-Track Live due in the next few weeks, Jock Graham (Managing Director) believes that the F-track system is going to become a lot more accessible to farmers who have a mixture of smart phones on their properties. "We want to make the F-track software available across all mobile platforms and continually improve it to suit progressive Australian farmers."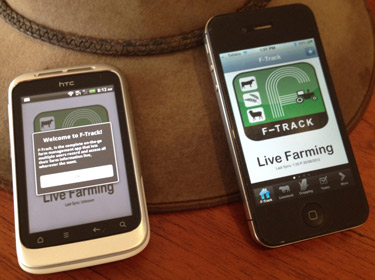 Farm Apps was founded by Jock Graham and supported by a small group of farmers in the Cootamundra area in May 2011 while being developed by a talented young developer in Queensland, William Harrington. The F-track app is the replacement for the farm notebook that every farmer has in their top pocket. The response from the farming community has been positive and since its launch in January it has been downloaded over 3000 times.
---
Are you Science Media Savvy?
The Australian Science Media Centre has just launched a brand new free online tool to help scientists work with the news media and better inform public debate on the major issues of the day. Developed with support from CSIRO, Science Media Savvy.org provides tips and advice for understanding and dealing with the news media.
The resource features interviews with news journalists and editors, advice from researchers experienced in media and videos highlighting how to improve print and broadcast interview experiences.
ScienceMediaSavvy.org is not designed to replace hands-on media skills workshops. Instead it is a new tool that will help scientists who are unable to take the time or foot the cost of attending a course or for those who need a quick refresher. The instant online availability of Science Media Savvy.org will help fill a gap in terms of what is currently available to scientists, giving them advice on dealing with the media as they need it, from any internet-enabled computer, mobile phone or tablet.
Watch a video about Science Media Savvy.org
---
Chief Executive Officer for Plant Biosecurity
The Plant Biosecurity Cooperative Research Centre is seeking a Chief Executive Officer.To receive the position profile and selection documentation, please email pbcrc@kowalski.com.au. Applications close on Monday, 10 December 2012.