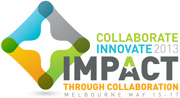 May 15-17 2013
The CRCA's Annual Conference
Melbourne Convention and Exhibition Centre

Earlybird Registration available now
Sponsorship enquiries can be directed to Justin Holsinger at EventCorp
---
Why you should be a Member of the CRC Association
Members of the CRCA have access to communications that can cut the cost of your operations.
Recent discussions include best use of Social Media, management costs and governance issues.
Members of the CRCA gain insights and support in seeking partners and funds.
All seven shortlisted CRC proposals in the current funding round have received referrals through CRCA.
An analysis of Round 16 potential bids is already available to CRCA members.

A benchmarking study outlining all CRC salaries is available to members.
Members of the CRCA receive advocacy, promotion and introductions.
Meetings with Ministers Combet, Plibersek, Butler, Carr and others were organised for Members during 2012.

In the past year, the CRC Association had provided Associate Membership and Affiliate membership at 25% and 50% of the full membership rate respectively. Our Associates and Affiliates are reporting significant benefits arising from their Membership.

Enquire today about joining us in 2013.
---
Get involved
Consortia are developing for CRC bids in the next (2013) round. CRCA is happy to help you connect with other potential bidders. Let us know about your interest and we can pass it on to others in the areas of:
Asian markets
Diabetes
Cybersecurity
Industrial Safety
Geothermal Energy
Online Education
Soils
Murray–Darling
Farm Safety
Big Data
Several manufacturing approaches
Healthy Ageing
Complex Project and Program Management
as well as potential re-bidding CRCs and a range of early stage bids. Participation in a CRC is not limited to any specific group or region. You must have an Australian small-medium enterprise and an Australian University involved.
---
Events
17-19 February 2013
Wollongong
AIRG 2013 Summer Conference
Early bird special until
31 December 2012
20 February 2013
Room G15, Tyree Energy & Technologies Building, UNSW, Sydney
Net Zero Carbon Housing Seminar
Speakers from Canada, Sweden and Australia
Low Carbon Living CRC
Email to reserve a place.
7-10 April 2013
Adelaide
National Rural Health Conference
6-10 August 2013
Melbourne
Prostate Cancer World Congress
---
Associate Members
Essential Energy

Alertness, Safety and Productivity CRC bid

Safeguarding Biodiversity CRC bid
Affiliate Members
The Recruitment Alternative

Capital Hill Consulting

FAL Lawyers

Hynes Lawyers

Piper Alderman

Queensland University of Technology

RMDStem

University of South Australia
---