Profile – Ehsan Bafekrpour – Deakin University
With nano technology creating new frontiers in the development of lightweight composites for application in the transport, mining, aviation, marine and other sectors, this exciting area of materials engineering has the potential to make a major contribution to the advanced manufacturing sector. Seen as the material of the twenty-first century, cutting-edge research into carbon fibre composites could drive Australian manufacturing into new and sustainable growth areas in both the domestic and global marketplace.
Ehsan Bafekrpour, a PhD student at Deakin University's Centre for Material and Fibre Innovation has been working on a strategic project investigating nano-enhanced carbon fibre composites. Over the course of his research, Ehsan developed the innovative concept of controlling the composition in nanocomposites for optimizing the mechanical performance; as well as tailoring the thermal and electrical properties for multi-functional applications. Naming these advanced materials Functionally Graded Nanocomposites, his PhD studied the effect of compositional gradients of nano-scale reinforcing constituents on thermo-mechanical, visco-elastic, and mechanical properties of nanocomposites.
For industry, Ehsan's highly advanced research work may lead to the development of lighter stronger materials for use in engineering and structural applications such as automotive body and engine parts and mining equipment. 'In these materials we can control the composition of the micro structure, which means we can optimise the mechanical properties,' he says. 'Lighter, stronger materials can contribute to positive environmental outcomes through fuel efficiencies and reduced engine emissions.'
Throughout his studies, Ehsan has been assisted by the Advanced Manufacturing CRC's very successful PhD program. Having submitted his thesis, he has secured a position at Monash University's Department of Materials Engineering where he will be working on hybrid and composite materials.
'Thanks to the AMCRC for your excellent support during my PhD. It was an honour being an AMCRC PhD student. I hope we can continue our collaborations in the future.' (Ehsan Bafekrpour)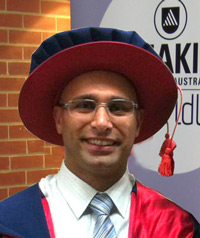 ---
Cancer CRC's Molecules to Medicine on-the job training extends its reach
The Molecules to Medicine business development intern program for early career biomedical researchers is set to expand from July to include more interns from major biomedical institutions and companies here and possibly overseas. In its first year, 2012/13, the program, which combines on-the-job training in business development essentials with a series of seminars on all aspects of commercialising biomedical advances, attracted 30 interns from nine major research organisations.
Interest in the program has already been expressed by medical institutes in Western Australia, New South Wales and New Zealand, as the seminar program can also be accessed remotely via a "moodle" learning platform.
Molecules to Medicine was set up with a three-year Victorian government grant under the auspices of the Cancer Therapeutics CRC, following a successful trial at the Walter and Eliza Hall institute to accelerate the translation of fundamental research into practical community and commercial outcomes.
Dr Toby Phesse, Senior Research Officer, Walter and Eliza Hall Institute, says of the program:
"I joined the Molecules to Medicine course as a research-only scientist with very little knowledge of commercialisation of research output. The course involves lectures from leaders in industry and clinical translation, which, along with assignments working with the business development office, give a great insight into the commercial bio-medical world. As a direct result of attending this course I have been able to plan and construct a patent application, which has involved working with patent lawyers and several different groups at WEHI, facilitating a commercial aspect to my current research in colon cancer."
Scientists who are involved in biomedical research with an interest in the development of biomedical devices or therapies are now invited to apply for next year's intake, starting in July. And there is an opportunity for a few fortunate early birds to attend an intensive introduction called 'MBA in a Day' on 21st May.
Interested applicants should apply through their research organisation's Business Development Managers who will need to be able to provide suitable on-the-job experience and mentoring in tech transfer and business development to complement the comprehensive set of expert seminars that take place over the year.
For more information contact Program Manager, Tom Williams:
twilliams@biomentoring.com.au; ph: 0419 868 911
---
New CRC Program website launched
The new CRC program website has arrived: www.crc.gov.au

The site has been restructured to improve accessibility and provide a range of new features including search functionality, enhanced navigation, dynamic menus and quick links to the latest news, events and strategic partners' sites like the CRCA, Skills Connect and Commercialisation Australia.
---
Social Media for Science course,
discount for CRCA members
Long before you'd even heard of social media, intellectuals like Einstein recognised the importance of publicly communicating science and research. So it's not as new as you may think!
Scientists can find great reward in online media tools and resources. While some guides do exist out there, it can be pretty overwhelming. The virtual world can be daunting if you're unsure and don't have proper guidance such as through formal scientific channels like peer-reviewed journals.
Social Media for science looks to better familiarise researchers with existing internet resources and their effective use.
After this workshop you will be able to interact in online communities and look for tailored responses and outcomes that are enabled by social media platforms.
CRCA members are being offered a $50 discount ($250 instead of $300). Register here to receive the discount.
More details and dates are here.