CRCA Conference News
The CRCA Excellence in Innovation Awards dinner will be held Thursday 16 May 2013. This dinner will recognise outstanding examples of the transfer of CRC research results, knowledge and technologies that have been developed for a wide range of users of research, including the community, companies, and government agencies.
The CRCA Excellence in Innovation Awards dinner is a great chance for delegates to dress to-the-nines and enjoy an evening of entertainment, excitement and of course, excellence.
Tickets to the Awards dinner are included in all full registration types and can also be purchased separately on the Conference website. Register now.
If you would like to nominate yourself or a colleague for an award please submit your entries by 28 February 2013. Find out more.
---
Showcasing Early Career Researchers 2013 Awards Eligibility
To be eligible to apply you must be, or have been, a PhD or Masters student by research in a CRC Association member organisation, and be planning to submit your thesis in the next two years, or have submitted during the past five years. For those who have submitted and are starting post-doctoral work, the application must be based on the work done for your PhD or Masters by research in a CRC or other CRC Association member organisation.
---
New CRC for Alertness, Safety and Productivity welcomed by transport industry
The new CRC for Alertness, Safety and Productivity will receive $14.5 million under the CRC Program to reduce the burden of impaired alertness on the safety, productivity and health of all Australians.
The National Transport Commission (NTC) has welcomed the announcement. "Fatigue is a major cause of death and serious injury on our roads," said NTC Acting Chief Executive, George Konstandakos. "We look forward to working closely with our partners to use the findings to provide industry with practical tools and evidence-based policies to help manage fatigue safely."
The Australian Trucking Association (ATA) also welcomed the funding announcement. "The Government's decision recognises that addressing driver fatigue and alertness is vital for the trucking industry's safety. Although the proportion of serious truck accidents caused by fatigue has halved, insurance industry figures show that fatigue still causes 10 per cent of serious truck crashes." said David Simon, the Chairman of ATA.
---
New CRC to help diabetics, transplant patients and patients with wounds
The University of South Australia will lead the new CRC for Cell Therapy Manufacturing set to underpin significant innovations in the treatment available for diabetes, wounds, and transplant patients. The CRC represents a $59 million investment from the Federal Government and 14 CRC industry and organisational partners. The Federal Government is contributing $20 million over six years through the CRC Program.
Head of the new CRC, UniSA's Professor Rob Short, says the goal of the research over the next six years will be to bed down a new cell therapy manufacturing industry in SA and create hundreds of new jobs, many in advanced manufacturing.
"The advantage of the CRC model is that it is dynamic – scientists can work in-step with industry and much closer to where their science will be applied, so that there is constant communication about what works and what doesn't," Prof Short says.
"Cell therapies offer exciting new possibilities for a range of previously incurable and difficult-to-treat medical conditions including Type 1 diabetes which affects more than 100,000 Australians. They will also provide a platform for healing life-threatening ischemic foot wounds and progress a new technology for organ transplants that could negate the need for immunosuppressive drugs."
"We aim to undertake the first "in man" trials for a new islet transplantation technology with a goal to eliminate the need for daily injections of insulin for Type 1 diabetes sufferers."
---
CRC funding for retinal camera development by Vision CRC
The Vision CRC will receive $5 million under the Australian Government's CRC Program to help revolutionise the delivery of eye care in remote environments by developing a world first, intelligent retinal camera.
The retinal camera will accurately and rapidly detect and eventually diagnose sight-threatening conditions such as diabetic retinopathy and glaucoma. The camera is being designed for ease of use in the most extreme environments so that it can be used by technical support staff and in the most remote and under-served locations, especially to close the gap in eye health in Australian Aboriginal communities
"The Vision CRC program has done what CRCs do best – bringing Australian and world leading scientists, technologists, engineers, social scientists and business people together to advance the social and economic benefit of Australia and the world," said Professor Holden, CEO of Vision CRC and Brien Holden Vision Institute.
The Vision CRC will develop the retinal camera with international partners in Australia, US, China, India and Africa.
---
CRC for Living with Autism Spectrum Disorders to be based at UQ
The CRC for Living with Autism Spectrum Disorders will receive $31 million from the CRC Program to enhance the lives of individuals with lifelong development disabilities arising from an autism spectrum disorder.
Autism Spectrum Disorder (ASD) is one of the most severe, prevalent and heritable of all neurodevelopmental disorders, and affects at least one in 100 children with estimated annual support costs to Australia potentially exceeding $7 billion. With an unexplained 25-fold increase in the number of diagnoses in the past 30 years, there are now more children with ASD than the combined number of children with cerebral palsy, diabetes, deafness, blindness and leukemia.
The University of Queensland will host the new CRC. UQ Deputy Vice-Chancellor (Research) Professor Max Lu said that the CRC was the first such national cooperative autism spectrum disorder research effort in the world. "The Centre's work is expected to benefit more than one million Australians, improving their quality of life, education and employment options," Professor Lu said.
The Centre's chief executive officer will be Professor Sylvia Rodger, of the UQ School of Health and Rehabilitation Sciences. The Centre will pursue three main aims to help people living with ASD:
ensure early diagnosis, coupled with targeted early intervention strategies
enable education in an appropriate environment by skilled professionals
provide the best chance to find a meaningful and fulfilling place in society through higher education, employment and better opportunities for long-term social relationships.
---
CRCSI advances sea level rise mapping and planning in Pacific Islands
A project to map the topography of Tonga, Vanuatu, Papua New Guinea and Samoa to plan for rising sea levels has begun. The project uses laser equipment to create a 3D map of the islands showing ground elevation, vegetation, canopy height and building placement.
Dr Nathan Quadros, Technical adviser with the CRC for Spatial Information said "We can use models of sea level rise to detect low-lying areas or areas that may be a risk on each one of these islands."
For populated coastal areas of low gradient elevation, such as Nuku'alofa in Tonga and the north coast of Papua New Guinea, sea-level rise is a major concern. The Australian aid-funded project will also train locals in how to plan for changes in sea level.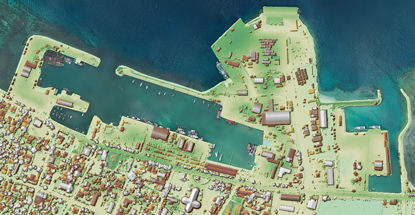 3D coloured topographic digital surface model (DSM) in Nuku'alofa, Tonga. Aerial imagery captured from the aircraft during the laser scanning is shown in the water areas.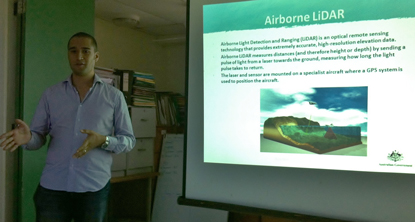 Dr Nathan Quadros giving a presentation on the laser scan data to the Tonga Joint National Action Plan (JNAP) Technical Committee.
---
DMTC talking defence technology on the ABC
Lightweight ceramic body armour and wearable batteries being developed by the Defence Materials Technology Corporation were among new defence technologies featured in an ABC TV report.