Super Seafood – what's in Australian seafood?
The Australian Seafood Cooperative Research Centre (Seafood CRC) recently released a major report providing a comprehensive nutritional analysis of the key 20 Australian seafood species that Australians love to eat. The research was undertaken by Dr David Padula at the South Australian Research and Development Institute (SARDI) based in Adelaide.
Seafood CRC Managing Director, Dr Len Stephens, said the research report filled an important gap in our knowledge of commercial Australian seafood species. "The Seafood CRC funded this work with the Fisheries Research and Development Corporation because there was a scarcity of reliable nutritional data for key Australian seafood species," he said.
The Super Seafood brochure and associated kit developed by the Seafood CRC can be used by businesses to develop key nutrient messages in their marketing, labelling and packaging .
Check out the Super Seafood superheroes in the Consumer Booklet.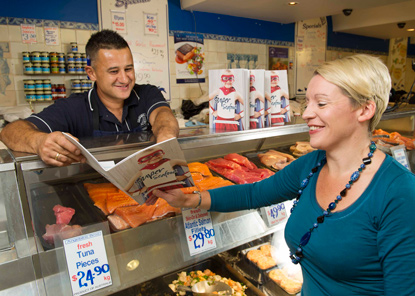 Dr Cath McLeod from the South Australian Research and Development Institute talks through the Super Seafood results with John Leonardis, Store Manager of Angelakis Bros.
---
CIEAM collaborates in information gateway for Delta Electricity
A new software application being piloted at Delta Electricity's Wallerawang Power Station will allow maintenance engineers to make faster, better decisions to reduce the frequency and duration of plant outages.

The Delta Electricity Information Gateway will be available on mobile devices and desktop computers, making Delta engineers significantly more productive. The project is a collaboration between the Cooperative Research Centre for Infrastructure and Engineering Asset Management (CIEAM), the University of South Australia, Queensland University of Technology and enterprise asset management software provider Mainpac. Delta Electricity is sponsoring the pilot, which commenced in March 2013.

"We anticipate that the reduced severity and duration of plant outages will allow us to improve electricity supply" said Steve Saladine, General Manager Production at Delta Electricity. "We will be able to increase worker safety by providing staff with relevant information in real time via their smart phones and tablets."

Read the full story

---
Thanks for the advice
The CRC Association would like to publically acknowledge its thanks to Rebecca Scouller, who served as Science Adviser to both Minister Chris Evans and Minister Chris Bowen in their tenure in the Science Portfolio. Rebecca facilitated exceptionally good levels of contact with the respective Minister's offices. We have truly appreciated her professionalism and depth of knowledge. In carrying out her role, Rebecca was very respectful of the Association's role, as well as that of the public service and the CRC Committee. She has taken forward the public good funding stream within the CRC Program and has been a real builder of constructive discussion.
Everyone acknowledges that Ministerial Adviser jobs are plain hard work and ridiculously busy. Despite her schedule, we have found Rebecca to have been a deep thinker about how the CRC Program can have the best possible outcomes for Australia. We wish her all the best on her return to the Department of Defence and would welcome the opportunity to work with this very talented lady in the future.
---
Using the Impact Tool - suggestions from RMDSTEM Limited
The Impact Tool is a challenge for CRCs, and requires substantial work before it can be filled out. CRCs need to identify value chains, develop a model for each project, collect industry data and other 'evidence', and make a number of assumptions. Project leaders and CRC managers should drive the process, as they will need to fully understand their models and assumptions and be able to argue validity. Three important things to know are:
Allow enough time to capture and estimate downstream costs (applications engineering & design, commercialisation, implementation) as these are often underestimated
Check the logic in the following areas:

how much of the total benefit is attributable to the R&D projects?
what benefits do you assume for a base line or BAU scenario? Is someone else likely to develop similar technology, and generate a benefit even without the CRC?
how much benefit can be claimed when two or more projects have overlapping impacts?

When you calculate benefit cost ratios, make sure you are clear about 'who benefits' and 'who pays', and think about whether this is reasonable.
John Thomson, RMDSTEM Limited.
More information about Technology Consulting and RMDSTEM
---
Switch attention to listen
Some children who have trouble learning in the classroom have difficulty switching their listening attention and so have trouble following a conversation from one talker to the next, according to a University of Sydney study published online in Nature Scientific Reports.
The PhD study led by Imran Dhamani and Johahn Leung was a collaboration between the University's Auditory Neuroscience Laboratory and Macquarie University's Audiology Section, funded by the HEARing Cooperative Research Centre. Imran was a CRCA Early Career Researcher finalist in 2012.
A deficit in the ability to switch attention across multiple talkers now provides the basis for this otherwise hidden listening disability, especially in noisy environments involving multiple talkers, such as classrooms.
Read the University of Sydney press release
Read the study
---
Free SPIN trial this month
InfoEd Global's SPIN offers 40,000+ opportunities from 11,000+ sponsors, providing a single solution for Researchers and Principal Investigators who desire to spend less time searching, but still yearn for ideally suited and perfectly matched funding opportunities. The system has an intuitive, easy-to-use web interface which utilises powerful data mining capabilities and time-saving features to provide fast and comprehensive search results.
In celebration of InfoEd Global's support of Collaborate | Innovate | 2013, a CRC member trial of SPIN is planned. Representation is sought from all CRC member sectors to use and evaluate SPIN during the month of April. Please register your interest in participating in the trial to Damian Davini – InfoEd Global Regional Manager Asia-Pacific.
About InfoEd Global
---