CRCA Annual Conference news
Special Offer! Entry into the wine tasting event for the first 50 delegates only! From the success of the wine tasting event this year in Adelaides, FAL Lawyers, a client-focused law firm specialising in research, innovation and associated sectors, will generously be hosting the wine tasting event again in 2013. Don't miss out on this great networking opportunity!
Tour of the Australian Synchrotron Collaborate Innovate 2013 will commence with a tour of Australia's largest national research facility, the Australian Synchrotron. This tour is available for registered delegates only and spaces are limited. For more information or to register, please visit the Conference website.

Collaborate Innovate 2013 is proudly sponsored by:
RMIT University; Phillips Ormonde Fitzpatrick; FAL Lawyers Russell Kennedy Pty Ltd; Centre for the Public Awareness of Science, ANU; Campus Travel; Australian Research Council; AutoCRC

Collaborate Innovate 2013 is proudly hosted by the Victorian Government.
---
CRC model aids manufacturing competitiveness
Australia is ranked 16th in the 2013 Global Manufacturing Competitiveness Index produced by Deloitte and the US Council on Competitiveness. The Index includes over 550 survey responses from CEOs around the world and outlines expected changes in global manufacturing centres over the next five years.
Australia is expected to fall to 17th place in the next five years. However, changes to the efficiency of Australia's innovation system and better utilising our highly skilled workforce could see improvement in Australia's manufacturing competitiveness ranking, according to Deloitte Manufacturing Partner, Damon Cantwell.
Australia needs to focus on greater complexity in product design and more involvement of IT in the design and manufacturing process. Australia also needs to improve connectivity between the research communities and manufacturing sector.

"The CRC process is really valuable where you have got companies who are looking for long term arrangements", Mr Cantwell said in an interview on ABC radio.

But more needs to be done, according to Mr Cantwell. The research community also needs to cater for manufacturers with specific discrete needs.
Listen to the ABC interview
Read the Deloitte report
---
CRC researchers awarded Victorian Fellowships
Two CRC researchers are among the winners of the 2012 Victoria Fellowships. The fellowships, awarded by the Victorian Government, provide each Fellow with $18,000 for international study missions.
Dr Colin Scholes, a Research Fellow at the Cooperative Research Centre for Greenhouse Gas Technologies (CO2CRC) at the University of Melbourne, has worked on developing membranes to separate carbon dioxide from other gases. His Victoria Fellowship will be used to access the latest in membrane contact technology to address many of the challenges that restrict carbon capture and storage.
Dr Everson Kandare, a Vice Chancellor's Research Fellow at RMIT University, has been working with the Cooperative Research Centre for Advanced Composite Structures to create advanced thermal building insulation materials with heat resistance. His Victorian Fellowship will be used to test fire retardant materials developed in Victoria in order to ensure better bushfire resistant structures in the future.
More information in the 2012 Victorian Fellowships
---
DMTC researcher wins von Karman award
DMTC's hypersonic and high temperature materials project leader, Dr Michael Smart was awarded the prestigious von Karman award for international aerospace cooperation in aeronautics at the recent International Council of Aeronautical Sciences (ICAS) conference in Brisbane. Dr Smart was a co-recipient of the reward with Dr Allan Paull (DSTO), Mr Doug Dolvin (US Air Force Research Laboratory) and Dr Kevin Bowcutt (Boeing Research and Technology, USA).
---
Movember winds up
While the end of November sees the CRCA office looking forward to the clean upper lip of the CEO, there have been good opportunities to highlight men's mental health issues.

In a regular segment on 666 Canberra ABC radio, Tony Peacock was joined by Michael Berk, Project leader with CRC for Mental Health and Professor of Psychiatry at Barwon Health and Jane Burns, CEO of the Young and Well CRC.

Michael talked about his work on biomarkers for depression and anxiety, and Jane talked about young men's mental health and wellbeing.

Listen to the interview and be glad it was not TV!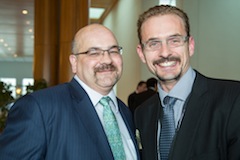 ---
Mutton added to Pork CRC Board
Dennis Mutton and Sandra Di Blasio were elected to the Board of Directors of the CRC for High Integrity Australian Pork at its 2012 annual general meeting in Melbourne.
The Pork CRC Board now comprises Dr John Keniry (Chairman), Kathryn Adams, Sandra Di Blasio, Rod Hamann, Professor Simon Maddocks, Dennis Mutton, Professor John Pluske, Kenton Shaw, Andrew Spencer, Chris Trengrove, Professor Robert van Barneveld and Dr Hugh Wirth.
Pork CRC Chairman, Dr John Keniry, welcomed Mr Mutton and Ms Di Blasio to the Board, saying he looked forward to them making substantial contributions to the CRC for High Integrity Australian Pork as it moved into its second year and began to have a very real impact.
"Although only early days, the Pork CRC is already making positive inroads into the areas of pig welfare, animal and human health and carbon management," he said.
Read the full press release
---
Looking to improving research output? Think training for postdocs.
Postdocs are vital for research institutes, driving ideas and output that underpin performance and cement their future. They are pivotal to staff culture and cohesion as well as supervision and mentoring of students and colleagues.
Optimising postdocs' productivity and equipping them with the skills to perform to their full potential is an obvious priority; yet until now there's been no ready-made training available to suit them. That has changed with the arrival of PostdocTraining, a cost-effective option for research centres keen to develop their postdocs but stuck for a solution.
Designed by a former postdoc, for postdocs, PostdocTraining is a complete online program developing essential skills such as planning, managing time, people and projects, improving productivity and attracting funding. It offers practical techniques, advice and tools custom-made to help postdocs get the best from themselves, deliver for their institutes and build their careers.
Centres can scale the program's reach and include remotely located staff who would otherwise miss out. The program also offers direct mentoring, provides a news service and caters for different learning timeframes and styles. Watch a video about Science Media Savvy.org
More information email Kerstin Fritsches or visit the website.
---
Research Director for CRC Mining
CRC Mining is seeking a Research Director to provide operational leadership and management to CRCMining's research activities and engagement with Centre Stakeholders. The Research Director will manage the Centre's operational research functions including financial, logistical and human resources; project management; and research communications. For a position description or more information, please contact Pip Thomson. Applications close 14 December 2012.