California Jazz Foundation's Annual Gala
Give the Band a Hand
6:00 p.m., April 25, 2015
The L.A. Hotel Downtown
(Soon to be known as the WH Grand)
333 South Figueroa Street
Los Angeles, CA

Honorees:
Corky Hale and Mike Stoller
"A Marriage Made In Heaven"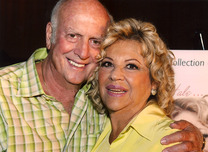 harpist for Tony Bennett)
and
Leiber & Stoller, composers of 'Stand By Me' and 'Kansas City')
have been happily married for 43 years.
CJF will honor them with the "Nica"
Lifetime Achievement Award for
their significant far-reaching philanthropic work
and astounding musical output.
Music tribute featuring
Others to be announced
Honorary Dinner Chairs
Tickets: $200 each
To purchase tickets or to become a sponsor,
or call (818) 261-0057

14156 Magnolia Blvd., Suite 200,
Sherman Oaks, CA 91423
Proceeds will support the California Jazz Foundation's
programs to assist California's jazz musicians
in financial or medical crisis.
On March 1, Jazz Del Corazon celebrated Women of the Los Angeles Jazz Scene, honoring our very own Edythe Bronston as well as Barbara Brighton, Merle Keibich, Catalina Popescu, and Cathy Segal-Garcia. Sheila E's new venue, the E Spot Lounge at Vitello's, was packed with friends and supporters, who were treated to music presented by talented L.A. women in jazz.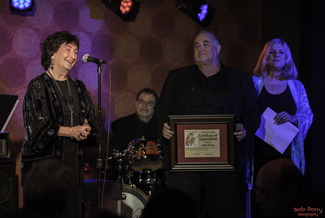 Jazz Del Corazon is a non-profit organization that presents concerts to benefit specific individuals in need. Clifford Bell and Jackie Gibson are co-producers of the events.
Five Board Members of the California Jazz Foundation celebrated CJF's ninth anniversary on the recent Jazz Cruise. In attendance were Edy Bronston, Founder and President, and Peggy Barber, Linda Knipe, Richard Ritz, and Dr. Richard A. Williams.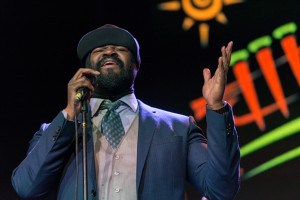 On Day 1, Joey DeFrancesco's set featured the "slow blues" and had the packed Ocean Bar/Birdland audience applauding and shouting after each solo. Joey plays organ in the best of the 12-bar blues style.
Day 2 featured the Gospel Hour hosted by Wycliffe Gordon, Niki Haris, and Byron Stripling. The set was the answer to the question: How do you turn 1,000 people of various or no religious persuasions into Baptists in less than 60 minutes? The "congregation" participated fully in the best gospel this side of Heaven.
Day 3 was highlighted by a special treat – the reunion of Monty Alexander, John Clayton, and Jeff Hamilton that rivaled their famous appearance at the 1976 Montreux Festival. At the end of the set Michael Lazaroff, Executive Director of Entertainment Cruise Productions, announced "After this set the cruise is over. We can't top this."
Days 4 through 7 were packed with exciting, memorable performances as well. The Cruise showcased 100 hours of live music by the world's best jazz musicians, with simultaneous presentations of small groups to big band and vocalists – something for every jazz lover to enjoy.
The Cruise was a fitting place to celebrate the good works and growth of CJF and to re-dedicate ourselves to our mission to give back to those who have given us so much pleasure, often with very little reward.
Entertainment Cruise Productions, producers of whole-ship charters The Jazz Cruise and The Signature Jazz Cruise on Seabourn, is a Big Band Sponsor of the April 25, 2015 CJF Gala. When making a reservation please say you are with the California Jazz Foundation so CJF will get credit for the booking. The Jazz Cruise can be found at
www.thejazzcruise.com
and The Signature Jazz Cruise on Seabourn at
w
ww.signaturejazzcruise.com.