WELCOME TO CJF's FALL 2012 ONLINE NEWSLETTER!

Message from the President
Dear Friends,
The California Jazz Foundation will soon be entering its eighth year, continuing to fulfill a critical need by assisting California's jazz musicians facing medical and/or financial emergencies. Our difficult economy has posed ever-increasing challenges for this community of artists. Many older musicians often have no social security and most are either uninsured or underinsured; some see no residuals from important work they did in their productive years. Younger musicians have difficulty sustaining their careers in jazz due to the closing of jazz venues and the way in which music is now marketed. We are pleased to report that we have assisted 112 musicians in need since our founding in January, 2006.
Please join us in supporting these talented artists who have given us so much pleasure over the years - often with so little reward. With your generosity, we will always be here... to help. Contact us at www.californiajazzfoundation.org to become a member and make a donation.
Thank you,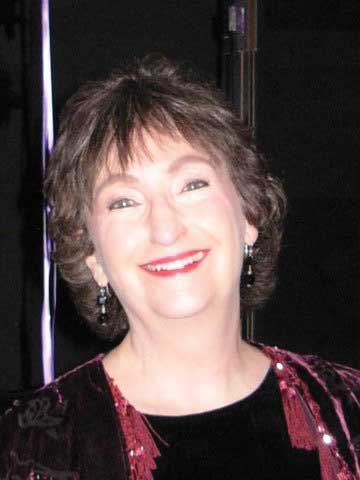 California Jazz Foundation Receives Award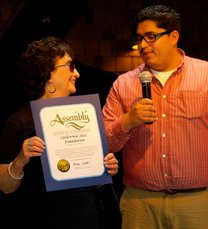 At our "GROOVIN' WITH THE STARS" event at Atwater Crossing on October 7, the Foundation was presented with a citation from Assemblyman Mike Gatto, representing the 43rd California Assembly District. The award, presented by Eric Menjivan, an aide to Assemblyman Gatto, honored the California Jazz Foundation for its contribution to California jazz musicians in crisis. Edythe Bronston, founder and president, accepted the citation on behalf of CJF.
---
California Jazz Foundation Assists 112 Musicians
As of October 25, 2012, the California Jazz Foundation has helped 112 musicians in need. This assistance has taken many forms, including payment of rent, utilities, medical bills, relocation, groceries, negotiation of medical bills, referral to our extensive medical referral network, transportation to physical therapy, counseling....and virtually anything that our applicants need. Applications and assistance are completely confidential. If you know of a California jazz musician who needs help, please refer her or him to us. Applications can be obtained by calling our Help Line: (818) 400-3263. Our social worker will assist with completion of the application.
---
Impact of the New Health Reform Law on You
Richard Allen Williams, M.D., F.A.C.C.
Professor of Medicine
UCLA School of Medicine
President/CEO
The Minority Health Institute, Inc.
Los Angeles, California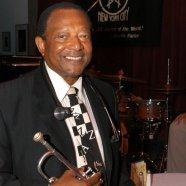 On March 23, 2010, President Barack Obama signed H.R. 3590, the healthcare reform bill, into law and created the Patient Protection and Affordable Care Act (PPACA). The purpose of this article is to help the public understand various provisions of the new law regarding its benefits and its limitations. This comprehensive overview is a public service provided by the Minority Health Institute and is not intended to cover every single detail. More specific details may be obtained from the sources cited below. Here are the main provisions:
It i

s now mandatory for you to have health insurance. If you are not covered, you will be penalized. Penalties will not begin for a few more years. This is the Individual Mandate, and it applies to every man, woman and child who is a citizen of the United States regardless of race, ethnicity, gender, or disability status.

You can choose your own private insurance company and plan. This includes keeping what you already have, if you choose to. There is no "Public Option."

Subsidies will be available for those who cannot afford to pay for coverage on their own. A high-risk pool is being organized by the Department of Health and Human Services (DHHS) for such individuals and is promised to be up and running within 90 days.

Your Medicare coverage will not be decreased. In fact, certain benefits will be increased, such as closure (by 2020) of the "doughnut hole" which requires increased payment for prescription drugs after a certain deductible is reached. For example, right now seniors pay 25% of drug costs up to $2,830. After that level has been reached, seniors pay 100% of the costs (this is the "doughnut hole"), until they reach $4,550 (the catastrophic cap), when the payments of drug costs are decreased to 5%. The new law will completely eliminate this costly gap. Prescription drug coverage and preventive benefits will be increased. The financial burden on Medicare beneficiaries will be decreased by slowing the rate of Medicare spending. Waste and fraud in the system are targeted for elimination, which is expected to save billions. A rebate plan is being set up for Medicare beneficiaries who pay too much for their drugs.

Preventive care procedures will be free with no cost-sharing involved. This includes vaccinations for flu and other disorders, screenings for high blood pressure, etc. So far, mammograms and screenings for cervical cancer are not included in these free services.

Low-income persons may enroll into Medicaid, and eligibility will now be determined based on income rather than demographic status. An individual who makes less than $14,404 or a family of four with income less than $29,327 (upper limits of the Federal Poverty Level, or FPL) would qualify for Medicaid by 2014.

You cannot be refused insurance coverage by any company due to pre-existing conditions.

The lifetime cap on insurance payments is eliminated, so you will no longer be threatened with the possibility of bankruptcy due to high medical bills.

You cannot be dropped retroactively by any insurance company due to frequent need for care or high costs (rescission). Medical underwriting for out-of-program care will be limited. Insurance companies will be strongly regulated and will not be able to raise your premiums arbitrarily. (Recall the recent situation with Wellpoint, the nation's largest insurer with 33 million lives, which threatened a 39% increase in rates to its clients in California.)

If you are an employer and your company has fifty or more employees, you must offer them an insurance benefits plan. Coverage will be on a cost-sharing basis. Employers will receive tax credits for enrolling employees in their plans. If you are an employee and your company does not pay at least 60% of the cost or if the cost exceeds 9.5% of your income, you are eligible to apply for a government subsidy.

Health insurance exchanges will be established by 2014, which will allow small businesses and individuals without employer coverage to afford better coverage. This is especially important for individuals who exceed the Federal Poverty Level.

Children may remain on their parents' coverage up to the age of 26 years. This is not limited to children in college.

It is estimated that the Patient Protection and Affordable Care Act signed into law by President Barack Obama on March 23, 2010 will save thousands of lives by broadening access to medical care.

The health reform program is expected to cost $940 billion over the next decade and to decrease the Federal deficit during the next twenty years by more than $1Trillion, according to estimates from the non-partisan Congressional Budget Office (CBO). It is also estimated that it will save about $100 billion in the next 10 years. This is a bargain of major proportions.

The major provisions of the law will not go into effect until 2014, when the mandates, penalties, subsidies, etc. will be fully exercised. However, more than 150 new policies have already gone into effect with the signing of the Act into law. This includes most of the regulations on insurance companies mentioned above.

More information on healthcare reform can be obtained online at www.healthreform.gov, www.whitehouse.gov, www.aarp.org, and www.kff.com. Dr. Williams can also be contacted through the Minority Health Institute at mhinst@aol.com.
---
Thanks to the Herb Alpert Foundation
Our heartfelt thanks to The Herb Alpert Foundation for its continuing support and generosity. For several years, they have provided CJF with a much-appreciated grant to help us in our mandate to assist jazz musicians. In addition to their initial gift this year, the Foundation offered to match any new funding we receive until December 6, 2012 - dollar for-dollar up to $5,000. We are delighted to report we have met that goal, and we continue to receive donations and new membership fees.

The California Jazz Foundation has received recognition from the jazz community for the work we are doing on behalf of our musicians. The Herb Alpert Foundation's acknowledgment of that work gives it an added, immeasurable value.

Again: THANK YOU to the Herb Alpert Foundation
---
Meet Our Social Worker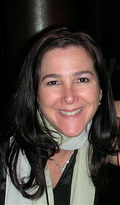 The California Jazz Foundation is indeed fortunate to have Wendy Garfinkel as our social worker, spearheading our assistance program virtually since our beginning in January, 2006. Wendy consistently garners accolades from our applicants for her warmth and caring in shepherding them through the sometimes arduous process, from the application through approval by the California Jazz Foundation's Review Committee, and following up once assistance has been approved.

Wendy graduated from Columbia University in 1993 with a Masters degree in Social Work. Shortly after graduation she joined and remains at the Society of Singers as their social worker and also serves as social worker for the Motion Picture & Television Fund. Since 1994, Wendy has been the Coordinator of the Entertainment Assistance Cooperative ("EAC"), an alliance of southern California entertainment charities of which the CJF is a member. This affiliation enables us to coordinate applicants' needs with appropriate assistance organizations and to preclude the need for an applicant to make duplicate applications. Wendy is married to Asher and has two children, ages 8 and 11.
---
How to Remove Unflattering Bootleg Videos of Your Performance from YouTube
By Rachel Stilwell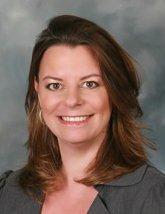 If you're a musician who performs live in clubs at least a few times per year, odds are you have discovered videos of you playing your instrument on YouTube, whether or not you gave anyone permission to record your performance. On any given Saturday night in most clubs, there are at least a few audience members using mobile phones to record videos of live musical performances. Most such audience members do not get the permission of the performers before recording. Some even upload such videos to YouTube within a day or two of the gig - unbeknownst to the recorded performers.
YouTube can be a great promotional tool for musicians who want to show their performances to a wider public than can fit in a single live venue. But often, videos taken without permission at clubs are poorly filmed with lousy sound quality and bad editing. To the extent that performers are credited at all on YouTube listings, names are often misspelled. Such videos hardly represent musicians the way they would like to be presented on the Internet. Some musicians see unauthorized "bootleg" live video recordings as unwanted competition for live recordings that the musician himself/herself is producing at significant expense. But what's a musician to do?
If you own some portion of the song being surreptitiously recorded, your copyright in that song is being infringed when it is recorded without your permission. Under such circumstances, you can demand that YouTube must take down the offending video immediately, or risk significant financial liability for copyright infringement. Under such circumstances, YouTube usually is quick to remove the allegedly infringing material.
The YouTube form you can use to make a complaint of copyright infringement can be found here: http://www.youtube.com/t/dmca_policy. You could also threaten to sue the person who recorded and/or distributed the video without your consent, but such litigation can be both extremely expensive and risky. Moreover, most musicians don't want to alienate their loyal fans with threats; they just want to remove unflattering videos of themselves from the Internet. So most musicians stop their efforts after sending a form complaint to YouTube.
However, if someone takes a video of you without your permission, you don't own the copyright in the video or in the sound recording that you hear when watching the video. So if you don't own any portion of the musical composition being played in the recording, you don't have a viable copyright infringement claim and you won't be able to get YouTube to take the video down on that basis. If your objection to the video on YouTube is the fact that a recording of your performance is being distributed without your permission, the nature of the violation of your rights is called "bootlegging" rather than copyright infringement.
18 U.S.C. Section 2319(a) makes bootlegging a criminal offense. Under this statute, one who knowingly, and for commercial purposes, "fixes" the sounds or images of a live musical performance, without the performers' consent, may be imprisoned for up to five years. A live performance is an "unfixed" performance but the act of recording the performance is an act that "fixes" that performance. Section 2319A also authorizes five years imprisonment for anyone who, for commercial purposes and without the performers\u2019 consent, transmits or distributes such recordings.
17 U.S.C. Section 1101(a) imposes civil penalties for the unauthorized recording of live performances or the transmission or distribution of such recordings. Unlike the criminal statute, this civil statute requires neither that the bootlegger "knowingly" made the unauthorized recording nor that the bootlegger acts for commercial advantage or financial gain. The civil statute provides that anyone who engages in the prohibited acts is subject to injunction, impounding of bootlegged materials, money damages, costs and attorney fees, "to the same extent as an infringer of copyright."
YouTube doesn't have a "Bootlegging Complaint" form similar to its copyright infringement complaint form. But YouTube does have a general "Non-copyright Legal Complaint" form that can be found here: http://support.google.com/youtube/bin/request.py?contact_type=otherlegal.
If you want to get a video of yourself removed on the basis that your performance was recorded and/or distributed without your permission, use this YouTube form. In the section of the form that asks you to cite the specific law being violated, provide links to the federal criminal anti-bootlegging statute here: http://www.law.cornell.edu/uscode/text/18/2319A and also to the civil federal anti-bootlegging statute, here: http://www.law.cornell.edu/uscode/text/17/1101. When the form asks you to describe what rights of yours have been violated, state that the video is of your live musical performance and that it was taken and distributed publicly without your permission. Such complaints are generally addressed by YouTube within a few days, usually resulting in the removal of the offending bootleg video.
If you find that bootleg videos of your performances are being distributed on the Internet through a channel other than YouTube, send the company a letter by email stating that your complaint is based in the federal anti-bootlegging laws cited above, and demand that they remove the offending videos promptly.
Rachel Stilwell is a music industry Attorney with Gladstone Michel Weisberg Willner & Sloane, ALC
---
Breaking Bread with Dr. B.
By Jeffrey Winston

Dr. Bobby Rodriquez and I were the grateful dinner guests of drummer, attorney and fellow CJF board member, Paul Cohen. We sipped vintage wine and chatted over sumptuous lobster at a popular Santa Monica eatery. It was a tough job, but somebody had to do it.
Impeccably dressed in a brown blazer, a dapper Dr. B candidly discussed his humble beginnings, purposeful career and insightful philosophy --- all in the key of life.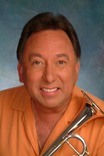 Since the dwindling club scene has been severely ravaged by the recession, for many artists the gigs are rare and almost extinct. Fortunately, a few aficionados are hosting intimate salons in their homes. Undaunted, the professor remains grounded, while also lauding the university setting as a savior to jazz. Bobby explains, "We're teaching what was, not what is." He adds, "It's always been about intelligence but the music touches me in my soul, down to the bone."
"The piano is absolute in understanding harmony, theory and chord progressions", says Dr. Rodriquez. Bobby's early trumpet teachers include Don Furrara and Uan Rasey. Quincy Jones, another mentor, advised Bobby, "You have to change with the times or the times will change without you."
Whether he's sizzling on stage or in the studio, Dr. Bobby Rodriguez, one of East L.A.'s celebrated native sons, warmly embraces his roots. With grace and humility, the charismatic trumpeter, bandleader, clinician, composer, arranger and educator actively reaches out to the youth he inspires. His unwavering message is clear. "I found my ticket out of the barrio," declares Rodriquez. From Whittier Blvd. to Westwood, his journey was arduous. With guidance, discipline and sheer determination, he firmly believes that they too, can achieve lofty heights. Bobby says, "Kids need acceptance, help and a kind word. Children need to feel like they are important".
A Grammy-nominated artist, Dr. Rodriguez has continued to raise the bar by nurturing and giving back. Bobby's students are enriched by the wisdom he imparts, drawing from his vast experience. Whether it's Salsa, Latin, Funk, Jazz or Blues, Bobby embodies boss brass. Regardless of the genre, he's a class act.
Dr. Rodriguez has performed and recorded with some of the best in the business, including Willie Bobo, Quincy Jones, Tito Puente, Ray Charles, Don Ellis, Arturo Sandoval, Diana Krall, Gerald Wilson, Herbie Hancock, Louie Bellson, Lalo Schifrin, Wynton Marsalis, Buddy Collette, Poncho Sanchez and The Clayton-Hamilton Orchestra.
Bobby's robust dossier includes creative encounters with Earth, Wind & Fire, Tina Turner, Chaka Khan, The Brothers Johnson, Christina Aguilara and The Emotions. For four years, Bobby toured the globe on the "Love Boat" while performing at sea.
During a stellar career, Dr. Rodriguez has garnered critical acclaim. He was named Los Angeles New Times Salsa/Tropical Artist of the Year, KLON's Best New Latin Jazz Artist and Jazz Educator of the Year. In addition, Bobby received Drew University's coveted Lifetime Achievement Award. Rodriguez has earned one Gold and three Platinum Records for his professional excellence. Trumpet Talk features Kenny Burrell, Alex Acuna and John Clayton. While producing his own recordings, Bobby has shepherded the releases of several prominent artists.
Away from the spotlight, Bobby is a devoted family man. He has a loving wife, son, daughter and one grandchild. He frequently hosts festive pool parties for his friends and extended family.
Active membership on the Board of Governors of the National Academy of Recording Arts & Sciences (NARAS) and board involvement with the California Institute for the Preservation of Jazz are among Bobby\u2019s countless contributions to the community. Dr. Rodriguez is also affiliated with L.A. City Cultural Affairs Department\u2019s Jazz Mentorship Program and Buddy Collette's Jazz America. He is the Latin Jazz Director at UCLA, President of the Hispanic Musician's Association, Inc. and proudly serves on the California Jazz Foundation's Advisory Board.
Not one to rest on his laurels, Dr. Rodriquez has removed his mortarboard and donned yet another hat, thoroughly immersing himself in his next project. As if that weren't enough, Bobby teaches at four different schools each week. Whoever said, "If you want something done, ask somebody who's busy," must have been referring to Bobby.
Jeffrey Winston is a critic, journalist, producer, jazz historian and CJF board member.
---
CJF and Atwater Village Neighborhood Council Present
"Groovin' with the Stars"
Our October 7 event at Atwater Crossing (ATX) introduced CJF to many new friends and was an afternoon of truly great music. Music Director Greg Poree, a superb guitarist, and the eight other musicians provided two sets of fine jazz on a beautiful fall afternoon in a comfortable family setting.
Poree and several of the musicians are in the rhythm section of the "Dancing With the Stars" Orchestra. They and the other talented musicians donated their time and their performances for the benefit of CJF and its mission of helping jazz musicians in crisis.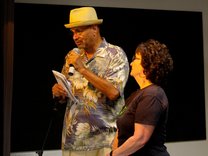 Jeffrey Winston, CJF board member and secretary, acted as MC, introducing each of the musicians as well as Edy Bronston, founder and president. Before the first set, Edy spoke briefly, telling the audience we had helped 110 musicians since CJF was founded in 2006, with such necessities as rent, utilities, counseling, medical bills......and just about anything else that is needed.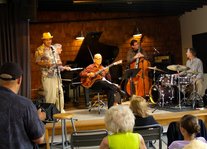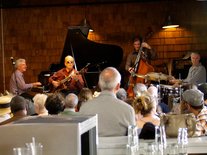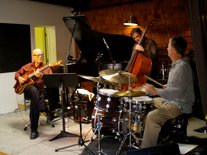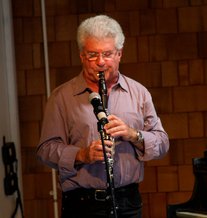 The superb musicians who played on the first set were Tom Ranier on piano and woodwinds, Ron Eschete on guitar, Trey Henry on bass, and Kendall Kay on drums. Each performer is at the top of his field and they started the afternoon with marvelous straight ahead jazz.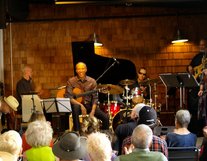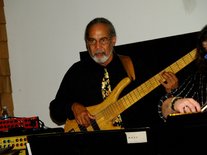 Following the citation presentation and the break, the second set was ready. Led by Greg Poree on guitar, the quintet comprised Rich Eames on piano, Paul Cartwright on violin, Keith Jones on bass, and Joey Heredia on drums. The performers were as talented as those in the first set, and the audience stayed to enjoy every note.
The concert was presented by the California Jazz Foundation with the support of Atwater Village Neighborhood Council and other sponsors:
No Roses Gallery

RLG Properties

Catalina Jazz Club

Hugo's Tacos

Link n' Hops

Ritz Properties
Many others contributed to the day's success, including:
Jerry Hoffman, Atwater Village Neighborhood Council Board Member, Realtor, and CJF friend, who brought this opportunity to CJF and helped in a myriad of ways

Dennis Beck, of Dennis Beck & Son Piano, who tuned the piano gratis

Danny Dam, Manager, and Viet Tran, Kitchen Manager at ATX

Rodney Van Johnson, of PhotoHardCard

Linda Knipe, who designed the programs

Numerous volunteers who gave their time, talent, and energy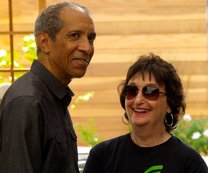 The California Jazz Foundation thanks all the musicians and everyone who helped us provide a remarkable afternoon of amazing music for our members and for those who love jazz. The proceeds from the event help us to continue assisting our musicians.
---
California Jazz Foundation to Honor Catalina Popescu
We are very pleased to announce that the California Jazz Foundation will honor Catalina Popescu at a gala to be held at her eponymous club on Sunday, April 21, 2013. Please save the date and join us in celebrating Catalina's vision and success in creating the longest-running jazz club in Los Angeles. Tickets will be offered through the California Jazz Foundation website beginning February 1, 2013.
---
The California Jazz Foundation is a nonprofit organization created to aid and assist California jazz musicians in crisis. We are committed to providing access to quality social and economic services for all eligible applicants. We do so through a team of caring, knowledgeable professionals in collaboration with community partners.
BOARD OF DIRECTORS
Peggy Barber
Martin Berg
Edythe L. Bronston, Esq.
Paul F. Cohen, Esq.
Joseph Kahn, M.D.
Hon. Arnold Levin (Ret.)
Dominic LoBuglio, CPA
Stephen Maitland-Lewis
Greg Poree
Richard Ritz
Phil Seymour
Richard A. Williams, M.D.
Mary I. Wilson
Jeffrey A. Winston
ADVISORY BOARD
Barbara J. Brighton
Kenny Burrell
John Clayton
Buddy Collette *
Myrna Daniels
Kenny Dennis
Hal Espinosa
David M. Frisch, M.D.
Terry Gibbs
E. J. Gold
Charley Harrison
Peter Himmelman
Hanne Johnson
George Kahn
Mike Melvoin*
Paul (Gainsborough) Norman
Mike Peak
Catalina Popescu
Dr. Bobby Rodriguez
Kirk Silsbee
Vince Trombetta
April Williams

* In Memoriam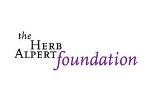 Benefactor

Media Sponsor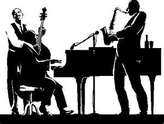 Did you know?
According to a 2003 study of the jazz industry in 4 metropolitan areas, by the Research Center for Arts and Culture in cooperation with the National Endowment for the Arts, almost 66% of San Francisco jazz musicians earned less than $7,000 per year. Our difficult economy continues to pose ever increasing challenges for jazz artists in all communities. Older musicians often have no social security (and thus, no free Medicare) and are either uninsured or underinsured; some see no residuals from important work they did in their productive years. Younger musicians have difficulty sustaining careers in jazz due to the closing of venues and the way in which music is now marketed. As a whole, this population lives on the "edge" with little or no social services available to them.

As a charitable nonprofit organization, the California Jazz Foundation relies on membership and support not only from jazz lovers but all those who value the arts! Your membership and/or donation is fully tax-deductible.
Visit us on:


to learn more about CJF and to watch some great jazz videos on our "favorites" list!
OTHER WAYS YOU CAN HELP:
Follow the Ralphs link below -- it will take you to CJF's webpage explaining how you can register your Ralphs reward card with the Ralphs Community Program so that every time you shop, CJF gets rewards too!!

How often do we all make online purchases? Click the link below and you will see how to register so that every time you shop online, by making your purchases through Goodshop.com, CJF can earn a percentage from each and every purchase!!