WELCOME TO CJF's ONLINE NEWSLETTER!

In this Edition
Message from the President
The Doctor's Corner – Atrial Fibrillation
CJF Hangs with Cuban Legend (Not the Bearded One)
Corky Hale & Mike Stoller Honored by Southern Poverty Law Center
Dr. Richard Allen Williams Honored at United Nations Headquarters
Stephen Maitland-Lewis and Louis Armstrong's Friendship
Let's Give the Band a Hand – CJF 2013 Gala a Rousing Success
Catalina Popescu – The Force Behind Catalina's Jazz Club
Dear Friends,
I am so pleased to report that the California Jazz Foundation continues its important work, fulfilling a critical need by assisting California's jazz musicians facing medical and/or financial emergencies. As you know, this community of artists faces ever-increasing challenges. Many older musicians have no social security and most are either uninsured or underinsured; some see no residuals from important work they did in their productive years. Younger musicians have difficulty sustaining their careers in jazz due to the closing of jazz venues and the way in which music is now marketed. As of this writing, we have assisted 130 musicians with various needs and continue our work in many ways, financial and otherwise.
Please join us in supporting these talented artists who have given us so much pleasure over the years—often with so little reward. With your generosity, we will continue to be true to our motto and always be here… to help. Contact us at
www.californiajazzfoundation.org
to become a member and to make a donation.


Edythe L. Bronston,
President and Founder

---
The Doctor's Corner - Atrial Fibrillation
The incidence of atrial fibrillation (A FIB) increases with age and as the population is becoming older the prevalence of A FIB is increasing, making it the most common cardiac dysrhythmia (abnormal rhythm).A fib is frequently due to cardiovascular disease, abnormal heart valves, hypertensive heart disease, hyperthyroidism, enlargement of the atria, or other factors that may impair the function of the sinus node, which initiates the heartbeat in a normal heart. A fib is characterized by an irregular heartbeat, frequently accompanied by a rapid rate. In A fib blood clots can form in one of the atria and a particle known as an embolus can break off and be carried by the blood stream to any organ in the body where it can block a small artery, cutting off the blood supply to a portion of the involved organ. If this occurs in an artery to the brain, as it does frequently, it results in a stroke, often with paralysis or death. If it occurs in arteries to the kidneys, GI tract, or extremities it may result in damage of varying degrees to those organs. A fib with a rapid heart rate can cause heart failure, with severe disability or death. A fib is a common, dangerous condition.
Treatment consists of medication to slow the rapid rate, conversion to a normal rhythm by use of medication or electric shock (although the A fib often recurs), and the use of anticoagulants (Coumadin in particular) to prevent clotting of the blood so that a clot is less likely to form in the heart. The use of Coumadin is difficult as too small a dose will not prevent clot formation and too large a dose can cause dangerous, sometimes fatal, bleeding. In the past 2-3 years, new oral anticoagulants have been approved for use in the U.S. They are more effective, safer, and easier to use than Coumadin. They work faster, are not affected as much by food or other medications, and therefore do not require a blood test every month to monitor the coagulability of the blood and make appropriate dosage changes. The three new anticoagulants approved in the U.S. are Dabigatran, Apixaban, and Rivaroxaban. They are more expensive than Coumadin.
Everyone with A fib should be on an anticoagulant unless there is some reason to contraindicate its use.
Joseph Kahn, MD

---
CJF Hangs with Cuban Legend (Not the Bearded One)
In February, three members of the CJF Board and a member of the Advisory Board, along with ten friends, visited Cuba. Peggy Barber, Paul Cohen, Linda Knipe, and Richard Ritz spent a week in Havana. It was their first, but not last, trip to the island.
The highlight was meeting Bobby Carcasses, the 2012 Cuban music artist of the year. Bobby & his son Roberto, a pianist/bandleader, met with us for over an hour at the Hotel Nacional for candid Q & A. The next day we were invited to Roberto's home to hear Bobby sing with his son's quintet. Paul & Rich sat in on drums and congas and had an opportunity to do a video interview with Bobby.
Click here to watch the interview
Bobby began his career as an opera singer, then moved to piano and trumpet and into jazz. In his youth he played with the Cuban jazz greats, developing his chops in the genre. Others left the island over the years, but Bobby chose to remain so he could nurture jazz in his homeland. In addition to his performance career, Bobby is a significant composer and teacher, an accomplished artist, and a creator of the Havana Jazz Festival. According to Bobby, "The musician who improvises is the first to be surprised."
Special opportunities during the trip were arranged by Master
Guide/Agent Joe Rosenberg, and are too numerous to describe in this article. Obispo St. is not to be missed, with one very good band after another in every bar and restaurant. The State-sponsored children's theater is high on the list. The level of musicianship throughout the trip was impressive, as were the quality and quantity of all the performing and visual arts.
---
Corky Hale & Mike Stoller Honored by Southern Poverty Law Center

On April 27, 2013, in Montgomery, Alabama, Corky Hale and Mike Stoller were honored by the Southern Poverty Law Center (SPLCC) for their unwavering commitment to justice and equality and to the civil rights movement.

The Mike Stoller and Corky Hale Stoller Civil Rights Memorial Theater was dedicated in downtown Montgomery in a ceremony spearheaded by SPLC's co-founder, Morris Dees, and attended by Julian Bond, Chairman Emeritus of the NAACP, and House Minority Leader Nancy Pelosi. Dr. Bond told the story of the civil rights movement and the extraordinary role of music in influencing and shaping musical history and breaking down racial barriers.

Legendary Grammy award-winning songwriter Mike Stoller and his wife, acclaimed musician Corky Hale Stoller, have dedicated their lives to helping those who have few champions, and in the process have had a large hand in transforming American culture. The Stollers' names are inscribed on the theater and their legacy will be intertwined with the names of those who gave their lives in the cause of freedom. Representative Pelosi read a speech into the Congressional Record on May 8, 2013.

Mike Stoller created such rock hits as "Hound Dog," Stand By Me," "Jailhouse Rock," Yakety Yak," and the hit Broadway show "Smokey Joe's Cafe" with his songwriting partner, the late Jerry Leiber. The Leiber and Stoller song catalog became the soundtrack of the 1950s and early 1960s, paving the way for their induction into theRock & Roll Hall of Fame in 1987 as well as the Songwriters Hall of Fame in 1985.

Corky Hale Stoller, a pianist, singer and jazz harpist, is an accomplished session musician who has performed with Barbra Streisand, Tony Bennett, Elton John, Frank Sinatra, and Billie Holiday among many other notables.

Corky and Mike are supporters and former Advisory Board members of the California Jazz Foundation and we are very proud of their accomplishments and revel in their recognition.
Edythe L. Bronston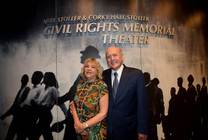 Corky Hale & Mike Stoller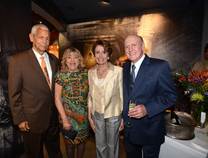 Julian Bond, Corky Hale, Nancy Pelosi, and Mike Stoller
---
Dr. Richard Allen Williams Honored at United Nations Headquarters
Dr. Richard Allen Williams, a Director of the California Jazz Foundation, was honored by the National Council of Women of the United States (NCW/US) on April 19, 2013 at United Nations headquarters in New York. Dr. Williams, Clinical Professor of Medicine and Cardiology at the UCLA School of Medicine, founder of the Association of Black Cardiologists, and President and CEO of the Minority Health Institute, was presented with the International Distinguished Humanitarian Leaders Award for his humanitarian efforts, service, and leadership in women's health. He was commended for his teaching and service to physicians in underdeveloped countries.
Mary Singletary, President of NCW/US, stated: "We believe his efforts will contribute to improvement and better health services for women and girls in the respective countries where Dr. Williams has visited. These services meet the focus and mission of the United Nations as it applies to the UN's Millennium Development Goals for 2015, and the National Council of Women as it applies to women and girls' health and education, empowerment, and human rights."
Dr. Williams, a Fellow of the American College of Cardiology, was recently recognized as a Local Hero by KCET for his lifelong devotion to the elimination of healthcare disparities. He is also an accomplished jazz trumpeter, playing locally and around the world with world class musicians and with his band, RAW Sugar. In his spare time, Dr. Williams has authored eight books and treatises on minority health care. We are very proud to have Dr. Williams on the California Jazz Foundation's Board of Directors.
– Edythe L. Bronston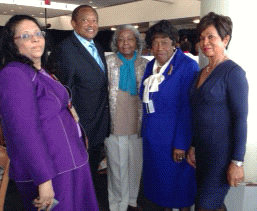 Dr. Williams with his family and
members of the NCW/US
---
Stephen Maitland-Lewis and Louis Armstrong's Friendship
California Jazz Foundation board member Stephen Maitland-Lewis is a dapper Brit, quick with a quip, who's pursued a wildly varied career path. He's been a lawyer, investment banker, journalist, publicist and writer of novels of international intrigue. One constant has followed him from London through Europe to New York to Palm Springs and Los Angeles and deep into the heart of New Orleans: a deep and abiding passion for the music of Louis Armstrong.
Though he shares that passion with millions of others around the world, Maitland-Lewis' ardor took a more personal path than most others. Growing up in London in a musical house, there was always music. "Seventy percent of the time it was jazz," Maitland-Lewis recalled. "Dad as a young medical student played drums. He liked to listen to Fats Waller. Mom played stride piano. She liked Cab Calloway and Duke Ellington. Everybody loved Louie." It may be difficult for those not immersed in the music to imagine the explosive impact Louis Armstrong had for those who had their ears on in the early years. Armstrong's early innovations have now become so commonplace it's easy to miss them if you're not really listening - how he inflected jazz with a blue feeling, bringing the American blues, in all its exuberance, defiance and wit, center stage in jazz and popular culture around the world.
For young Maitland-Lewis growing up in London there was only Pops. "My problem as a kid growing up so latched onto Louis Armstrong was that I thought listening to other musicians would be an act of great infidelity." So Maitland-Lewis sat down and wrote what he said was a typical childish fan letter telling his musical hero how wonderful he thought he was. Four weeks later he got a four-page handwritten letter from Louie, explaining that he'd been on a European tour and expressing the hope that he could meet his young British fan. Maitland-Lewis responded appreciatively. "I was over the moon." So began a correspondence that lasted the rest of Louis Armstrong's life - and blossomed into a friendship when young Maitland-Lewis convinced his jazz-loving parents they should allow him to tag along after Armstrong's tour through England.
In 1958, when Maitland-Lewis was 13, he went to the Mayfair Hotel to see Armstrong, who got quite a kick out of this young Englishman who was so enamored with his music. "For most kids, it was Bill Haley and Elvis, then the Beatles," Maitland-Lewis said. "In a way I missed out on childhood because I was so into Louie." Instead of a traditional childhood, Maitland-Lewis got a lifelong friendship with Louis Armstrong. That came with backstage passes so he met the jazz royalty of the day – Jack Teagarden, Earl Hines, Cozy Cole, Max Kaminsky, Peanuts Hucko and Dizzy Gillespie, to name just a few. But mostly he was hanging out with Armstrong. "We would talk about music, what I was listening to, what I liked about this one or that one," Maitland-Lewis recalled. "Later, he asked about work. We talked music and travel. He was very, very warm and you felt there nothing that he wasn't interested in. He had a way of making every person feel that they were important."
Louis and his wife Lucile lived in a house in Queens, New York. Armstrong died in 1971. When Lucile died in 1983, the house and its contents turned into the Louis Armstrong House Museum, under the auspices of Queens College. Among the contents were countless boxes of correspondence and tape recordings Armstrong made every day, talking about his life. When Maitland-Lewis visited the house after Armstrong's death, an archivist handed him a box. It was filled with the letters Maitland-Lewis had written over the decades, which his friend had kept. "I just burst into tears immediately," Maitland-Lewis said."It was very emotional."
Their friendship continues. Since 2009, Maitland-Lewis has served on the board of trustees of the Louis Armstrong Museum in Queens, New York. Recently, Maitland-Lewis and his wife Joni Berry, the long-time chair of the Society of Professional Dancers and a West Coast director of the Actors' Fund, bought an apartment in New Orleans. He expects that he and his old friend will be spending more time together.
Martin Berg
---
Let's Give the Band a Hand - CJF 2013 Gala a Rousing Success
The California Jazz Foundation's annual gala was a night the lucky fans in attendance won't soon forget. From the touching tributes to Los Angeles jazz stalwart Catalina Popescu to the soaring performance of trumpeter Arturo Sandoval and his big band, April 21st, was an evening filled with great heart, great sounds and great fun.
The nonprofit CJF has been helping musicians in need, whether financial, medical or counseling, since its inception in 2006. The fans who packed Catalina's in Hollywood not only helped to "Give the Band a Hand" (the evening's theme), they were lavished with great food and outstanding musical performances.
Cocktail hour entertainment was provided by the Keith Jones Trio, which offered a tasty appetizer for the evening. Fans bid on silent auction items or enjoyed the handiwork of two cigar-rollers while a Patron Tequila photo booth took black and white photos of guests.
The Next Route, a top-notch group of young musicians from the Los Angeles High School of the Arts, whose set was a great reminder to anyone who has doubts that the future of jazz is in terrific, very hip, hands, opened the event.
Guiding the evening's festivities was KABC 790 radio talk show host and jazz aficionado, Doug McIntyre. A delicious dinner with wine was served by Catalina's stellar wait staff. CJF's president, Edy Bronston, offered some remarks about the assistance CJF offers for musicians.
Catalina Popescu was honored by the CJF for her service and hospitality to the jazz community for more than 25 years. She was introduced by Barbara Brighton, who heads the Young Jazz Artist series which has been in place at Catalina's for many years. Catalina thanked the CJF and the audience for many years of support the jazz community has given to her club. She also paid tribute to her late husband, Bob, who helped launch Catalina's Jazz Club. A live auction was held by professional auctioneer Mark Shustrin. He enticed the fans to step up and bid on a great collection of prizes, including tickets for a trip on Turkish Airlines and The Jazz Cruise.
Arturo Sandoval and his Big Band played a very long set to close out the evening. Sandoval, one of the premiere jazz trumpet players, is also adept playing classical music. His performance showcased all of his other talents as well - playing piano, timbales, singing and telling jokes. The band shined on a slow and sultry "The Man I Love" and filled the club with warmth and love on Sandoval's "Dear Diz, Everyday I Think of You," the title his latest CD, named for his mentor. The band exploded with its version of "Hot House," delivering a Latinized version of Dizzy's famous tune. Toward the end of the longish set, Sandoval started to scat and vocalize on "Oop pappa dop." The audience was going wild. They came to the give the band a hand, and were treated to a tour de force from a master musician and showman and his remarkable band.
Be sure to mark your calendars for the 2014 gala on April 6.
Martin Berg
---
Catalina Popescu - The Force Behind Catalina's Jazz Club
Catalina Popescu was 18 years old in 1976 when she married Bob Popescu and they left their native Bucharest, Romania for Los Angeles. Bob had a successful catering business in Hollywood, allowing him to help bring 350 people from Romania. The catering was parlayed into a seafood restaurant on Cahuenga Boulevard.
Dennis Smith of KLON, KBCA, and KKGO, recommended hiring live jazz groups to distinguish the place from others. After featuring local musicians for a time, Bob and Catalina decided to hire and bring the best jazz musicians from all over the country. Buddy Collette performed at the club, then helped get Dizzy Gillespie to appear in March of 1987. His appearance put the club on the map, and Dizzy helped get performers like Tony Bennett, Carmen McRae, and Freddie Hubbard.
Catalina has many great stories about the club and performers. One stayed near the club and decided to take a taxi to the gig. He told the driver he wanted to go to Catalina's and ended up in Wilmington at the ferry dock.
One night Freddie Hubbard failed to appear. Bob went to Freddie's house and found him in his pajamas. Bob told Freddie he had to come to the club and that Bob would not leave until he did. Freddie dressed and went to the club. He later told people that Bob was a part of the "Romanian Mafia."
Catalina's success is due in part to the support of many musicians. Buddy Collette helped the club so much and performed many times. Ravi Coltrane appeared when business was slow and told Catalina not to worry about the money. Roy Haynes flew in from the Carribean to help when Tony Williams died suddenly. Catalina credits her long-time staff, especially chef Luis Guzman and manager Manny Santiago, for much of her success.
Ray Brown once asked, "Catalina, are you going to play a second set?" Catalina's response is no, she would not do it again. Fortunately for us, you can't undo the past.
We who love jazz are grateful to Catalina for what she has contributed to our lives in bringing the best in jazz to Los Angeles. The California Jazz Foundation is especially grateful for her long-time moral and financial support and her wisdom she has given as a member of the Advisory Board.
We wish Catalina good health and many more years of success – and Ray Brown's hoped-for second set.
Interview by Arnold Levin

The California Jazz Foundation is a nonprofit organization created to aid and assist California jazz musicians in crisis. We are committed to providing access to quality social and economic services for all eligible applicants. We do so through a team of caring, knowledgeable professionals in collaboration with community partners.
BOARD OF DIRECTORS
Peggy Barber
Martin Berg
Edythe L. Bronston, Esq.
Paul F. Cohen, Esq.
Gary Garbowitz .
Hon. Arnold Levin (Ret.)
Dominic LoBuglio, CPA
Stephen Maitland-Lewis
Greg Porée
Miguel Ramirez, Esq.
Richard Ritz
Phil Seymour
Kirk Silsbee
Richard A. Williams, M.D.
Mary I. Wilson
Jeffrey Winston

ADVISORY BOARD
Barbara J. Brighton
Kenny Burrell
John Clayton
Buddy Collette *
Kenny Dennis

Hal Espinosa
David M. Frisch, M.D.
Terry Gibbs
E. J. Gold
Charley Harrison
Peter Himmelman
Hanne Johnson
George Kahn
Joseph Kahn, M.D.
Linda Knipe

Mike Melvoin*
Phil Norman
Mike Peak
Catalina Popescu
Dr. Bobby Rodriguez
Vince Trombetta
April Williams

* In Memoriam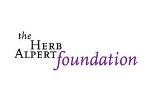 Benefactor

Media Sponsor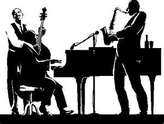 Did you know?
According to a 2003 study of the jazz industry in 4 metropolitan areas, by the Research Center for Arts and Culture in cooperation with the National Endowment for the Arts, almost 66% of San Francisco jazz musicians earned less than $7,000 per year. Our difficult economy continues to pose ever increasing challenges for jazz artists in all communities. Older musicians often have no social security (and thus, no free medicare) and are either uninsured or underinsured; some see no residuals from important work they did in their productive years. Younger musicians have difficulty sustaining careers in jazz due to the closing of venues and the way in which music is now marketed. As a whole, this population lives on the "edge" with little or no social services available to them.

As a charitable nonprofit organization, the California Jazz Foundation relies on membership and support not only from jazz lovers but all those who value the arts! Your membership and/or donation is fully tax-deductible.
Visit us on:



to learn more about CJF
and to watch some
great jazz videos on our
"favorites" list!